Trip Details
In August of 2010, we (Neil and Karen) embarked on a trip that we've been preparing to go on for the last 3 years. We went to L'Anse aux Meadows, Newfoundland, Canada--the only verified landing site on North America for the Norse during the Viking Era. We went as part of a larger group, called the Dark Ages Recreation Company (DARC). DARC is a group of like-minded individuals who share an interest in Viking Era re-creation. Because we had so much re-enactor gear to take along, we had to drive out, rather then fly, and we took the opportunity to take the scenic route.

Saturday August 7

Travel to Utica, NY

We crossed into the US at Queenston and stopped in Williamsville. The first stop was at Orvis - Karen's been liking their clothes via the catalogue, but wanted to try things on as well, to get a better idea of sizing. Karen very happily walked away with several more items of clothing to squeeze into the suitcases. Even more interesting, Neil also found some new clothes. While we were there, we also stopped at a Borders book store and Karen bought three new books - Richard Castle's Heatwave, Octavia Butler's Patternist series collected into a single volume and something called Night of the Living Trekkies - about a Star Trek convention being taken over by zombies. A very fun read! Must consider buying online books 'though - paper takes up a lot of room in the suitcase - it gets hard to fit new clothes in.
We stayed at the Radisson in Utica and ate at their restaurant. Rather nice food, although by that point it had been a long day.

Sunday, August 8

Utica to Waterbury, VT

The drive into Waterbury allowed for a fun mini-repeat of a piece our 2005 trip. We drove through Lake Placid with a stop for lunch, and had a chance to stop again at Minerals Unilimited in Long Lake. We also stopped briefly at Ausible Chasm then took the ferry over Lake Champlain to Burlington.

The Ausible Chasm is an interesting river chasm with an old generating station.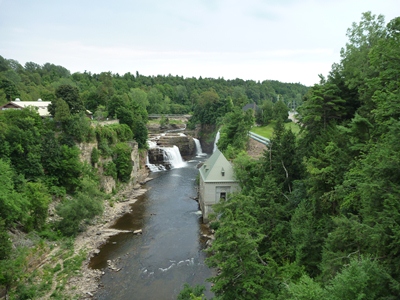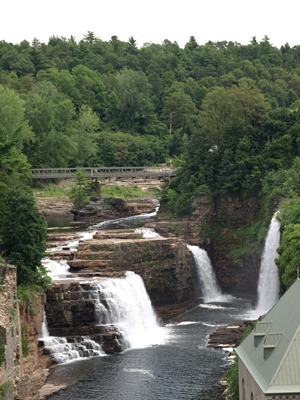 This year's crossing of the lake wasn't as sunny as last time but it didn't stop this sailboat. The other shot is of the Vermont side of the lake.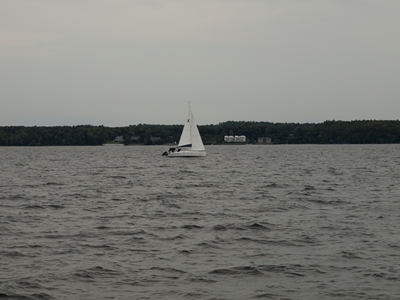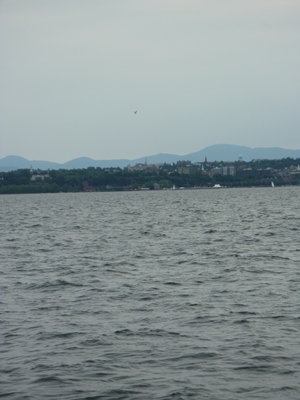 We stayed at the Best Western in Waterbury up the big hill and ate at Arvad's Bar and Grill at the bottom of the hill. Arvad's is..... well, an American eatery. Let's leave it at that.

Ben and Jerry's factory tour in Vermont was a bit of a bust. We don't have a Ben and Jerry's scoop shop in Ontario, and we can't get all the flavours routinely in the grocery store. Karen had wanted to try some of the new flavours that she found on their website. It didn't happen. They don't have all the flavours available at their on-site scoop shop - only the most popular. At their --main headquarters---, no less. This should be the jewel in their crown. The hospitality should be superb. Now, they did have all the flavours available - in 1 pint containers. Stupid. We're traveling. We don't routinely carry a freezer in the car and weren't about to buy 4 pints of ice cream that couldn't possibly be finished before it melted. Very disappointing.

Monday, August 9

Waterbury to Bangor

We checked out Cabot Cheese before we left Waterbury in the morning. Lots and lots of different cheeses, most of which is routinely boring different versions of cheddar. The USA just doesn't seem to understand the idea of cheese in the many multi-years category. Old and even extra-old tend to be less then 2 years old. At home, 2 year old cheddar is Karen's standard boring cheese, and she indulges in 7 years or older when she can afford it. We did, however, pick up a couple of artisan sheep cheeses for our days at L'Anse aux Meadows.

On the way to Bangor we stopped at Cool Jewels in Montpelier. It's a fun bead shop, although the 3 by 5 foot table a foot deep in beads is a little addictive / time consuming. With a little used book store hunting, we were back onto the road.

We stayed at the Best Western White House and ate at the truck stop nearby in Bangor. We will not be doing either again in this lifetime.

Tuesday, August 10

Bangor to Fundy Park

Back across the border to Canada, we stopped in St. Stephen's for lunch and a bit of pottery/wool shopping. Along the way, we stopped at Robin's Bead Works in Quispamsis - a neat little shop that had a few unique items to add to the trade bag. Next, we drove through Fundy Park and stopped on the hill above the town where there was a lookout point.

It looked like the ground below was covered in fog while things were still clear and sunny up on the hill. As we drove down, it become apparent that the fog was literally sitting below the hill and yet above the town. The town itself wasn't at all foggy. We could quite clearly see that the tide was out and we wandered around a bit before dinner.

A look down at the clouds hiding the town, while Karen is her usual sexy self.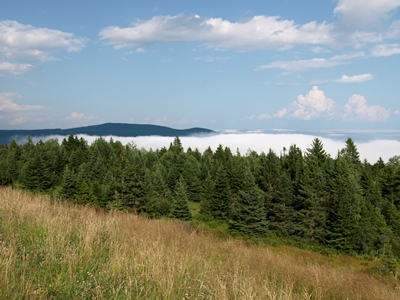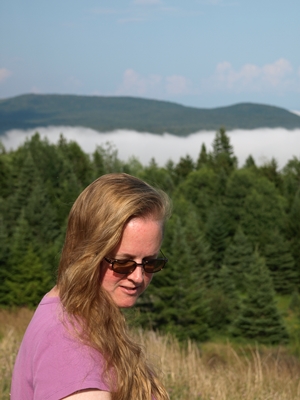 Alma was low tide which allowed us to walk out into the bay and take this photo of the back side of the Parkland Village Inn from where the water should have been.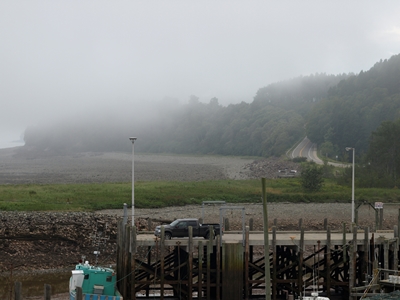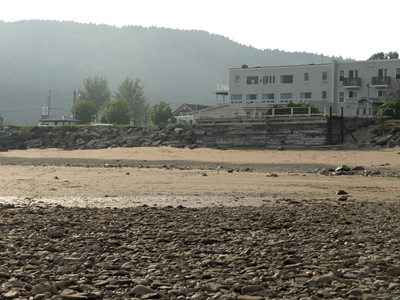 We stopped for the night at Alma, New Brunswick - home of the world's largest tides.
Our hotel this evening was at the Parkland Village Inn. Karen's recommendation on Trip Advisor can be found here. We also ate at the hotel's restaurant - The Tides. While we didn't have trouble with the service in the evening, it was a different story in the morning. It was appallingly slow and mixed up, even though there was almost no one eating breakfast with us. The food at both meals however was delicious! Karen is a foodie and says she can forgive a lot for good food.
In the morning, the tide was disappointingly again at it's lowest, having come in and gone out again overnight. Unfortunately, we had to get on the road and couldn't wait around to see the tide come in in the daylight.
This boat is a working vehicle - just temporarily grounded (literally) - while the tide is out.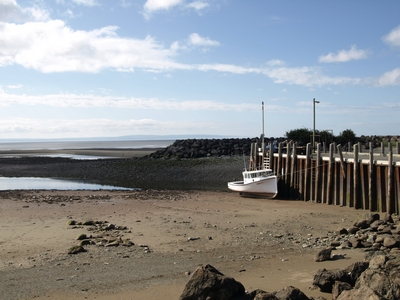 Alma is a very peaceful town, even swarming with tourists. Karen thinks she could have enjoyed spending more time there, basking in the tidal changes, good food and a great hotel. Karen would like to come back here and watch this town and it's tides go through several changes of weather - taking lots and lots of pictures.

And speaking of 'swarming with tourists'... we ran into some familiar faces - neighbours! And again, the next day at Hopewell Rocks!

Wednesday, August 11

Fundy to Antigonish

Hopewell Rocks is just a little further along the road and it's another site that demonstrates the range and power of the tides. You can walk on the ocean floor at low tide, and just observe it from above at high tide. We were here in 2005 shortly after high tide, and got to spend a little time watching more and more of the sea floor appear. This time we arrived after low tide and watched the ground disappearing under the water - unfortunately there were too many people this time to be able to appreciate the area.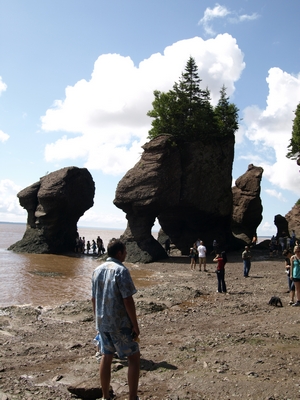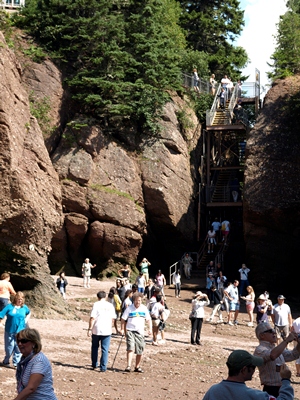 London Wul - a wool shop on the way out of Moncton that Karen totally fell in love with 5 years ago - was also a disappointment. Karen thinks she's changed in the last five years so the appeal just wasn't the same. No particular fault with the store, it's just that Karen's tastes have changed. While most of the fiber junkies she meets are all wrapped up in knitting as the end goal of fiber craft, Karen prefers spinning and weaving and naalbinding and natural dyeing. Karen says she wants more than most shops can offer - spinning wheels in the shop to try out, fiber for spinning, dyestuffs, handmade fiber tools...like naalbinding needles, and combs, and crochet hooks and at the very least little rigid heddle looms. There is a lot more to do with fiber then knitting.

In Truro we stopped at a studio with a bead & pottery store. We picked up some nice pottery but there wasn't much in the bead store.

We spent the night at the Homeward Inn in Antigonish, and had dinner at the Lobster Treat. Mmmm... lobster! Little did we know that we were quickly running out of fresh lobster, that it couldn't be had in Newfoundland with any abundance!

Thursday, August 12

Antigonish to North Sydney and Ferry to Port-aux-Basque

From Antigonish we crossed over into Cape Breton along a fun road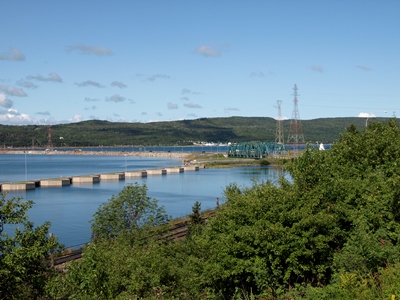 Trust Neil to find us scotch. Oh right.... single malt distilled whiskey. Can't use the word 'scotch' because it's not made in Scotland. The Scots even tried to stop them from using the name 'Glen' but the Supreme Court of Canada beat them up.

Glenora is North America's only single malt distilled whiskey, and it's in Cape Breton just off the Ceilidh Trail. Neil bought 3 bottles - we tased them with the DARC group later. Fun story - at the shop they have a cask on the counter and a bunch of bottles. You can fill one of the bottles straight from the cask.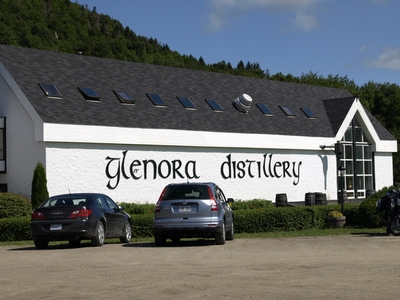 Lunch at Red Shoe Pub in Mabou. Nice sandwich. Then the wool place nearby - this one was more fun than London Wul. A little room in the barn at Bellemeade Farm, this place had handmade yarns, roving for spinning, and woven goods. One piece of weaving in particular stands out in memory because of its' intricate details but Karen wasn't smart enough to take a picture.

We moved on with the process of actually getting to Newfoundland. There was a ferry - this great maw enveloped many 18 wheeler trucks, a few cars and trailers, RVs, and many more ordinary cars.....one starts to wonder, with all that weight, just how the boat stays afloat. But it works.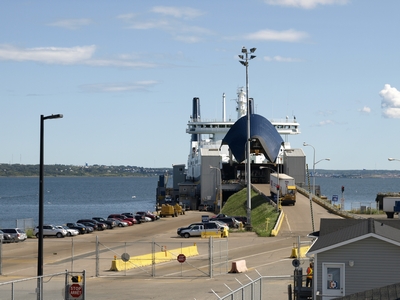 And then we pulled away from land. Bad food on board. Try to avoid it, and bring your own.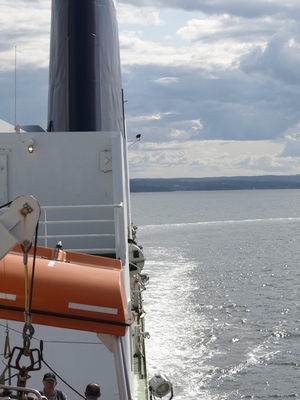 Six hours later, we arrived on The Rock dead tired and crashed in the nearby Hotel Port aux Basque. Karen got nearly an entire sock made on the ferry and had the chance to show another tourist how to naalbind.

Friday, August 13

Port-aux Basque to Gros Morne

We didn't get our first real view of Newfoundland until this morning because we arrived in the dark. First impression - very much like Iceland. The desolation of the country side is all around us. Second impression - not really like Iceland. Too many trees.

We spent the night in Gros Morne at Neddies Inn - a nice quiet night with a delightful dinner at the inn. Gros Morne iself is a wonderful set of fjords but not nearly as scary a drive as Neil remembers from back in 1996. This is Karen's first trip to Newfoundland. Neil thinks that after driving the West Fjords in Iceland, it'll take a lot more to scare him on the road. Although we did a bunch of wandering along the shoreline we didn't head out on any long hikes. For those with more time or more energy, Gros Morne is a wonderful place to hike. Here is a map, a list of hikes and the approximate time that each hike will take.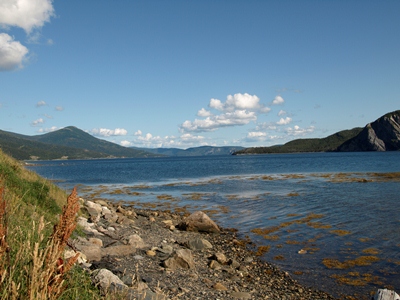 At one of our stops along the shore, we found this creature - a live mussel, still secreting the 'glue' that anchors him in place to all these rocks beneath him.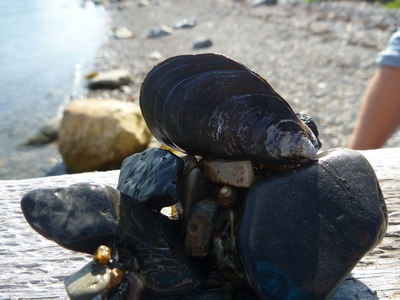 Saturday, August 14

Gros Morne to L'anse Aux Meadows

On the way out of Gros Morne we stopped at one point to enjoy a walk down a river past a salmon counting station to a really nice big beach. It's just this really cool spot that we happened upon along the way. The beach is pure sand - Karen took her sandals off and walked up to the water's edge to stand in the ocean. Very peaceful.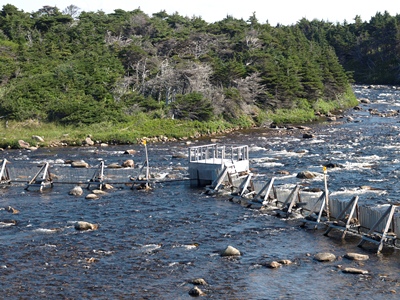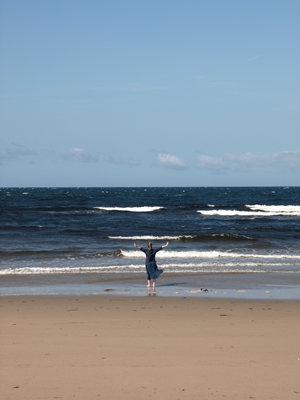 On the drive up the Viking Trail to the far northern end of Newfoundland we found a nice place along the way for a good seafood chowder - something we both enjoy having as much as possible while we are near the sea. We finished the run up to St. Lunaire-Griquet where we moved into Southwest Pond Cabins. This would be our home for the next 10 days. The cabins are cute and small. Cozy. We were the first to arrive but our friends pulled in very shortly afterwards allowing us to all go out for a first dinner at Northern Delight - where all good Vikings eat.

Sunday, August 15

On our last day of holiday before the work began we did a group tour of Norstead, the local area, and the L'Anse aux Meadows Parks Canada site itself. We're going to call it Leifsbušir from here on in the narrative. The lead archaeologist, Brigitta Wallace, is now convinced that this is where Leif Eriksson stayed when he explored the area.

The front gate at Norstead, a couple of buildings, and Neil and Karen on the beach.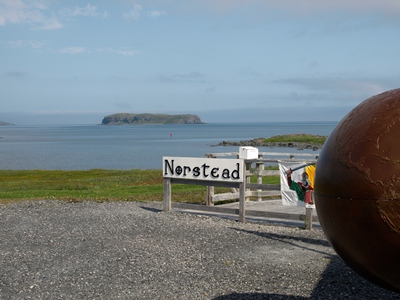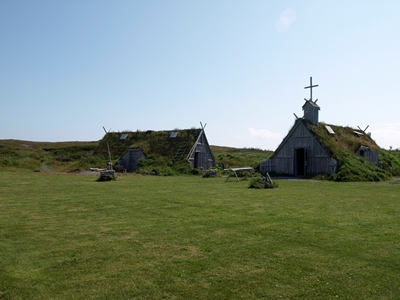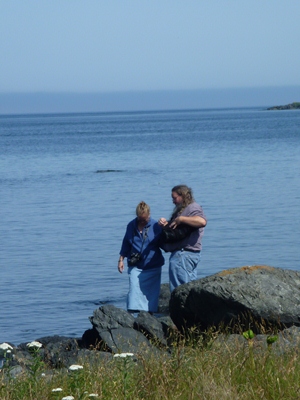 The tour of the Leifsbušir site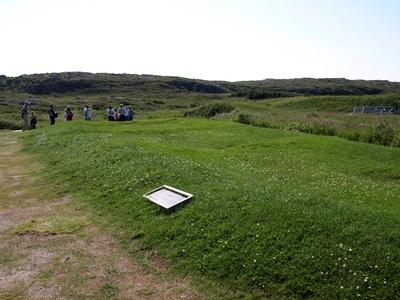 Karen bought a pair of naalbinded mittens at Norstead, aware that the maker does this naalbinding thing way way better then she does! Neil found it fun introducing Karen to many things he remembered from previous trips.
Neil, Darrell, and Dave had a long meeting with the Parks Canada site supervisors, ironing out a few details while the rest of the DARC crowd took the official tour of the archaeological site. Then we wandered around the recreated buildings, visually scoping out where our work stations would be set up. Figuring out where Karen's loom would be best suited was an amusing process since the "womens' room" in the longhouse is a bit on the small side and the permanent staff, Thora, already had her own loom in place.
As we left Leifsbušir, we had our first moose sighting!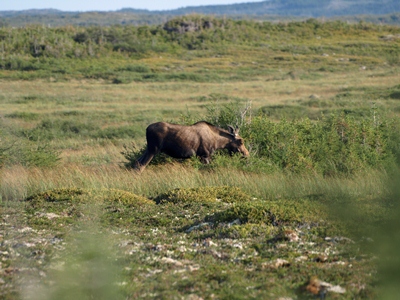 Monday, August 16

Monday was a last minute flurry of activity and an early rising at the cabins. Everyone was eager to get started, in varying states of nerves - wondering what to wear, what the weather forecast for the day would be, who should drive over early to unload and who should come over when we're actually paid to start. Contact lenses needed to be fought with, for those of us not used to wearing them, since glasses aren't exactly appropriate Viking Era costuming.
We arrived before the official opening to unload all of the gear. You can't help but think of Vikings unloading the boat. And then we were ready to join the crew at Leifsbušir. Good thing we used the large boat to get here. The folks who already lived here were very welcoming to us newcomers.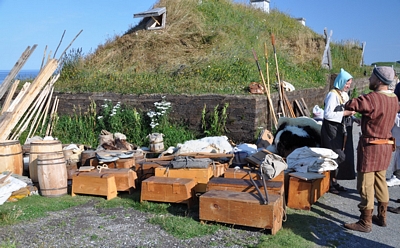 We had a few issues to address and Grimbold tried to keep us all in line. That's Karen and Neil (aka Kašlķn and Ragnarr) on the left.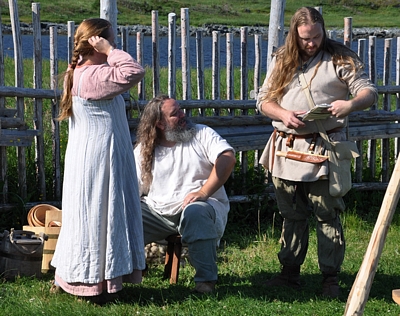 Neil was set up in a tent near the entrance to the compound where his loud voice could act to draw people in. Karen was set up in the large room of the main hall, just outside the little room where Thora's loom was set up. Karen was pleasantly surprised that it turned out to be very easy to set up her loom and get started. Karen tends to get very tense just before big events in her life and had spent a sleepless night on a small and hard bed tossing and turning and worrying about her set-up. Once the curtain lifts, so to speak, things just started to flow.

Quote of the day from Thorgeir: "Sunburns on the northern most tip of Newfoundland, who'd have thought?"

Tuesday, August 17 to Wednesday August 25th

The days began to blur almost immediately. Hence this next section will just speak of all of the things that happened rather than worrying about which day they occured on - unless there was a way to know which day was which.

Tuesday was cruise ship day. Two huge tour groups came from a cruise ship and the weather held long enough which was good since the longhouse was just completely packed at one point. Lunch most days was soup, bread, cheeses, and preserves. Whenever possible they were prepared out in the open over a fire.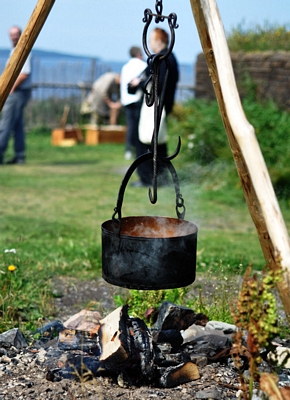 Grimbold explains what he's doing to a visitor.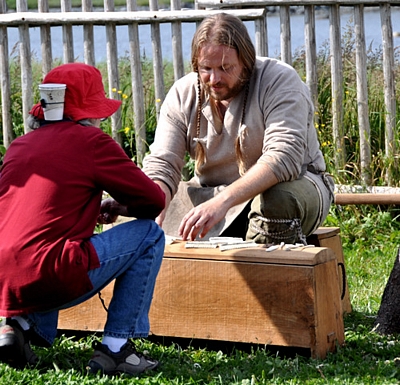 Rig takes his son up on his lap to help him out with the wood shaving. Did we mention it was hot out in the morning? No fear - the temperatures are supposed to drop today with some rain.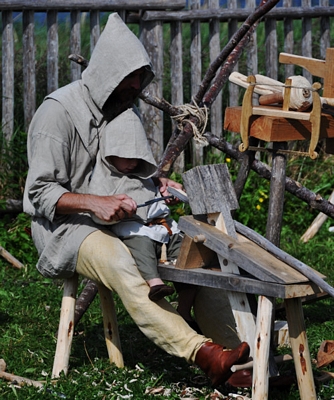 Quote of the day: Ragnarr to a tourist who wanted to take his photo - "Get my heroic side!"

It took Karen longer to get to the weaving than she'd hoped - it turns out that visitors are time consuming. And contact lenses are a pain - literally. Karen was convinced that once the weaving started, she could leave them out and go into a world of fuzziness, that weaving is possible largely by feel, but in the setup, it is still necessary to see what she's doing. Some day, she'll have to try out an experiment to back up this theory, weaving with a blindfold on.
Wednesday was a day of heavy rain and it led to some discoveries. One interesting result for our woodcarver was the discovery that it is pretty much impossible to carve bone indoors in a Viking house. Steve was working in the fire hall of the reconstructed house in L'Anse aux Meadows, with the fire lit, the smoke holes open, and the doors open. Even with all of those light sources, he had to stand in the doorway to work the ring and dot tool, never mind actually carve with the knife. The bone carving is too fine to find by touch, and was invisible under those lighting conditions. Wood carving is probably possible in that light, and bone work may be possible if done near a lamp.
Karen was up on her box, and just starting to weave when the downpour started. She pulled a few things off the floor of the longhouse but went right back to weaving, since she was after all, warm and dry in the longhouse. At one point she looked around to find herself completely surrounded by water running into the longhouse. No point in getting down off the box! Some of our folks found a shovel to dig a channel in the floor to drain the water. Being from 'away', we just assumed this was normal for northern Newfoundland but the permanent staff were astonished - they had never seen rain come into the longhouses in such quantity.

In the evening, back at the cabins, we had a potato chip testing - discriminating Vikings preferred the smoked gouda and carmelized onion potato chips just slightly over the 2 year out of date stale cheddar cheese chips. The runners-up were sea salt and cracked pepper chips, lobster chips, ketchup chips.These are all chips brought in with the group. Once they are gone, these weird flavours can't be replaced up on a coast where everything is shipped in, first by boat over to the island, and then trucked all the way up to the tip of isolation.

We also had a scotch tasting - a fine trio of Glen Breton whiskeys were sampled by the Scotch-inclined. The entry bottle (17 year old, Ice wine casked) was described as reminiscent of retsina and turpentine, but not in a bad way. Still not worth the price being asked for it. The second, the "Battle of the Glen" whiskey (15 yr), seemed the most popular since it had a more balanced sequence of flavours. The third, Glen Breton Rose, seemed lost in comparison. It was a 14 year old single cask. When tested later by itself it seemed to do better than it did that night.

Karen feels that food out on the coast is a bit frustrating. North coast Newfoundland isn't exactly the center of high end cuisine, and even the everyday approach to food is about 20 years out of date. She feels that it's such a shame to utterly destroy all this wonderful seafood with deep frying or pan-frying in heaps of butter. Some folks needed a change of pace, and fortunately our photographer doubles as a darned good cook. Dinner one evening was in the cabin with everyone - Homemade County Clare beef barley soup, baked beans and fresh homemade bread - 40 thumbs up!!

Quote of the day: "Kašlķn plies her trade in the men's workroom."
After we've been here.....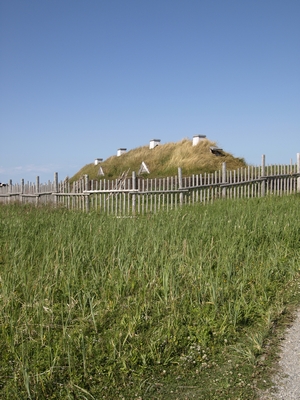 .....for a few days, and had settled in a bit....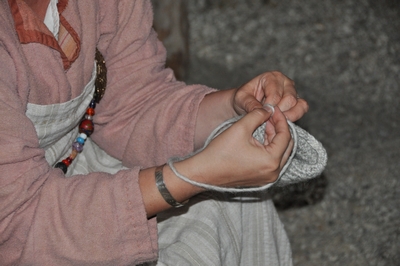 Karen wanted to make note of two things - she is really really enjoying herself. If it weren't for the lack of flush toilets in the longhouse.... she could live here. She thinks she could be a Viking woman. She'd lose the addiction to the internet eventually. It would be good.

During the course of the week DARC offered both lectures and some experimental archaeology. Neil and Rob built a bead furnace blending clay, horse manure, and beach sand to make the required cobb. The furnace was set up outside the fenced interpretive area to help make it clear to the tourists that this activity was not done at Leifsbušir although it was done at various places in the home countries. They spent an afternoon teaching various tourists and staff members the process of making beads, although not a single bead turned out. The beads either couldn't be formed properly, or they broke coming off of the mandrel. Neil thinks that this was because of the wind - it cooled the glass much faster than usual which means that the glass couldn't properly anneal. Neil and Rob ran the furnace again a different day and wound up with much better results, including many people who went home with a bead they made themselves - there was no wind that day. We left the furnace and many of the materials behind for various staff members who had expressed an interest in trying it again.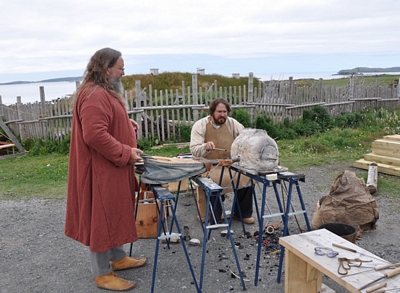 Some of the members of DARC also gave lectures in the museum's intrpretative centre. The list of lectures that they gave included:
Iron Smelting at Vinland - Converting archaeological evidence to a practical method. (Darrell Markewitz)
Norse Music (Richard Schweitzer)
Vikings Unearthed (Dave Cox)
Bead Production in Scandinavia: converting archaeological evidence to a practical method (Neil)
Pastimes of the Vikings (Neil again)

Each of us was given a day off in rotation during the presentation. Karen and Neil had Friday off. We had heard about an interesting carving store in Raleigh, not that far away, so we took a trip over there. While the carving store was a bit of a disappointment, the drive through the countryside was good. We had lunch at the Norseman in the town of L'Anse aux Meadows - a slightly more fancy restaurant aimed at tourists. Good enough food, but not worth the increased price point. Karen had snow crab legs and found that prying the meat out of the shell just isn't worth the effort.

Karen also decided to stock up on food in the cabin, planning for a night's break from the butchered seafood offerings of Northern Delight with a pot of homemade spaghetti. Neil sees Northern Delight as providing good "home cooked" versions of seafood. Yes, the style is simple and repetitive but the food was good.

And then, like the addicts we are, we went back to the site - being that we had the day off, we could dress in street clothing and pass for tourists. We took pictures of our friends at work. And then we went on the coast hike around the the Parks Canada land and took a lot of pictures there as well. We got back to the site with the recreated houses just in time to give some folks a lift home.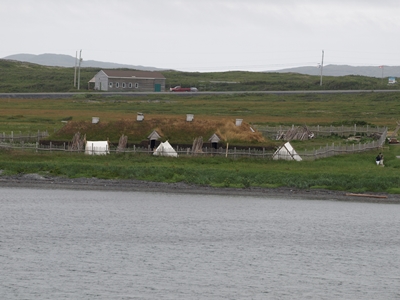 On the way out of Leifsbrušir, we had our best moose encounter yet! Karen had the bigger lens, and the moose were a lot closer to the road.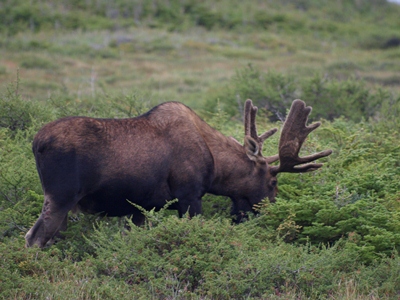 Dinner one evening came with the added treat of being joined by Dr. Birgitta Wallace who had come out for a visit. Dr. Wallace also offered private tours of the site for the staff and DARC crew. The tours were extremely interesting picking up little things that are not available in the scanty published materials about the site.
Another of our experiemental days involved the reproduction smelt. Neil was disappointed to not be involved in the actual smelt but someone had to keep the stations manned while Dave, Richard, and Darrell worked with some of the local staff on the smelt. At least he got to join in at the end helping to explain for tourists packed 10 or 12 deep around the smelt hut what was happening during the extraction. He says it was fun explaining while only getting a glance once every few minutes and hoping that his words were staying in time with the smelt. The smelt itself worked, just as the earlier experiements had as we built towards this day. Darrell produced a good writeup of the smelt that day. It was also filmed and has been turned into a short educational piece which is supposed to be available at the site now.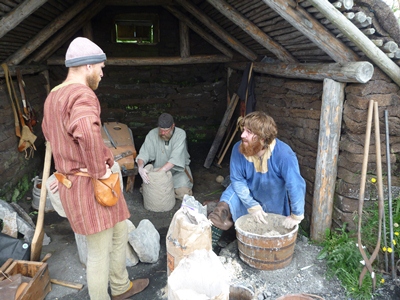 Karen had this apparently optimistic plan to sew the heddles in two days and weave for the next 7 days. Instead it took 5 days to knit the heddles and do a little more clean-up/prep work before she was finally weaving!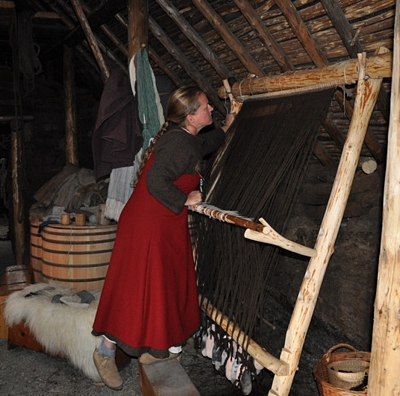 One evening we had a party for the permanent staff. It was a wonderful evening of food and drink, song and talk. Karen got screeched in that night as well.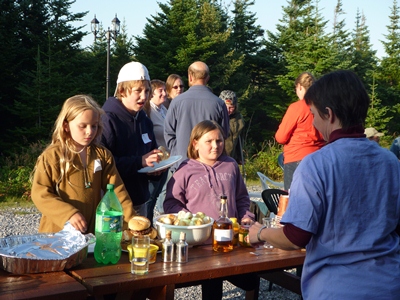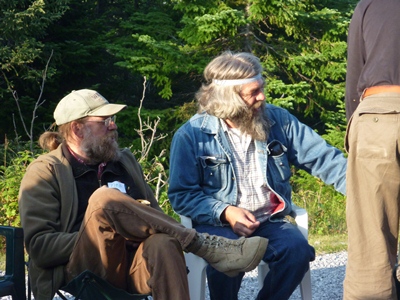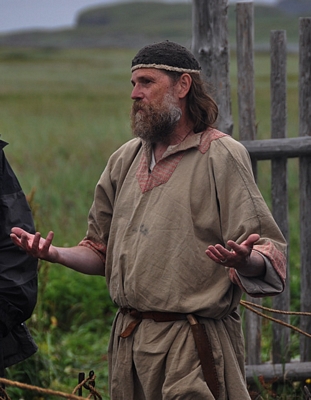 "It was this big", or maybe "Bless this bloom" - Ketill caught during one of the explanations he gave on Saturday as the smelt progressed. It was a wonderful thing to be able to run a smelt on the same ground where the Vikings did it a thousand years ago - using tools and techniques that we reasonably believe the Norse used. We wound up with a workable bloom of iron - slightly larger than the one they made!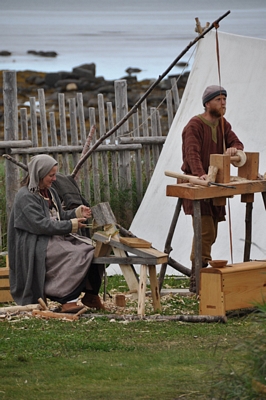 Thorgeir working with the spring pole lathe to turn a bowl while Jorunn makes use of the carving bench to work some wood.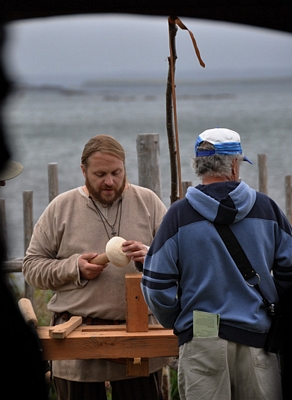 Grimbold explaining to the visitors how a spring pole lathe works and the products that can be produced on one.

Egil is one of the permanent staff at LAM, found here cooking over the open fire. He is a fun fellow and quite the musician and storyteller.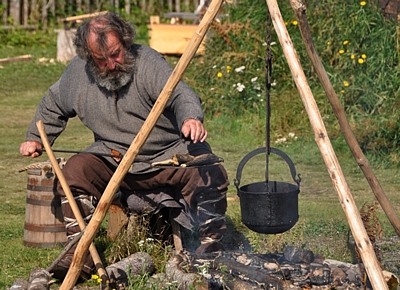 These folks descended on Ragnarr to trade with him. From Ragnarr, going left, we have Thora, Astrid, Emundr, Emma and Katla. Thora is also part of the permanent staff - the others are various associated children. Ragnarr says the kids really got the better of him in that deal.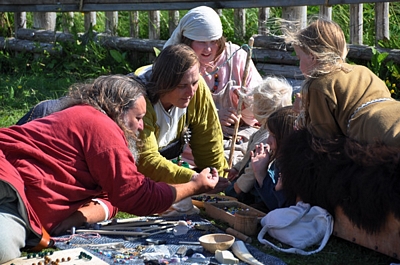 Thorgrimr and Egil discuss the merits of a trade they have in mind. Thorgrimr is eyeing a whale rib that Egil has and Egil is eager to have Thorgrimr's bow harp.

Thorgrimr is a master carver, and Egil an extremely talented musician.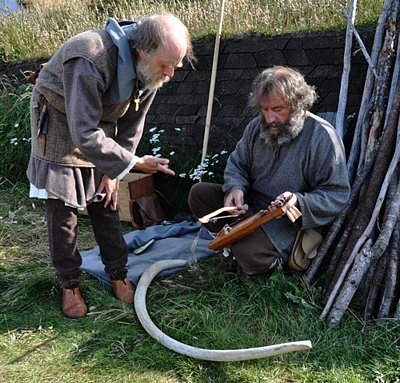 It seems the bargain is struck and both men are happy with the deal.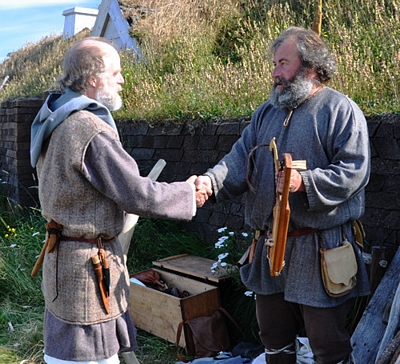 And finally, some simple domestics - Audr made a bag of netting and some wool is being washed in the nearby stream.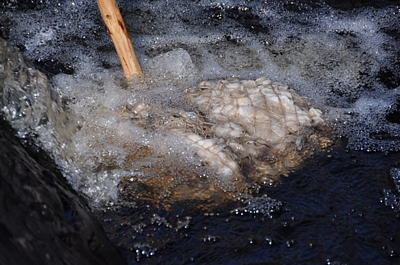 Thursday, August 26



L'Anse aux Meadows to Port-aux-Basques


On the way out we stopped at Dark Tickle for a little of this and that, including tea and jams for friends. Then it was off down the highway. We stopped for lunch in Gros Morne then added a stop in a funky little "stuff" shop in Cornerbrook where we got books. The crew met up again for dinner in Port-aux-Basques before grabbing the overnight ferry. It was supposed to depart at 1:30 am but actually went later due to bad weather. We wound up playing a card game while waiting. Karen learned again that rough water isn't her friend, even when she is trying to sleep through it.

Friday, August 27

North Sydney to Truro, NS

We parted ways when the ferry docked. A few of us went to breakfast together. Even fewer of us headed over to Louisbourg to check out how another historical site works. Although not originally interested in history this late period, Karen did enjoy her visit and a chance to see other people using first person interpretation techniques.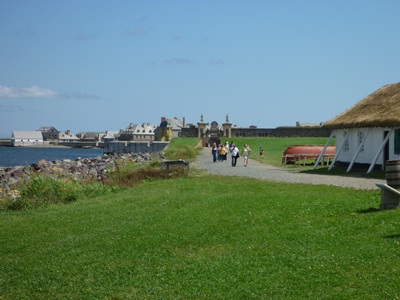 We then drove off to Truro,stayed in the Best Western Truro and ate at their restaurant.

Saturday, August 28

Truro to Grand Falls

Saturday was another long drive. We stayed in the Lakeside Lodge just outside GrandSault/Grand Falls, NB. We had stayed here in 2005 and enjoyed the very pretty view. The weakness to this place is the food. It is a bit of a drive to the nearest town, and the restaurant is real german food - something less to either of our tastes.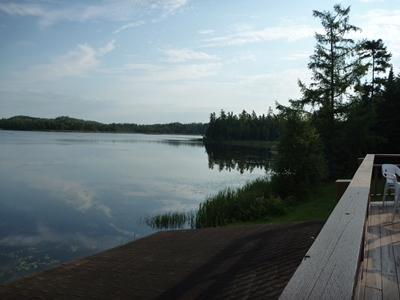 Sunday, August 29



Grand Falls to Cornwall



On the way along this day's drive we found out that our friends had had car trouble. We detoured up to Ottawa instead of spending our planned night in Cornwall. This allowed us to meet up with folks and arrange to give a ride home to a trapped friend. At least Sunday night was a fun mini-reunion.


Monday, August 30



Ottawa to 401 to Ottawa to home

(530 km, 6 hr)

We left Ottawa with our friend, then an hour later when we got to the 401 Neil realized he had left his laptop behind - which would be needed the next day at work. So another hour back up to Ottawa to fetch it. On the good news side we found out that car repairs were way ahead of schedule so we re-united our friend with her hubby to drive home together barely an hour behind us. Then on the road again and eventually - 6000 km later - we were home again.

Here is a link to a google map showing the trip.