Trip Details
We enjoyed our trip to Iceland in May 08 so much that we decided to go back again this year - from July 23rd to August 10th, 2009. Last year we spent just a few days in Reykjavík and the surrounding area. This year, we decided to drive around the entire island. For those who haven't had a chance to go to Iceland - we heartily recommend it! Feel free to ask us questions - Karen is kitten@golden.net and Neil is neil@treheima.ca, petersons@treheima.ca goes to both of us.
Icelandair flies from a number of places in North America to a number of places in Europe and laying over in Iceland is easy since they use Iceland as their hub and don't charge extra for taking time off to stay in Iceland. There are a number of tourist sites that can help you plan your trip including TripAdvisor, Visit Iceland, My Reykjavík Info, Visit Reykjavík, Icetourist, and various regional websites we'll link to throughout the text below.

The trip had three main parts:
Departing Canada, arriving in Iceland, spending time in Reykjavík (July 23rd to 25th)
Traveling the West Fjörðs and the ring road (July 26th to August 6)
Time in Reykjavík and the trip home (August 6 to 10th)
Before we begin talking about the trip it is important to introduce our traveling companion. Snorri Steveson is a shared resource, carved by Steve from DARC. Snorri made his appearance in the group at the beginning of July and we decided to take him with us just for fun. He came to Iceland with us on this trip and then we passed him off to Marcus and Jo for a trip to Denmark and England via a short stop in Iceland.

Friday, July 24th
As with last year we took the last day off work to finalize packing. First, Snorri had to say goodbye to Karen's .... err, our garden.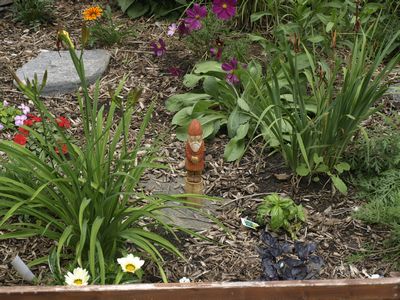 Airways Transit picked us up in the afternoon for the run to the airport. In planning this trip, we noticed that Icelandair's 'economy comfort class' had come down in price from where it was just after they introduced it, shortly after last year's trip. Needless to say, we jumped at the chance for a more comfortable seat for the 5 hour flight. The seat came with some perks, including lounge access at the airport, which is quite a pleasant way to spend the time after clearing customs. Here we find Snorri in the airport lounge while we wait for the plane. Snorri is visiting the DARC website.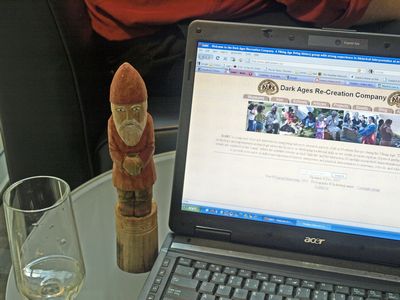 The plane left Toronto around 9:00 pm in the evening. The flight is just over 5 hours in actual time, but there is a 4 hour time difference in the summer. So our bodies thought it was 2:30 am when we arrived, but the clocks in Iceland read 6:30 am so no full night's worth of sleep.
Upon landing we collected our luggage and picked up a car from "Saga Car Rental" who had bought out SG car rental, with whom we had rented last year. Apparently there were many such buyouts happening during the rough year from Iceland's banking collapse. With car in hand, we headed out to the Blue Lagoon, via a short detour to scope out the location of the new Vikingaheimar museum. The Blue Lagoon is a great way to attempt to recover from jetlag. It worked decently well enough last year but not quite as well this year. While we were soaking, we found that there was a strong enough northerly wind to create cold currents in the water.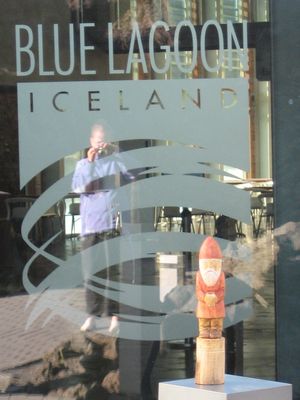 After our warm soak, we headed into town to see if our room at the Guesthouse was ready. We returned to the Guesthouse Eirikur Rauði run by Runar and Edda. It's a nice, inexpensive place to stay when you are in town for a day or two and it's sort of homey. Our room was ready, so we grabbed a couple of hours of nap and then headed into downtown Reykjavík to grab lunch at Icelandic Fish and Chips. Since it was a nice sunny day we also wandered up the shore to see the sun sculpture, Sólfar. Karen was disappointed with last year's pictures because the day was overcast. This year we had lovely bright sunlight, which really highlights this wonderful sculpture.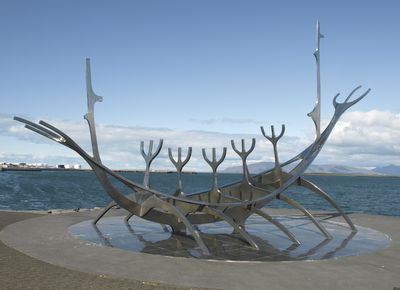 Another shot that is a little more whimsically artistic.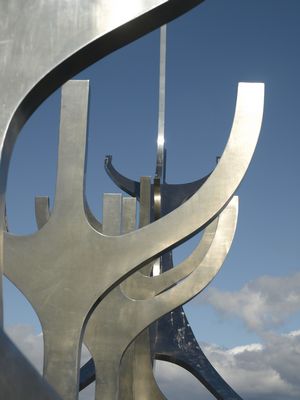 One from Neil of the intrepid photographer doing her thing.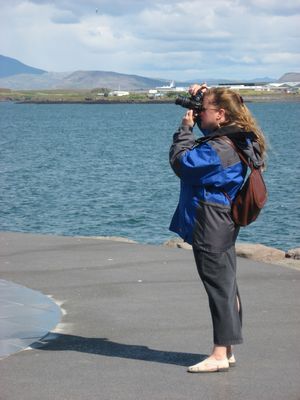 Hallgrímskirkja was even more covered in scaffolding than last year so we skipped the trip up the tower to look around. If you haven't been to Reykjavik before it is worth the small amount of money to head up into the bell tower and look around - but watch out for the wind.

Karen wanted something simple like pizza so Neil found Eldsmiðan and we tried some of these pizzas. Neil had the Trio del mare - ekki olifur (no olives). Neil was so proud of getting those last two words pronounced correctly enough that the waitress just nodded. This seafood pizza was quite good - wonderfully spiced. Neil washed his down with Thule beer - an Icelandic beer that he hadn't tried yet. It's not a bad beer, rather Canadian in flavour, noticeable bitters. Karen made something up from the 'pick your own toppings' and regretted it when 'nuts' turned out to be peanuts. No beer for the jetlagged girl. A little more wandering around on Laugavegur, the main shopping street, and then back to the guesthouse to crash.
Karen had a hard time recovering from jetlag this year. She feels that perhaps she just isn't as hardy as she was last year. Jet lag had her bouncing up and down all day long - lost appetite, grumpiness, chills. It's no fun. A good night's sleep did wonders for her though and she was fine the next morning.

Saturday, July 25 - Botanical gardens and Vikingaheimar
We went to the botanical gardens in Reykjavík and found a few things to photograph. Karen is an avid gardener, so she was quite delighted by the Gardens and took many pictures. We had stopped here last year as well but it was cold and rainy, and since we stopped much earlier in the season (late May) there was little to see. This year just two months later plants were everywhere. Delphiniums which you couldn't see in May were over six feet tall in July.
A pretty rock garden....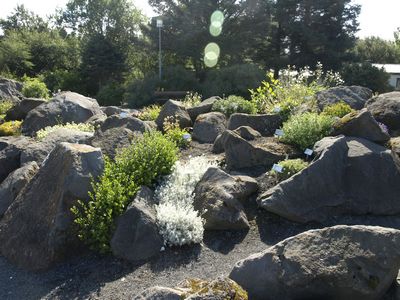 A humble bumble bee doing it's thing...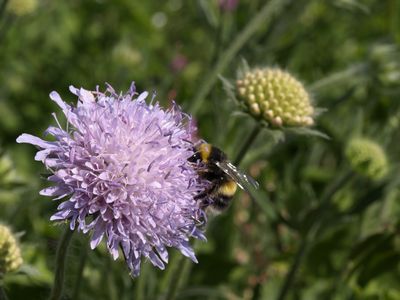 Lots and lots of pretty flowers....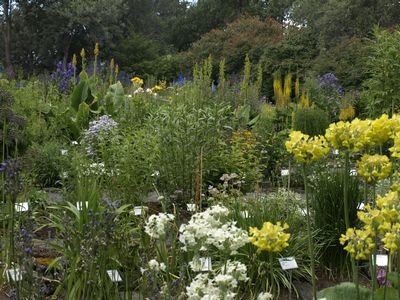 This bird ....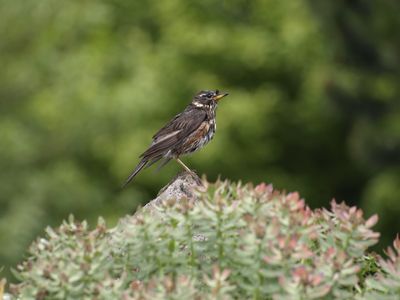 ......splashing around in this lovely water garden.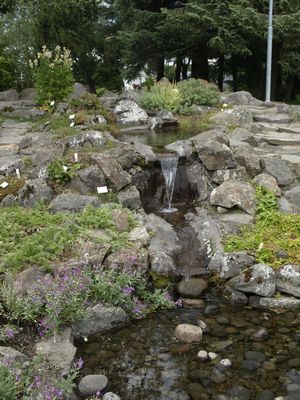 There were also children aplenty pulling the leaves and sometimes the plants out of the water feature in the botanical garden cafe (not pictured to protect their destructive little identities) and dropping their plastic cars in the pond. The cafe here seems to be a regular place for the locals to hang out as the menus were heavy on Icelandic as was pretty much all of the talking we heard. The gardens themselves are much better in the sun - it rained last year when we visited. Amazing plant growth compared to the end of May last year. It was also interesting noticing what will grow here and how it grows. Several things seem to do better here than at home, probably because of the significantly longer hours of sunlight.
It's also interesting that despite the Botanical Gardens being such a hotspot for Icelanders, very few of them seem to have the gardening 'bug' that we do in Canada. Maybe there's a bit more of it in the suburbs then there is in the city's downtown.

Snorri came to visit the new Vikingaheimar museum with us. Vikingaheimar is built around the Íslendingur, a replica Viking ship. It's very difficult to get a picture of the whole ship, because inside a building, one can't back far enough away to get it all in one frame without hitting a wall.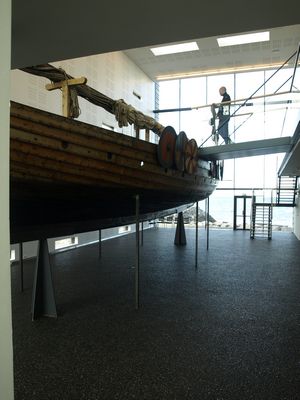 Neil went into more detail about the museum in this post on the DARC blog. This is a new museum housing Íslendingur which was sailed over to L'Anse Aux Meadows, Newfoundland in the year 2000 to celebrate the 1000 year anniversary of the discovery of North America by the Norse. This new museum is a little sparse for content but that isn't terribly surprising with the current economic climate in Iceland. It is well laid out, providing wonderful visibility into the boat - viewing areas exist to look down on it or walk underneath it. It's also possible for some tourist groups like schoolchildren to walk into the ship as well. The supporting rooms have reasonable content, the layout gives you leisure to examine the artefacts and a very nice mural, and there is room to expand the collection as time and money allow. They allowed pictures, and listed artefact numbers in most of the displays with bilingual text about the item. The text had a good balance of overall context and some information about the particular artefact. Overall, it's well worth the time and money to visit.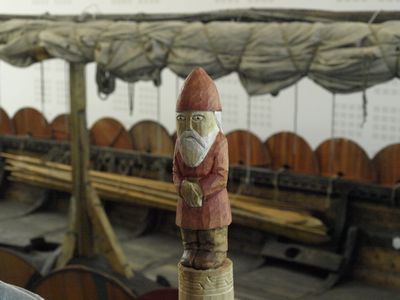 Back in Reykjavík, we did a little more shopping before the shops started to close. As with last year, we discovered that in Reykjavík, there are cats everywhere. This kitty was found in a wool shop downtown. Karen was very tempted by the colours of one sweater but it didn't fit, and had the patterning at both wrist and waist, which she doesn't like in the traditional Icelandic sweaters.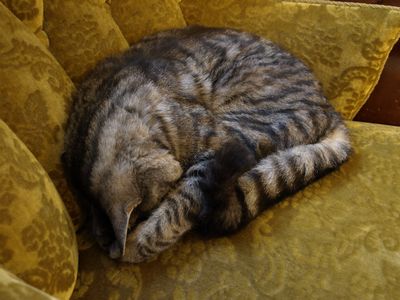 We were also looking for a place to buy Ipod accessories for Karen's Ipod. She'd brought it to have travel music available when we headed out on the ring road, but forgot to bring a recharger cable, or a 'connect to the car' cable. We arrived at the Mac store an hour after it closed and discovered that it isn't open on Sundays.

We had dinner at the Tapas Barinn. Wonderful! Delightful! Sangria! Karen loves tapas as a style more and more as she tries it in various places, and in Iceland, with its wide variety of products from the sea, it is even more delicious. You can try a wide variety of things from the menu because the portions are so tiny, the arrangements on the plate are often visually exciting. You can stop when you're full and not feel like you're wasting anything, and you can stretch the meal as long or as short as you wish into the evening as a result.
We shared most dishes: grilled giant scallops with grilled tomatoes (tomatoes make a delightful addition to scallops and it was spiced rather well), pan-fried monkfish with lobster sauce (lobster sauce... real good), minke whale with cranberry sauce (cranberry sauce good... whale is interesting.... kinda gamey), smoked puffin with blueberry 'brennivn' sauce (the puffin is an odd colour and taste - good, but odd), grilled lobster on a stick with zaffron sauce (Karen doesn't think that is saffron sauce, the menu had otherwise perfect English, was in fact all in English, but she wouldn't recognize saffron if she tasted it, so we don't know for sure), grilled lamb Sanfaina with mint sauce (lamb good, no mint flavour that could be detected), monkfish and lobster marinated in garlic with zaffron sauce. And for dessert - Neil had Creme Catalona (Creme Caramel with some minor flavour changes), and Karen had chocolate cake with berry compote and whipped cream. Yes, that is pretty much opposite our usual choices..... and Karen did steal a chunk of his creme caramel.
Sunday, July 26 - Leaving Reykjavík, Eiriksstaðir, Sytikkisholmur
Ragnarr the cat visited us again briefly this morning before we checked out of the Guesthouse Eirikur Rauði. See Ragnarr in last year's photos.

Sunday saw us driving to Sytikkisholmur via Eiriksstaðir. Mixed gravel and paved roads running up and down BIG hills and along fjörðs - lots of fun. We saw a lot of sheep, multiple saga valleys, and big hills.




Eiriksstaðir is a small museum on the site of what is thought to be Erik the Red's first married homestead. It was occupied for only 10-20 years before he had to move on "due to some killings". The museum itself has a small staff shack, a set of washrooms, a half dozen full sized poster boards with the site history in four languages (Icelandic, English, German, and one of the scandinavian languages). Just slightly uphill from the signs are the actual remains - covered over again but with the wall outline shown as at L'Anse Aux Meadows.

Neil tries to give us some perspective on just how small the house is - 4 m by 12 m.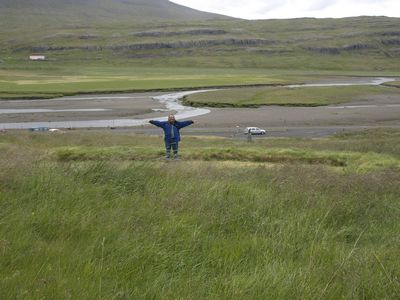 A few yards off to one side is the reconstructed house where you find the re-enactors.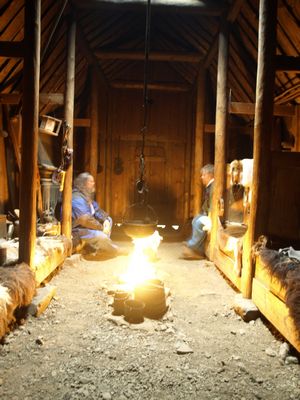 The re-enactment presentation is entirely in third person story telling. They talk through the story of Erik and Leifr - birth, exile, new lands, all of it. The hall is fairly nice, and like the houses at L'Anse Aux Meadows it cuts out the outside wind-noise perfectly. Neil noted they have too much stuff - multiple spears, a sword, multiple axes, many shields, sheepskins everywhere, bric a brac tucked in every corner, and lots of clothes on the walls. Karen noticed the remains of a Kubb game outside in the 'yard'. Kubb has been dated to the mid _20th century_ - there is no evidence at all, anywhere, that it dates back to the Viking Age.

This kind of historical misinformation was something that we encountered everywhere that re-enactors were involved in historical sites, all over Iceland. It's quite frustrating. Neil wants to tell folks that a re-enactor program is not necessarily a bad thing, that it does add a depth and dimensionality that really makes the visit worthwhile, but recommends that you know your history and bring salt shakers.

This nice lady (Helga Ágústsdóttir) humoured the crazy Canuck and held Snorri still against the wind so Karen could take his picture.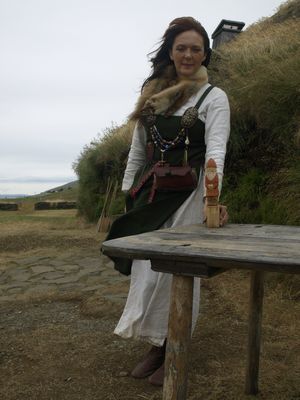 In Stykkishólmur, we stayed at the Hotel Stykkishólmur, which had a tricky internet service that only worked when we were nowhere near a power outlet. For dinner we both had a lovely lobster soup creamy with coniac and panfried langoustines, followed by the fish of the day (arctic char) with mixed veggies, potatoes, and white wine sauce for Karen (the fish was a bit dry but mixed with the veggies added moisture), and monkfish and langoustines with veggies and red wine glaze for Neil (quite nice, monkfish is so textured). Karen had apple cake with caramel sauce and vanilla ice cream (delic!) and Neil had skyrpanacotta with dates and orange gel (dates were fairly sweet but the skyr was sharp so it was a nice contrast. Not a flavour combination he would have thought to try himself which is always nice).
Monday, July 27 - A ferry into the West Fjörðs, and Ísafjörður
On Monday, we got up early enough to get some gas and to be at the ferry to the West Fjörðs at 8:20am. Karen was up even earlier then she had hoped because the bed was too hard, and sunrise happens here at 4 bloody am. We have yet to meet any form of accommodation here that understands the concept of blackout cloth or blinds or those of us afflicted with light activated brains.

Neil answered a directional question from another tourist just before we hit the ferry - in French! The oddest things happen when you are on vacation. We stopped for gas before getting on the ferry so Karen took the opportunity to look for salt and vinegar potato chips, a favourite snack - no luck.

The ferry ride was fun, if a bit windy. By the by, the wind is all out of the north so far, which provides a wind chill factor that drops the temperature. Don't get me wrong - in Iceland, outdoors is almost always better then indoors, but it can take some effort to get acclimated.
Loading the vehicle onto the boat was interesting. They really jam the vehicles in tight on the ferry - passengers have to get off and walk onto the boat which is important because after you park they couldn't open that door. The ground guides really know their stuff 'though because Neil didn't see any scrapes. Neil tried to take pictures of some of the many birds that inhabit Breiðafjörður while Karen hid from the wind just around the corner. Breiðafjörður is home to over 50 different breeding species of birds.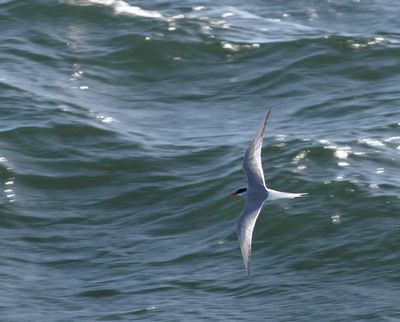 When we landed at Brjanslækur in the West Fjörðs, we turned right and drove 6km up road 62 to Flokalunda for lunch. Lunch was simple and good food. Karen had a ham and cheese sandwich and made her first encounter with the complete lack of vinegar as a condiment for french fries. It was pleasant to get out of the wind for a bit.

And then the fun began.

Where 'fun' becomes synonymous with words like 'terrifying' and phrases like 'oh my freaking god' and 'Oh god, oh god, we're all going to die!' Serenity fans should know that last one. Neil tried "I am a leaf on the wind" just once and I had to remind him that the character did die right after that line!

Let's just say the drive to Ísafjörður was.... a tad.... interesting. Lots of blind curves, blind hills, sharp drops from large cliffs too close to the road for comfort, steep inclines (up and down) - and did we mention narrow and roughly unpaved? We took road 60 to Dynjandi/Þingeyri. The first indication of what is to come is the steep upward climb on an old gravel road. The tourist brochure had a note from the cops "speed limits are for your safety - it's your vacation, what is your hurry?". Now in Canada, they might _say_ something like that, but the speed limits all have a different purpose. Here they mean "If you have driven on gravel or dirt roads most of you life, have a 4x4, and don't mind single lane bridges, blind hills, crazy curves, blind hills ON crazy curves, small lanes and steep cliffs then go right ahead and drive at the limit, otherwise you will want to drive slower". Neil drove slower.

Problem areas are well posted with speed advisories. At one point while driving in a sequence of switch backs down a scree slope on a dirt road with no railings we went around one 180 turn marked with "20 kph" as its' limit, Neil went slower.... At another point on a particularly interesting curve around the side of a mountain with a lovely fjorð a few hundred feet down (and 6 inches from the side of the car) we actually saw a very short guard rail - the only one we saw. Neil managed to not actually leave nail marks in the steering wheel.

Once you get to Dynjandi, the drive into Ísafjorður gets much better. Neil actually got up to 80 kph at quite a few points when he wasn't braking for sheep.We got pictures but no way do the pictures convey the sheer scale of this place.

We took a brief break from the driving terror to visit, and climb several terraces up, around Dynjandi. This group of waterfalls is 186 m tall in total and is comprised of many different smaller waterfalls on the way down, many of which are individually named. At the main fall off the cliff, the top spread is 30 m, widening to 60 m at it's base.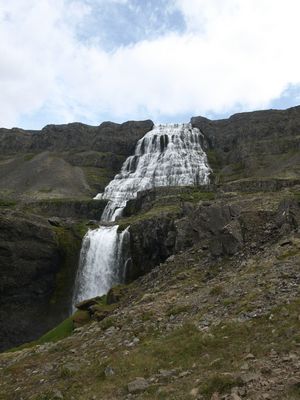 Just to give you some perspective on that height - see that road just in front of the fjorð? And the little brown circle (aka the parking lot)? You can't really see the cars from this close to the top.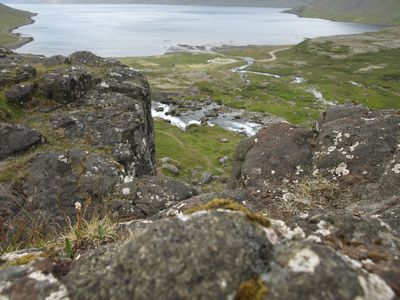 And here's one of us in front of the main fall, courtesy of fellow tourists returning the favour.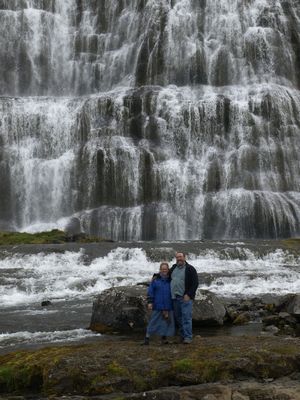 So this was Monday, and we lived to arrive in Ísafjörður. But Karen was so tired that even though we had great internet and a wonderful meal, she went to bed quite early, and even slept through sunrise at 4 bloody am, right until a rather decent 8ish am. We spent the night at Hotel Ísafjörður. The receptionist was very helpful with postcards for the nieces and nephews. We had a decent meal in the hotel's house restaurant. Neil had asparagus soup, pan fried puffin in blueberry sauce with potatoes, and a skyr mousse with fruit and raspberry coulis - puffin is very much a 'red' meat, stronger flavour then cornish game hen. Karen had no appetizer, being very very tired, and went straight into the house special of salt cod au gratin over garlic flavoured potatoes, and she also had the skyr mousse for dessert.
Tuesday, July 28 - finally Holmavik (sort of)
Tuesday we wandered around Ísafjorður in the morning. We found a nice bakery for breakfast but Ísafjörður is otherwise a sleepy little fishing town where the stores don't open until at least noon. We stopped at the local grocery store for food on the way out since we weren't sure we'd be near a town around lunch time. Karen looked for salt and vinegar potato chips again - still no luck. Lots of yummy skyr 'though, and some very very good licorce bits.
The afternoon saw our intrepid couple driving in zigzags around these annoying obstacles called fjörðs - no straight lines here! Better roads than yesterday with only a few stretches of unpaved roads and much less steepness. The steepest incline we saw today was 12%. Driving along a 'road' marked by raised gravel and little yellow wands on each side, through the fog, across the top of a mountain was a new experience for Neil. Not really scary, but just one of those "you are here" moments.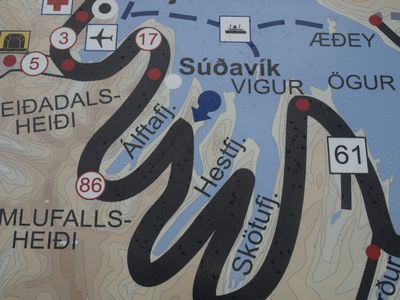 As we left Ísafjorður, we had to pause briefly to let these sheep wander across the road. They seemed to be coming toward us in our lane, but thankfully they swerved in time to avoid a collision.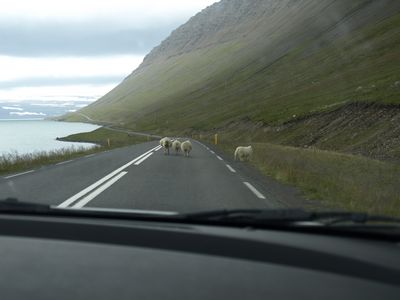 We stopped briefly on the other side of the fjord in order to take a picture of Ísafjorður, our sleepy little host of the night before. Good thing that mountain stayed in it's place, eh?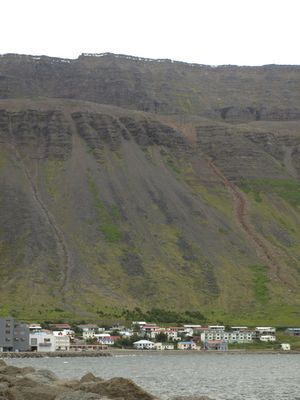 We made no special stops along the way this day, but the road was much much better then the day before and there was lots of interesting scenery.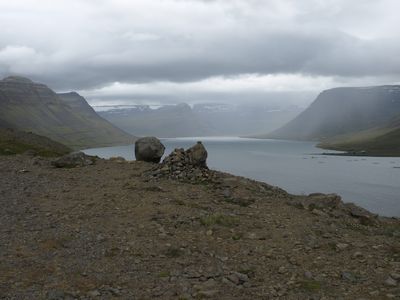 We spent the night at the Hotel Laugarholl - a pretty plain country hotel outside of Holmavik. Actually, we missed the turnoff for the hotel, drove into Holmavik and asked at the tourist information spot, and got directed to drive back a bit.
The Hotel Laugarholl was WAY out in the country, on increasingly smaller and less paved roads - in the middle of a beautiful valley. No internet in the room. No phone service on the blackberry. Weak internet in the lobby. Dinner was fine but simple. Mushroom soup, flounder in a cream sauce with potatoes on one side and rice on the other, and home made banana ice cream with chocolate sauce for desert for both of us. The only choice actually was fish or meat. When we were ready for a little after dinner dip, the public pool next door had just closed and was in the process of being drained for cleaning. Darn it. Also, right beside the hotel is also the Sorcerer's Cottage which is a part of the Witchcraft and Sorcery Museum project. This part of the project is focused on how the poor lived in a recreated sod cottage. The poor were largely the victims of witchcraft persecution. It was closed but we did walk around the outside.


Wednesday, July 29th - Blönduós
Karen continued her unsuccessful quest for salt and vinegar potato chips. By this point she was almost ready to give body parts in exchange.

We started the morning with a visit to the Icelandic Museum of Witchcraft and Sorcery in Holmavik. This museum focuses on the witchcraft persecutions in the early 17th century. There is a list of the names of all 21 persons killed (mostly burnt) for witchcraft. They have some grimoires, and replicas of spell components, including a set of 'dead person pants', as well as many symbols that were supposed to be drawn in blood taken from very specific body parts under very specific circumstances.
The text in the museum is entirely in Icelandic but they had english Ipods with guided tours. We're both better readers than listeners and would have appreciated English language signage.

Most of the witch burnings in Iceland, and the practice of witchcraft itself, are significantly different then what was happening in Europe in the similar time period. In Iceland, almost all of the accused were men. It was thought here that men were largely responsible for the practice of witchcraft.

Also the nature of the witchcraft was different. The little that Karen knows about European witchcraft doesn't include such complex signs as the one below. There are dozens of examples of these in the museum and almost all of them are supposed to be written in blood.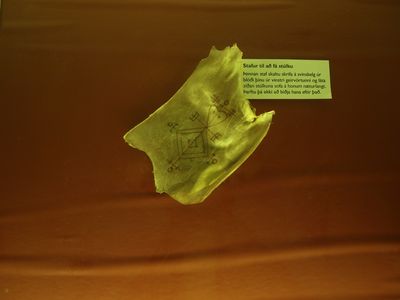 We got back on the road and shortly came across the Sheep Museum, which was a bit dry in nature. It's a country house type museum putting a lot of info together and trying to preserve something before it is lost. They were surprised when we asked, but willing to sell us a copy of the English language information guide, which had a fair amount of information in it. These bottle-fed lambs accosted us in the parking lot hoping to be fed. They were quite adorable.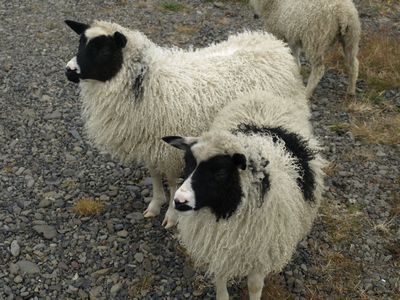 The trip continued into the North West ( link, link) of Iceland, with the Seal Centre next. Karen and Neil differ on the value of this stop - Neil feels that it provides a decent overview on the creatures and a list of places to see them this year. He also thinks it's a good cause to support - they do a lot of rescue and survey work. Karen didn't take pictures at this one because frankly, the stuffed carcasses and boring Victorian nature of the presentation just didn't appeal to her.

We spent the night in the Hotel Blönduós and loved the ocean-side view in the room. Drifted to sleep with nothing but waves crashing on the shoreline as background music. In the morning, we managed to get a few shots of the bird-life and the shore-line.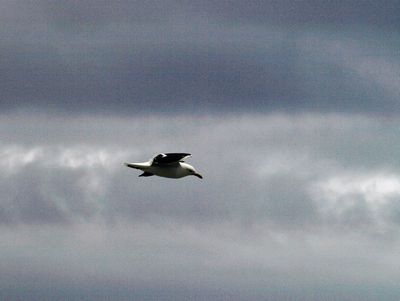 We had dinner in the "Pot and Pan" restaurant (probably newly named to refer to the recent revolution here). It started with a wonderfully spiced lobster soup which was good, but huge. Karen feels she was full before she even started on the main course. They also do Indian food and Neil thinks the spices carried over. Neil ordered cod in tomato basil sauce which was nice but the seafood gratin had too much salmon which Karen doesn't enjoy as much so we traded. Both dishes were pretty good.


Thursday, July 30th - Blönduós to Mývatn
In the morning we hit the Icelandic Textile Museum (link, link, link). It's an interesting museum if what you're interested in is a fairly narrow historical review of textiles in Iceland that starts in the 1600s and offers no pre-history. There's a pile of material from no earlier then the 1700s to the 1960s including a great collection amassed by a teacher here in Iceland. Some nice tablet woven bands, some interesting dyed wools, some 1800s fibre machines (early spinning wheels, looms, and a large industrial spinning machine). There is nothing from the Settlement Period and there is no English catalogue available. Some neat "home life" stuff such as wooden buckets. They do allow pictures, which is good. They supply cotton gloves so you can handle the materials which is better. Finally, they keep the cases unlocked so you can open the door to get better photos which is even better. Karen was disappointed in that there were no references to pre-1600 era textiles or textile tools but really that is the only complaint you can raise with this friendly, well laid out museum.

This is apparently the very first sewing machine ever imported to Iceland.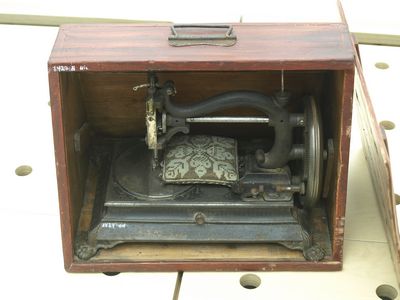 Our next stop was at Viðimyri, a beautiful version of an old sod church. It dates back to approximately 1834 and was fixed up and consecrated in 1935. Most of the timber, and many of the artefacts inside are original but the turf needs to be replaced regularly. This is a commonly pictured church but when you see it in person it is much smaller than you think. It is also fun to know that the church is still in service today.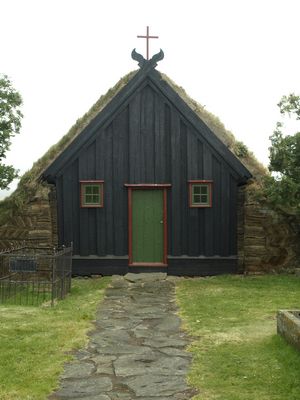 Glaumbær Folk Museum - The most interesting part for us was meeting the archaeologists who are doing a dig on the site. They are from U.Mass. and UCLA, and were just coming up for a washroom break when we arrived. The posterboard about the dig indicated that there is evidence of pre-1104 iron smelting. In speaking with the archaeologists we learned that they have found bog iron, and some "slag". The dig began with a goal of validating some ground penetrating radar techniques which seemed to work well. As a part of verifying what the radar saw, they think they've found a pre-1104 farmhouse. This is very interesting as Glaumbaer itself sits on top of the 1104 volcanic layer and it was assumed to be settled after the big volcano eruption. The new site just a few hundred feet away is sitting cleanly below the 1104 layer and would represent an earlier period of occupation. This is quite interesting and we hope they get more funding so they can explore further. Neil passed on his card to the nice people. The archaeology thus far is currently unpublished as the iron stuff is yet to be analyzed. It is of interest to the DARC iron smelting experiments, so the more we can learn the better.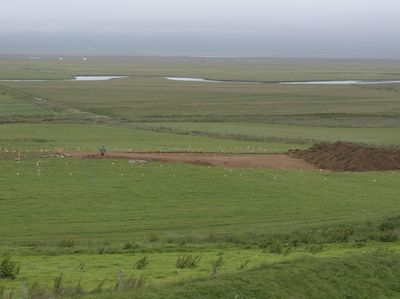 The museum itself has a restaurant/washroom building and a reconstructed sod farmhouse which has multiple rooms built off a single corridor. The various rooms are furnished in different periods but mostly 1800s again. A very interesting point were items like some buckets Neil could point out in Viking Artefacts, yet these were from the 1920s or later. It is surprising how little some things changes. The museum itself is very well done as a museum providing a broad range of time periods and artefacts and immersing you in the smells and life, with good staff who are very enthusiastic about their material.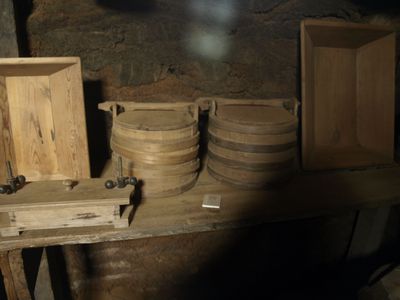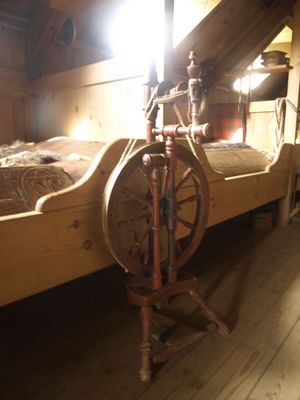 Karen got really grumpy photographing a million things that she just doesn't find that interesting since they are post-Settlement Age. Being contrary then, here's the backside of the houses and the husband. Karen always functions better in the outdoors here. Errr.... well 'always' might be too strong a word, but more on that later when we get to Húsavík.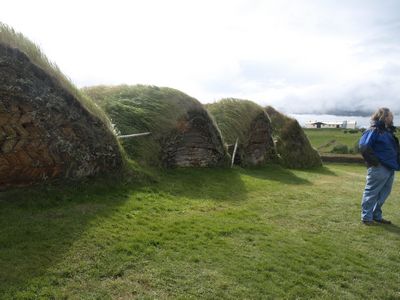 We made a brief pit stop in the rain in Akureyi in the North East (link, link) for two cables for Karen's Ipod. Karen is much much happier with music around. It was a long drive today, with lots of stops, and Karen was definitely ready for arriving at the hotel, especially after getting grumpy at Glambaer. But we had yet one more stop to make.
Admittedly, it was the best stop we could have made to perk her up. Fresh air, fast running water, and a complete lack of boring 1800s museums. Goðafoss (link, link) which loosely translates as "waterfall of the Gods" is so named because when Iceland officially converted to Christianity in 999 or 1000, the lawspeaker of the Alþingi, Þorgeirr Ljósvetningagoði was charged with the task of throwing his statues of the Norse gods into the waterfall.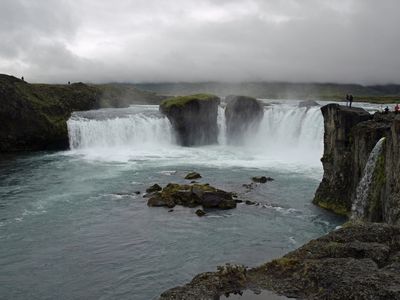 Snorri says "oh no, not me! I'm not a god!"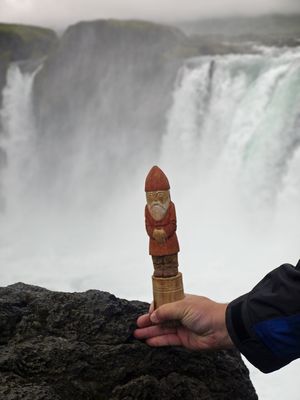 We have been taking some time playing with the camera to get the more 'artsy' shots, especially around waterfalls. This one turned out quite well.




We finally ended that day in the Mývatn nature preserve, at a lovely hotel called Hotel Reynihlið. We planned to stay here two nights, because during the day in between, we drove up to Húsavík to go whale watching. The hotel is a nice place with a decent restaurant. We both had the langoustine soup - delicious, although Neil liked yesterday's soup in Blönduós better. Karen had reindeer on a stick (3 spears actually) with wild mushroom sauce (mushroom sauce - yum), mixed vegetables and a citrus sorbet for dessert. Neil had fried arctic char with an almond butter sauce (it also had sliced almonds on top and the skin was left on both lovely additions) and he had a raspberry zabaglione for dessert. Neil also stole a bit of reindeer from Karen because it was new to him.

Friday, July 31st - Húsavík and Mývatn
Breakfast at the Hotel Reynihlið is worth mentioning because it was different then the standard Icelandic buffet breakfast. More then halfway around the country and it had yet to vary from a collection of smoked fish, pickled fish, cucumbers, tomato slices, hard boiled egg slices, thin slices of mild cheese, two kinds of cereal, several kinds of milk, two kinds of bread - both of the harder variety, jam, coffee, juice, tea. At the Hotel Reynihlið, they added scrambled eggs and bacon, kiwi, fruit salad, french toast and more.

The plan for today was a trip up to Húsavík for some whale watching. The drive up was short and easy and since we had some time before the whale watching tour started we went to the Phallological Museum. Yes, that's right, it's a museum dedicated to penises. Most of them are like these in the picture, preserved in formaldehyde. But there are a few dried and mounted, and a few that have been made into other objects like a penis bone walking stick, bull penis bone officer's swagger stick, bull penis skin whip. There are even three letters, from three different currently living men, who promise their penises to the museum upon their demise. One of whom is the current curator of the museum, two of which provided rubber casts of the members in question.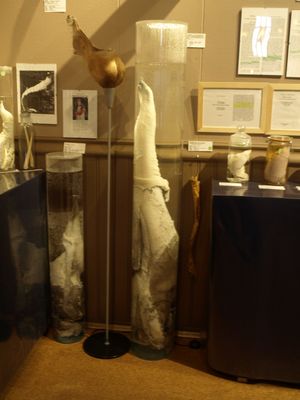 So, whale watching then. Cue.... the theme to Gilligan's Island. "A three hour tour... the weather started getting rough... the tiny ship was tossed.."

First bad sign - they canceled all runs by the smaller boats and only used their big one. Next bad sign - they gave out drugs to anyone buying a ticket. We probably should have taken the hints.
Here is Karen starting out all cheery like in a tower of the orange waterproof jackets they provide. Note the calm water of the harbour behind her.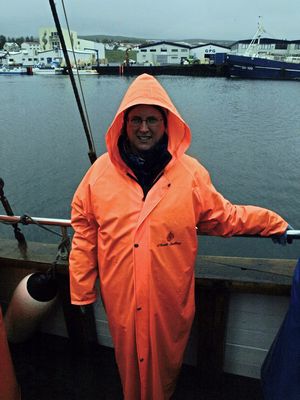 Three hours of not finding whales while fully half of the people on the boat are occupying the rails tossing their cookies or wishing they had any cookies left to toss. Fun - Wow! There were whales around - the lookouts spotted them diving a couple of times but they never surfaced near us.

And here is Karen, after the first or second tossing of the cookies. She spent pretty much the entire 3 hours vomiting. It was.... just so very much fun. And she notes quite querously that she really did take the darned sea-sickness pill they gave us, just in case. It just didn't work. Mind you this was her first time being sea-sick and clearly she nailed it! Neil managed to hold unto his lunch, but he notes it was a close call even for him.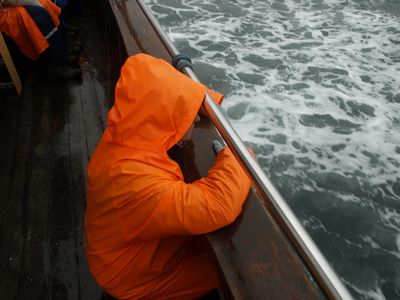 They offered free vouchers for another trip, but there is no way you'd get Karen back on that trip for quite a long time so we declined.

Neil did get a couple of OK pictures including some of a cormorant that overflew us. Apparently it's quite unusual in this part of Iceland.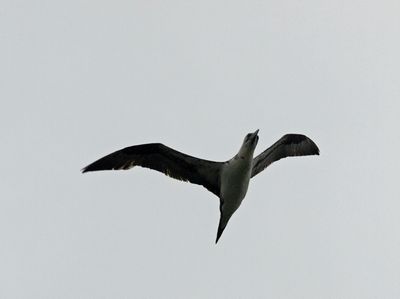 Karen didn't feel like hitting the whale museum or the local folk museum or even dinner that night, but we did get to the Mývatn Nature Springs. Mývatn Nature Springs is very like the famed Blue Lagoon in southern Iceland, but not as crowded, a bit warmer, and about half the price. A long hot soak in one of Iceland's hot springs can cure many ills.

Snorri thinks it's much nicer then that waterfall we threatened him with as well.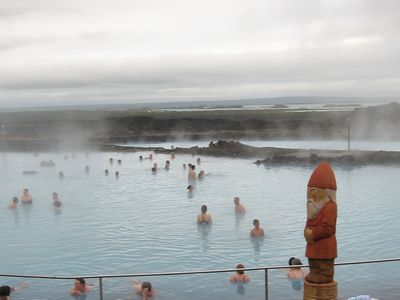 Saturday, August 1st - Egilstaðir
Waking up in Mývatn the next day, Karen was much refreshed from the travails of the day before and it was a bright sunny day with winds from the southeast. A great day to drive to Egilstaðir. Just over the hill and around the corner from Mývatn, we stumbled on this site that we hadn't been expecting - Namafjall Hverir - another heavily loaded geothermal site, much like the one near Gullfoss in the south.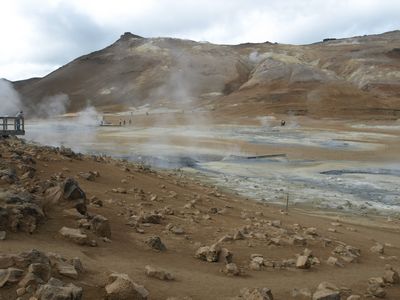 The Namafjall region is close to Krafla, one of Iceland's still active volcanoes. Karen started piecing together how geysers work, and their relationship to volcanoes. Go, shoo.... look it up on Wikipedia yourself. Karen did when we finally paused in the hotel at night. Did you know that Yellowstone National Park is basically just one huge supervolcano? That even just one explosion of a supervolcano could completely change our entire world literally overnight? Let's not dwell on it.

This is just one of the prettier pools of bubbling hot water, superheated by underground magma pockets.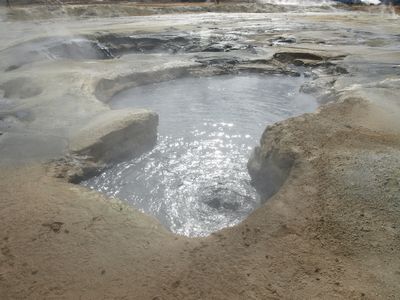 This is a steam vent. Karen likes this picture. She looks so.... tentative.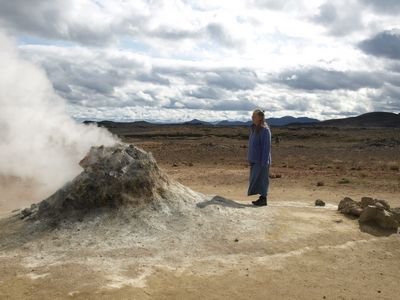 Snorri just sighs at being threatened with hot steam once again.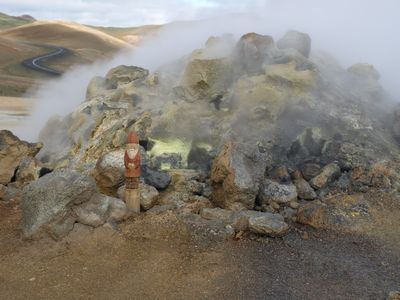 Then another planned stop - it's yet another waterfall. We don't really feel like that 'yet another' thing, because we really enjoy them, but we do wonder if our readers are going 'what, another waterfall?' as they follow along. Iceland has literally hundreds of them, all around the country.

This is Dettifoss (another link). It is the largest waterfall in Europe in terms of volume discharge, and it is largely glacial runoff from Vatnajökull. A nice place with a semi-fun drive in - Neil might have called it a real fun drive except that we had been to the West Fjörds first and he knows what truly amusing driving can be. Everything here is also pretty geologically young so the walls of the canyon are rapidly eroding. The water itself is very dirty from the run off of the glacier and the grit contained in the water is incredibly fine. What strikes you most though is the sheer speed and power of the water pounding through this waterfall. Faster! Stronger! then most that we've seen. This is NOT just another waterfall.
For some comparison, Dettifoss is 44 m high, while Horseshoe Falls in Niagara, Ontario are 53 m. Dettifoss is 100 m wide compared with 671 m for Niagara falls. 2520 cubic metres per second of water go over the Horseshoe Falls at high flow. Dettifoss has 600 cubic metres at high flow. Dettifoss has 20% of the water of Horseshoe Falls flowing through only 15% of the space - the water is much faster moving!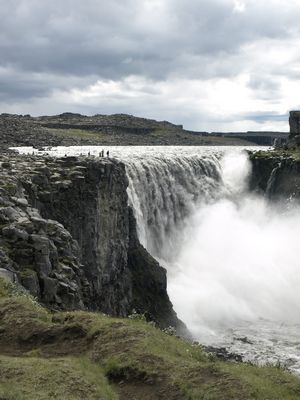 Neil pauses in the sunshine to enjoy the water flowing past him. Unlike at Horsehoe Falls, we can walk right up to the edge of the glacial runoff river feeding the falls, and dip our hands in. It's freaking cold!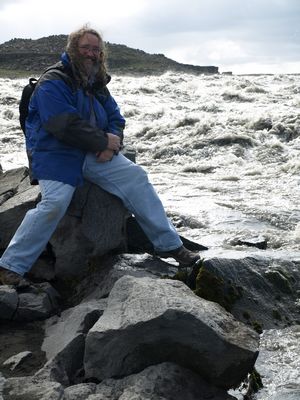 Back on the road again and headed into the East (also), Karen has been making it her ambition to get some of the thousands of sheep that she's seen on film (ed - electrons dear, film is so old school).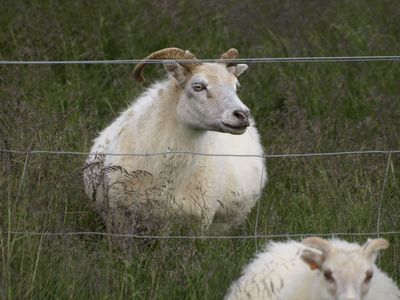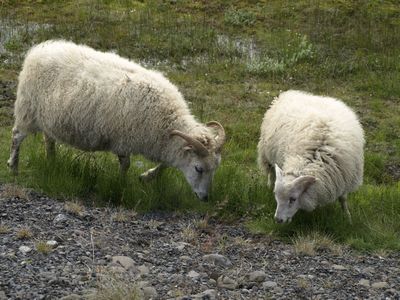 We spent the night in Egilstaðir at the Hotel Herad - another perfectly serviceable North American class hotel with a restaurant. Lobster tails and garlic bread to start, then a reindeer steak in a blueberry/red wine sauce/gravy with blueberries, roasted vegetables, and amusing potato pie slice with fresh strawberries, and an apple/blueberry/skyr compote on the side. Then skyr and fruit and cream for dessert. Yummy. Karen had the monkfish on risotto and creme caramel for dessert. Also quite delicious.


Sunday, August 2nd - Höfn
Egilstaðir to Höfn in the South is a long drive - 250 odd km, so we decided to skip the two waterfalls (Litlanesfoss and Hengifoss) that would have been an 80 km detour into the rain, and just let the road itself entertain us along the way. There aren't really that many planned tourist distractions on the east coast. I know to North Americans hearing us say 250 km is a long way sounds very silly. Here at home we have friends we see regularly that live that far away. But in Iceland distances are deceptive, and there is always a distraction waiting to take you off the road for a while.

Karen looked for salt and vinegar potato chips before getting on the road again and is really becoming quite despondant with her lack of luck. How can an entire country abandon sane snacking?

It turns out that there are really three ways to get from Egilstaðir to Höfn. If you use this map and zoom in on the route you can see that route 92 to Reyðarfjorðr is the longest, with route 1 to Breiðalsvik being a good chunk shorter. But part way down route 1 there is a blue question mark. On a real map that is the location of route 939, a tertiary road off route 1 to Berufjorðr. Given that it was raining pretty hard we decided to take route 1 as directly as we could. Route 1 got pretty rough in some spots and then we saw route 939. Figuring it couldn't be much worse than route 1 was at that point and since it was only 21 km long we figured "why not? let's see if it cuts time off and gets us into Höfn faster so we could soak in the hot pots and commiserate about the rain." Turns out route 939 is in much better shape than route 1. We climbed up into the mountains and deep into the clouds within a few kilometres. The road was straight forward but 'things' loomed up out of the fog and the mind started playing tricks. Let's just say it was important to watch the yellow wands of the road because it was the sort of day you could take a wrong turn and wind up in Alfheim before you knew you'd even left the road.

After 10 km we hit the high point of the mountain pass and started down again - soon enough we dropped out of the clouds and then Thor gave us a present. On the side of the road was a pull off and a VERY cool waterfall, and then the rain promptly stopped very briefly.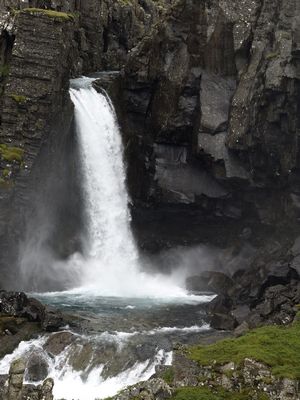 We got out, stretched our legs enjoyed the stunning view down into the mountain valleys and of this lovely waterfall. When we had enough, we got back into the car, the rain started again, and down the hill we went. It's kinda twisty.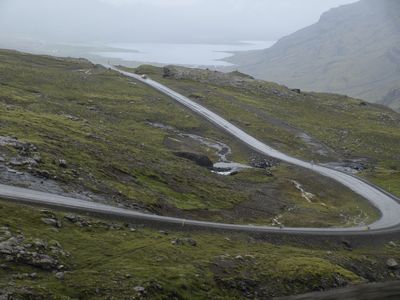 Back on the main road headed to Höfn, we noticed that it was around lunch so we pulled off the road at one of the picnic spots they seem to put every 5 or 10 km here. It was still raining so we ate in the car, read books for a bit, then the rain slacked off and stopped, so we decided to stretch our legs, and bingo - another incredible waterfall! If the day had been sunny and remotely warm, we could have gone swimming in the little pool at the base. We took pictures instead, and then back to the car as the rain started again.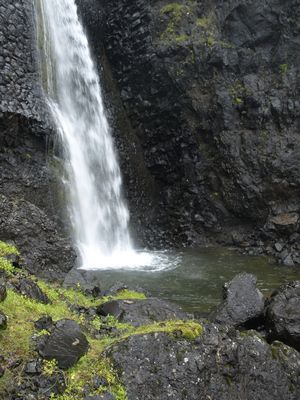 A little way away from Höfn, we noticed the sky was getting brighter and the rain was slowing down. This is just the coast line, as we are starting to approach Höfn. It's still overcast and rainy, but the coast is getting craggier. It's so pretty that Karen defied the rain to get a shot.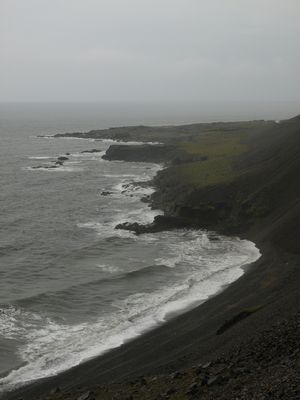 The road went into a 1.3 km tunnel through a mountain, out the other side and presto - broken clouds and blue skies and our first view of Vatnajökull.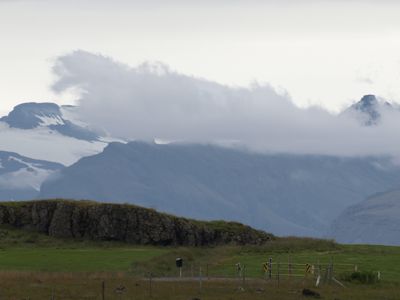 A few kilometres later we arrived in Höfn. We decided to walk around town and explore a bit. Unfortunately it was late afternoon on a Sunday so not a lot was open but we did find another cat.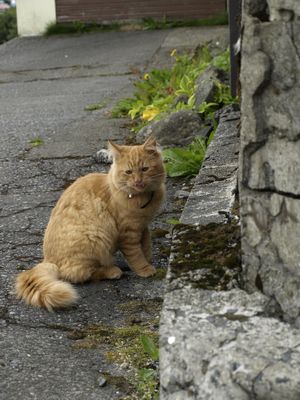 We went to the Glacier Exhibition, which was just chock full of science and yet very well presented. It's a mix of boards full of facts, frequently asked questions, a short film, a solid scientific presentation on glaciers and expeditions to Iceland's glaciers, films shot on Iceland's glaciers (two Bond films), and cool things that have happened at Icelandic glaciers. One example was a massive outflow in the course of just one day involving 45,000 to50,000 cubic metres per second of water- 20 times the flow over Niagara Falls. You can even go up on the roof and look at the outflow glaciers in the distance (all nicely labelled). A very nice little exhibition!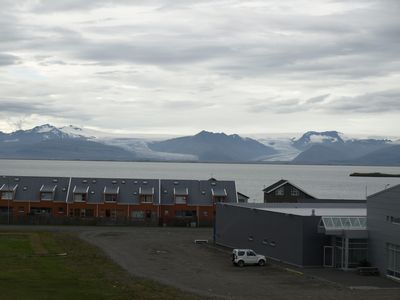 In the exhibit, while Karen was still capable of absorbing the science, she couldn't help but think that our friend Marcus is just going to go totally crazy here. This entire country is a geologist's wet dream. You could spend a lifetime investigating the geology of Iceland and still not get to all of it.

We stayed at the Hotel Höfn - it's an interesting place with both a main building and an expansion across the road that seems to have been two 8-unit buildings which were redone as 20 hotel rooms each. We went over to the hotel for dinner - there is much goodness to be had in a lobster town. First though we should really clarify that "lobster" means a "Norway Lobster" or "langoustine". After all a "lobster tail" here is 3 or 4 inches long not the 6-8 inches that Canadians would probably expect. With that out of the way, we had a nicely spiced creamy lobster soup to start, then "Lobster Höfn meets Asia" - nine lobster tails split and spiced served with garlic butter drizzled over them, two lobster stuffed spring rolls with spicy sauce and some salad. For dessert, we both had "Skyr three ways" - skyr with cranberry gel flavoured with cinnamon, mandarin skyrmousse with blueberries, home made coconut and skyr ice cream. Karen has a different opinion on that cranberry gel flavoured with cinnamon concoction - Neil loved it, she thinks it tasted like cough syrup.

This is the Vatnajökull glacier at 11:30 pm (ish) from the beach near our hotel at Höfn. So peaceful.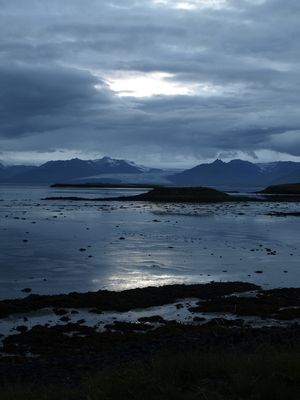 Monday, August 3rd - Jökulsárlón
This is Vatnajökull in the bright sunlight as we neared Jökulsárlón.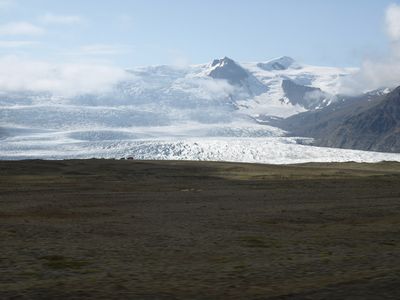 Jökulsárlón (official website) is a lagoon created by the melting of the largest glacier in Iceland, Vatnajökull. It's filled with icebergs that have broken off from the glacier and are in the process of melting as they mix with the warm currents of sea water.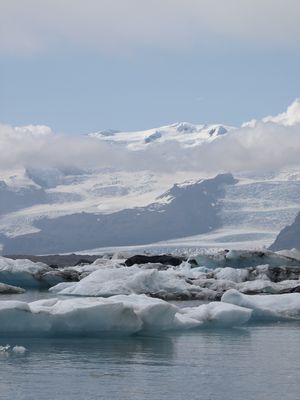 These intriguing boats will take you out into the lagoon for a brief runabout, where a guide carefully explains the nature of glaciers and the formation of the lagoon, including the timelines involved. It is thought that the glaciers in Iceland were much much smaller in the Settlement period (ie, Viking Age) and that the settlers farmed areas that are now buried in glaciers. Imagine doing that kind of archaeology!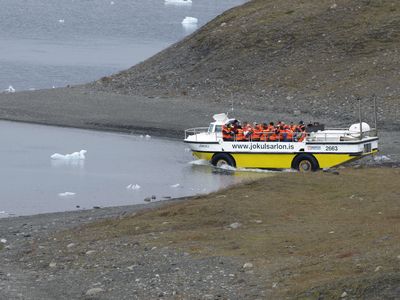 Glaciers are dirty at their leading edge, picking up the earth as it moves. When an iceberg turns over, having left all that dirt at the bottom of the lagoon, it is a beautiful crystal clear ice that slowly turns white as the sun crystallizes the surface. This is a freshly turned iceberg.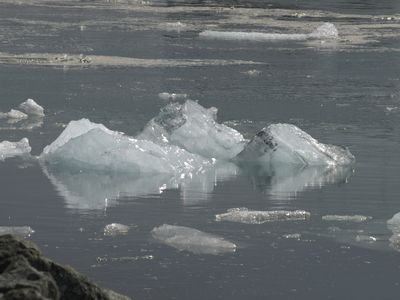 This one, Neil and Karen are debating. Does it look it a duck or a seal to you?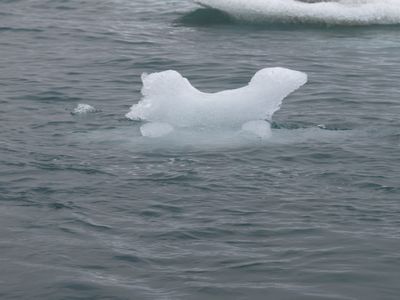 And speaking of ducks there is an abundance of wildlife living in or around the lagoon. And Karen is a sucker for cute wildlife.She caught this cute baby duck in mid-shake.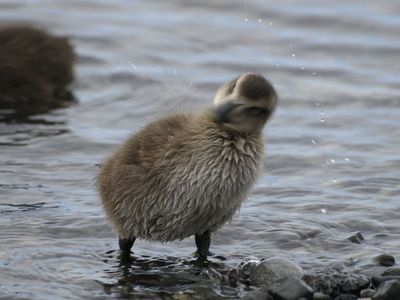 And while we were hunting for seals in the lagoon, we caught this little bird of some sort in the rocks in front of us.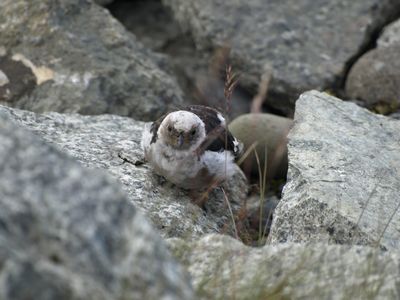 Found a seal! As the salt water of the sea mixes with the fresh water of the lagoon creating interesting patterns of currents, seals often chase fish into the lagoon.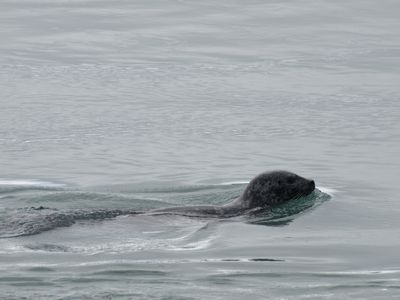 Neil caught this arctic tern on an iceberg with his meal in his beak.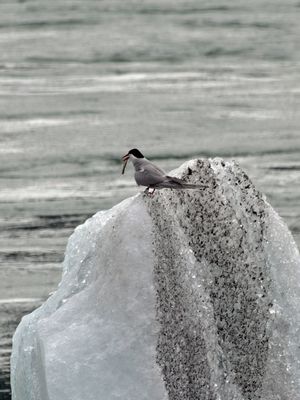 Snorri had an overview of the icebergs "Why is it always water with these people?"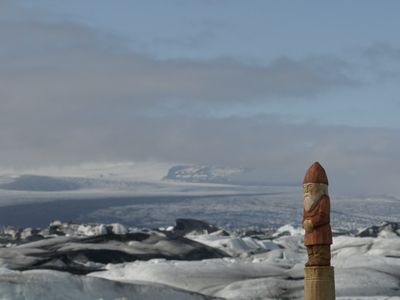 "This is so undignified."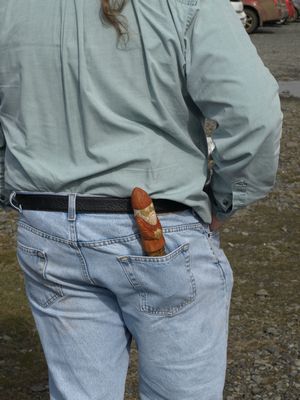 We spent several hours at Jökulsárlón. The half hour boat tour of the lake was fun, loads of icebergs, and they take the time to try and teach you about this glacier at every turn. For those who don't know, Vatnajökull is the largest glacier outside the polar regions. It has a huge number of outflow glaciers and Jökulsárlón is a lake formed by the outflow of one arm back in the 1930s when the glacier began a big retreat. The lagoon has kept growing as the glacier pulls back and now it is huge and full of icebergs. We learned about the colour codes of icebergs and got to eat a piece of one. We were fascinated!
We spent the night at Fosshotel Skaftafell which is a pretty plain hotel, with lots of out buildings. No internet in the room but it works in the bar. Dinner was rustic but good solid food. Fish "stew" for Neil, which was thick enough to not need a bowl and covered with hollandaise sauce and cheese. Karen can't remember now what she had. Then we both had skyr for dessert.

Tuesday, August 4th - More Glaciers and the road to Ranga
After visiting Jökulsárlón, Karen was intrigued by the glacier that we could see from the hotel window which is called Svinejökull. It looked so close and Karen wanted to get right up to it. Distances are deceptive in Iceland, and it wasn't really "just outside" the hotel room, but several hills away. So we took an access road for glacier climbers and walked in instead. Not being in safety gear, we didn't attempt to climb on the glacier itself but we did get very close to the leading edge. It was very dirty but still very interesting.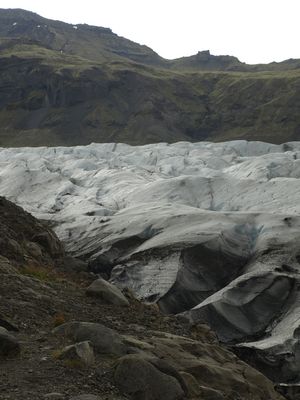 On the road we found this sign for Darrell, who is usually called Ketill in DARC. For those not familiar with Icelandic, Ketilsstaðir roughly translates as Ketil's farmstead. Taking this picture was an amusing process, given that the rain was quite heavy, and opening the window just long enough to get the picture nearly drowned the whole interior of the car.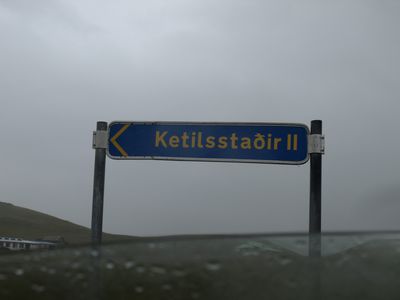 Our next stop was at Kirkjugólf, just outside of the village of Kirkjubæjarklaustur. Kirkjugólf (Churchfloor) is a natural pavement of basalt. These are basalt columns in the earth, but only the tops can be seen, and as the name suggests, have the appearance of a paved church floor.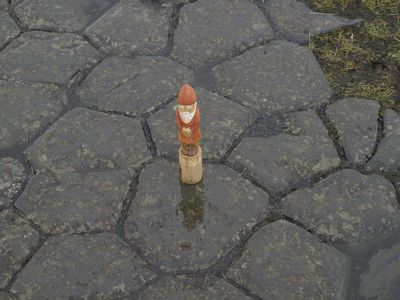 Neil got his waterfalls mixed up. Karen really wanted to see the one that you can walk behind and he thought it was this one, was utterly convinced that it was this one. So he said "let's go", and starts plunging toward the waterfall. The mist layer is so heavy it's starting to soak us and Karen is yelling "no way, can't be this one" and finally he figures it out too and stops. Neil thinks Karen tells a way better story than the simple truth of walking along the shore towards a waterfall undeterred by the spray until you can get close enough to see around the rocks that there is no path behind the fall itself. Karen thinks that if he'd actually looked instead of determinedly hiding his face from the spray and plunging ahead, he could have seen that there was no path a whole lot sooner.

By the by, the name of this waterfall is Skogafoss.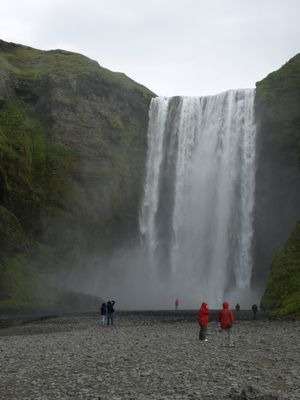 Skogafoss is right next door to the Skogar Museum - yet another "folk" museum. Very 1800s as a museum, room after room just jam packed with "stuff". Some of it labelled in Icelandic in single sentences (with a little Icelandic flag to let you know it is in Icelandic). Sometimes there is some english text. Mostly the contents are 1800s or later (one room has some WWII military stuff, and old tvs for example) but some of it goes back to the Viking Era. It is amazing how much some things didn't change here - for example buckets that were dated to 1820 or 1870s that Neil could point out in a Viking artefact book.
One case of Viking Era stuff included some iron production slag and what looked like 2 blooms. Truly this is the sort of place that will drive you nuts because it is hard to find something specific or learn much about it if you do find it - but you could spend DAYS looking at all of the cool stuff. (Or maybe just an hour if you're humouring your husband even though you're not into overcrowded museums full of junk from centuries that just don't do it for you.)

Then there were the buildings. Turf and stone houses, wood houses, a church, a school. All carefully moved here and fixed up (and dated) including the first wooden house from the district (1878 by the way). Nice to be able to see them. Overall it was really well done for its type of museum. Even Karen found interesting items like this thing, apparently 17th century, which is the remains of a header for the warp-weighted loom, which was in use in Iceland well into the 18th century.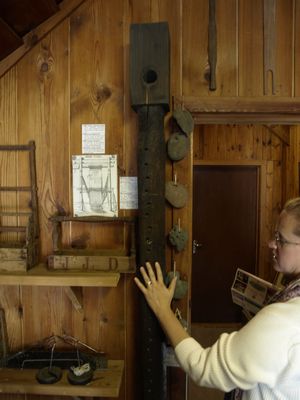 Now this is the waterfall - Seljalandsfoss- that you can walk behind. It's really really cool, and somewhat terrifying inside the cavern because the sound of the water falling echoes and vibrates and you think you're in the middle of an airplane taking off but it's all around you. That's the sound of literally tons of water both falling in front of you and echoing around the cavern, and of the huge river above the roof of the cavern that is about to become the falling water.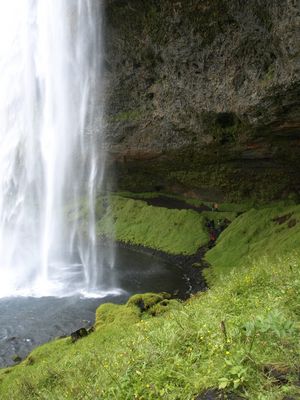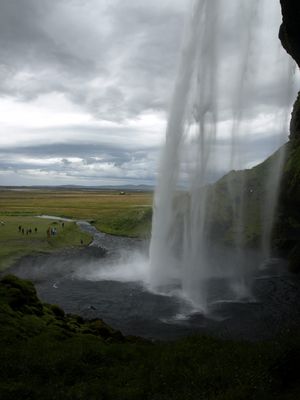 We then continued onwards to the Saga Centre in Hvolsvolur, our last stop before the hotel this day. It is focused on telling the story of Njala's saga. It's really well done in one way - lots of large boards with pretty pictures to tell the tale. But oh my - where do we even begin on the 3 dimensional stuff they are using to flesh out the story?

The blade on the spear is wrong, the shield is the wrong shape, the helm is wrong, the broaches are wrong and the shape of the cloak is wrong! That's just one of maybe a dozen such characters, all filled with looming inaccuracies.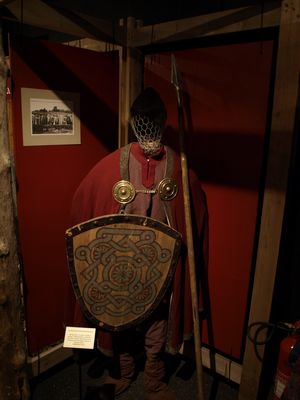 And then that day was over.... it was a long long drive to what is billed as Iceland's only 4 star hotel and restaurant. Karen might agree that the restaurant deserves 4 stars, but sadly, not the hotel. In fact, she thinks it's earned the dishonour of the hardest beds in the entire country. And the outdoor hot tubs weren't at all hot. *sigh* The Hotel Ranga does have the hardest working staff Karen had met yet for trying to please, and Icelanders seem to try hard to please as a general rule. Dinner was Humarsupa (lobster soup) to start. It had a little thinner broth than we prefer but so many wonderful flavours in it. Spicy but in the best way with lots of subtle flavours. Then monkfish stuffed with a herb/lobster paste, on pureed potatoes in lobster gravy with veggies. Karen had the same dishes. For desert Neil had skyr mouse in a hard chocolate shell with rhubarb in a rhubarb sauce. Karen had fresh Icelandic strawberries with estragon and champagne sorbet.

Wednesday, August 5th - Ranga to Hengill
The next morning we were off to the Hekla Volcano Centre, in the shadow of Mount Hekla itself. A wonderful presentation if a little light on the facts. The centre uses several modern techniques like a tilted floor and ambient noise to disorient and disquiet its patrons, to emphasize thedestructive power of volcanoes, and Hekla's history in particular. A very large eruption in 1389 earned it the nickname of the Gateway to Hell because its ash clouds made it as far as Scotland and England, and destroyed farmland for miles and miles around.

These ash layers are part of Iceland's archaeological dating method because eruptions were recorded in some fashion as far back as 1104. This photo, taken in the National Museum of Iceland shows the ash layers. The explosion in 1389 is that big band of dark colour just below the middle. The 1104 eruption is dark layer near the bottom.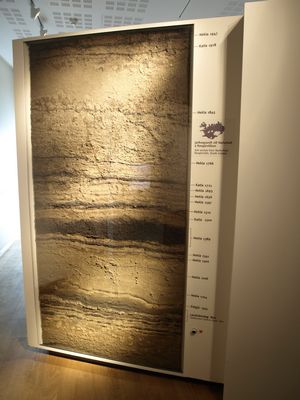 This is Hekla today - note that people are moving back into the area. Karen isn't sure she'd be comfortable living so close to an active volcano that tends to erupt every decade or so. The last eruption was recorded in February/March 2000, and experts are expecting another one shortly.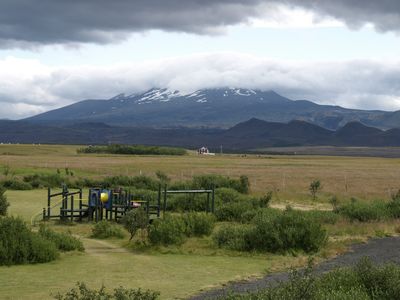 Hekla is calm today. Well, on the day Karen took this picture of the seismometer, anyway. It's very reassuring.
The Volcano Centre had one fantastic cafeteria. Great food, and a waiter who studied hospitality in the US. He had us laughing about pronounciation of the language, telling us a nonsense poem about rolling one's r's in Icelandic. He went out of his way to find some malt vinegar in the kitchen for Karen's fries - the first time she had vinegar in any form in the entire country.




Our next stop was Stong. which is a recreated Settlement Period (ie. Viking Age) longhouse. The original (just down the road) was buried by ash during Hekla's eruption in 1104. Archaeologists uncovered the site and a recreation was built in 1974 as part of the celebration of the 1100 years of Iceland's settlement.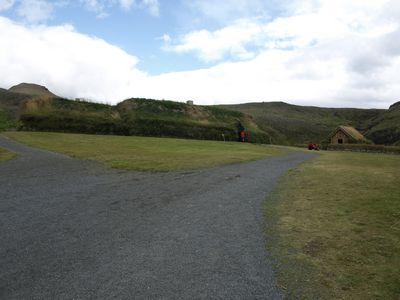 It was very well built, but Neil and Karen both agree that it really needs re-enactors to bring it to life.

Snorri approves.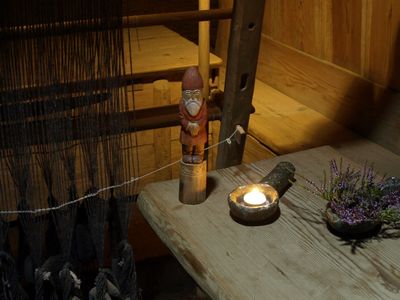 This warp weighted loom is on temporary loan to the Stong site. It is beautifully set up, and has obviously had a very competent weaver behind it at some point.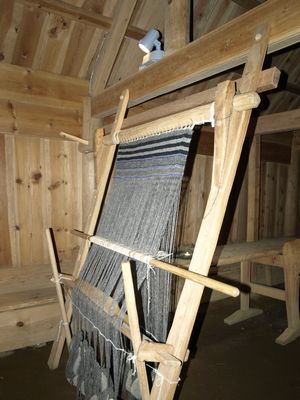 We then stopped at Thingborg in Selfoss which is a wool co-operative. Karen had fun here - lots and lots of yarn that isn't the boring lopi that Alafoss markets ad nauseum to the world. Imagine Icelandic fleece heathered and plyed, and handspun properly. When we were exploring the web in preparation for the trip, their webpage had a picture of a warp weighted loom, and Karen got quite excited by the idea of seeing it. She wanted to talk to the weavers in question and see what they know about weaving on this type of loom.When we got to Thingborg and couldn't find it, we were puzzled and inquired. Apparently the loom on the webpage is the same loom that we'd seen that morning in Stong! We passed on our compliments on the weaving.
We spent the night at Hotel Hengill, a part of the Icelandair hotel chain, which was a pretty normal hotel. We chose Hotel Hengill after the Hotel Valholl in Þingvellir burned to the ground a few weeks before our trip. We had wanted to be near the park so that we could go wandering in the park after supper, after the crowds of tourist buses had left. The weather had a different idea for our evening however. It rained all evening too hard even for the hotel outdoor hotpot, never mind a walk around the national park.

Thursday, August 6th - Þingvellir to Reykjavík
We started off Thursday morning by getting up and deciding to go to Þingvellir, rain or shine. Unfortunately it was raining, but when we got there the rain mostly stopped, at least for a bit. We went to Oxarfoss first to try out some photos with the tripod. Longer exposures can be done better with a tripod, humans find it difficult to hold a camera steady long enough and since we did bring the tripod to Iceland we figured that we might as well try using it.

The longer exposure provided really cool water but strange colours in the rock and moss. Clearly we need to return to fine tune this idea a bit.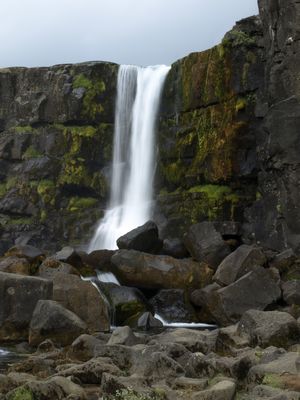 The rain started again in torrents as we were midway up the continental divide. Neil went back for the car like a gallant gentleman, and Karen trudged up to the tourist centre at the top, which was somewhat closer. Karen pulled off layers and tried to dry out while watching films of the lake and other UNESCO world heritage sites while waiting for Neil, or the rain to stop, whatever would come first. Unfortunately the space had to be shared with dozens and dozens of other tourists all hiding in the only shelter short of their cars or buses.

Snorri is seen here overlooking the valley and the nation's guest houses for visiting dignitaries. Another picture taken in haste in the rain. The hotel that we would have been staying at was right across the river from the dignitaries' guesthouses but it burned to the ground a few weeks ago and now it's a lawn.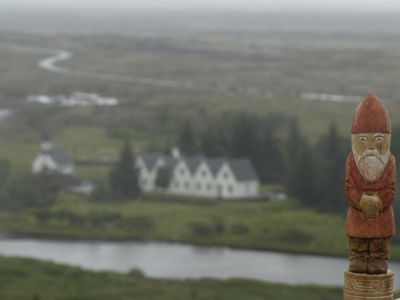 We headed back to Reykjavík with a brief stop at the factory outlet store for Alafoss, Iceland's leading wool producer / exporter. The dollar exchange in the last year has effectively made this wool about half the price we can get it for in Canada, but Karen was a little afraid of how little room we had left in the suitcases so she didn't end up buying anything. Besides, Thingborg had spoiled her for better ways to treat this unique fleece. We visited a knifemaker just across the street from Alafoss as well - nice handles and sheathes but simple knives - we've been spoiled by the work from the Wareham Forge.

We arrived in Reykjavík in the early afternoon and went to the student bookstore at the University of Iceland to hunt down a book for a friend but we couldn't find it. It is a nice big bookstore though with lots of stuff in english and some very helpful people. Last year we had picked up a children's version of Njala's saga in English. There were no new sagas released in English but we picked up some of the other sagas in the series in Icelandic. Kid's books are a great way to learn the language.

We also went to the National Museum which is sort of next door to hunt in their giftshop, since they did publish the book we were hunting for in the first place. Unfortunately they managed to determine that it was sold out, all across Iceland and at the publishing house.

We were going to leave, but on a whim, Karen asked at admissions if they had changed their policy on taking pictures in the museum. Last year, we were told no pictures were allowed, which was our major complaint with this museum. This year the policy had changed and pictures were allowed! Neil went back to the car to get the camera! The lighting level is quite low in the museum however and pictures were extremely difficult to take well. These few are the best of a bad lot. All are approximately in the Settlement Period. Most of the pictures are Neil's - Karen was feeling sufficiently under the weather that she couldn't hand hold the longer exposures without shaking. Early symptoms of an oncoming cold - perhaps too much time in cold rain?
Beads from the Settlement Era.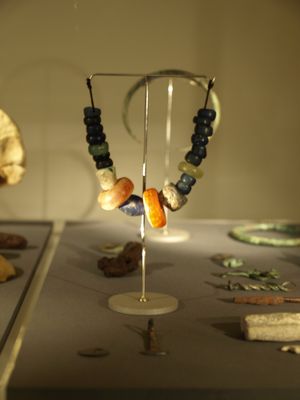 A textile bit - probably tablet woven trim.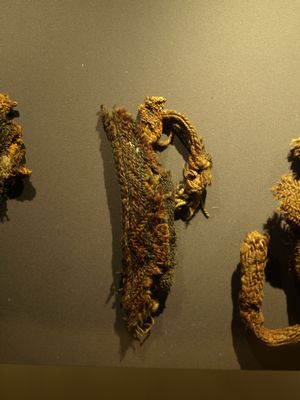 The picture below is a reconstruction of the current thought of what a warp-weighted loom would have looked like based on later period evidence. It should be noted that there are very few actual remains of these looms from the Settlement Period. There are no actual whole looms. Loom weights, sword beaters, a pin beater, spindle whorls.... but no actual loom frames.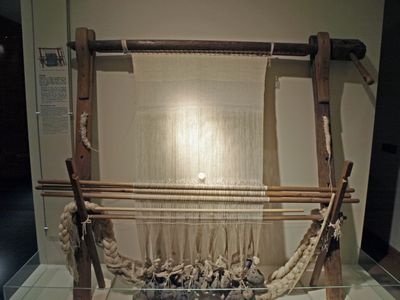 An axehead.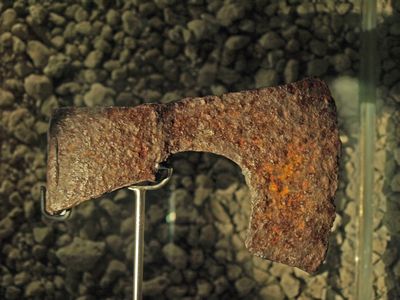 That night, we went out to dinner with Michele, an archaeologist friend from Rhode Island, who had just arrived in Iceland to study the nation's textiles. Karen was distressed to learn that Michele had forgotten to bring salt and vinegar potato chips with her (requested via Skype), but quickly forgave her because she's such delightful company. We returned to the Tapas Barinn for another night of wonderful tastes and sangria! Elín, with whom Neil had been corresponding about bead finds in Iceland, joined us later for drinks. Much conversation and a late night later we returned to the guesthouse.


Friday, August 7th
We woke up Friday morning to head off to the National Museum archives with Michele - Karen to look at textiles as her assistant and Neil to look at beads. We are not allowed to publish those pictures. While we're quite sure they mean for profit, we're going to err on the side of caution and apply that rule here as well.

Except for this one of Snorri of course, seen here sitting beside the boxes of textile remains that Michele and Karen got through after 7 hours of eye-bleeding staring at small fragments, tiny weave patterns, the set of the spin - all in various shades of unrelenting brown. Michele started calling them 'dirty brown rags'.




It was exhilarating! Karen got to touch (with gloves of course) fabric pieces that were quite possibly a 1000 years old! Neil got to look at (and touch, with gloves) beads in the same sort of age grouping. Even more important, he got to take all sorts of measurements from them. He found it exciting to be able to see evidence of some of the same sort of errors that we are making in our experimental reconstructions. We took pictures of things that probably will never get released to public viewing because the museum has boxes and boxes and boxes and still more boxes of these things. Yes, we know we're weird. :) But it's a good weird.

We went to the hot pots afterwards to rest our weary eyes.

And then out to dinner, again with Michele, this time to a place called Orange. It was an accidental find, in that we had aimed at another place nearby and were turned off by the crowds and dingy appearance of the place. Orange is pretentious, terribly trendy in design, has at least the one waitress who couldn't bring herself to smile or even be polite, and it was still a fantastic experience! The food was divine and experimental, and there's weird science with liquid nitrogen both for the cooking thereof and for entertainment. I'll say no more. Go and look them up on the website, and if you get to Iceland - go with friends who love food and laughter.

Saturday, August 8th
This was our last full day in Iceland and we slept in deliciously (a rare thing for Karen in Iceland), and then picked up Michele to go shopping and to amuse ourselves with the Gay Pride parade through downtown Reykjavík.

It was a party for sure, but way more tame then Toronto's Gay Pride celebrations - sorry folks. I know Reykjavík likes to think it can party, but it just doesn't have the sheer volume that Toronto's crowd can offer. Although admittedly, the party mix of loud disco-gay music is much more pleasant in Icelandic then in English.

Oh, and there was the flea market (Kolaportið), and more shopping, and a bite of hakarl - fermented shark. Karen had made it her goal to give it a try this year. She said she would not leave the country without doing so. Neil and Michele stood breathlessly by, watching Karen's face after priming her with stories of their first time trying it. It is a memorable experience and we will say no more, least we spoil the surprise.
Neil and Karen were trying to find souvenirs to bring home for family, and having rotten luck at it. Michele was trying to avoid large amounts of spending, being that she was there on a grant, but some fancy footwear broke her resolve.

For our final dinner, we ate at the Geysir Bistro and Bar - good food right in the downtown. Karen had arctic char and Neil had a great seafood quesadia. The evening was a little melencholy with the knowledge that we would soon leave. Karen would miss the fresh air, the wild wild geology of this place, her first (hopefully not last) encounter with the National Museum archives, and all the seafood along the way.

Sunday, August 9th - Heading Home
We headed off to the airport via the Blue Lagoon with Michele along for the soaking part of the trip. She was staying in Iceland for a few weeks yet but couldn't resist the chance to socially soak in the warm waters. Hot pots are social events in Iceland.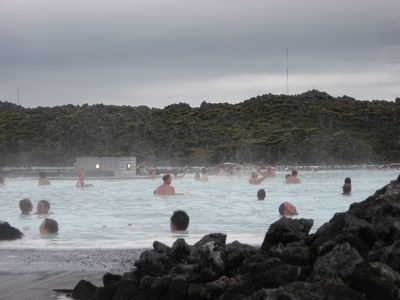 We finally left the Blue Lagoon, waving goodbye to our friend, and made a quick pitstop to fill up the gas before returning the car and making a last minute purchase of as much skyr as we could fit into the luggage. We spent a few precious minutes crazily repacking to fit the skyr into what would be the checked luggage - it's liquid enough that we couldn't carry it in carry-ons for security reasons.
We got to the airport with what should have been an hour to spare - if Neil hadn't mistaken the time of the flight. We just barely made it onto the plane in time. Ah well, no time to linger moodily for missing the country.
We had decided to go home via Boston this time because it was significantly cheaper. When we got to Boston, we had a fairly short turnaround time, and moved briskly to get to our next flight. We were advised that it would be better if we picked up our lugagge and took it over ourselves. They couldn't guarantee that our lugagge would make it there on time via their delivery system.
In addition, we had to clear security and an environmental screening first. We mentioned the skyr and the frozen meat in the luggage, and they choose to explore the suitcase without that stuff in it. We offered the other suitcase, but they declined. Strange. Pleasant people - we talked about eating whale and puffin and compared it to eating game meats that they had eaten as well. Getting to the other terminal required an overcrowded bus and several buildings. It's a huge huge airport - like a mini-city. We're not in Iceland anymore, Toto.
We made it to the next loading area with a few minutes to spare and then.... waited. Apparently they still had to unload the previous flight and refuel.
Finally, we made it onto the plane, pleasantly surprised that it wasn't a full flight - Karen curled up in a couple of seats and tried to catch a few minutes of a nap. Turns out that she had lots and lots of time to nap, since we were kept on the tarmac for a few hours while Toronto was backed up by a bad thunderstorm. Not that it's easy to nap in those seats - good thing the steward was a great conversationalist.
By the time we finally landed in Toronto, we figured we'd been awake for a very very long time. Karen doesn't handle these transitions well and only barely managed to hold onto whatever was on her stomach because the weather in Toronto still made for a bit of a rough landing. Karen thinks it was 2am(ish) in the morning when we arrived home, which means our bodies thought it was 6am in Iceland. Almost 22 hours awake.
Home, back to Karen's garden.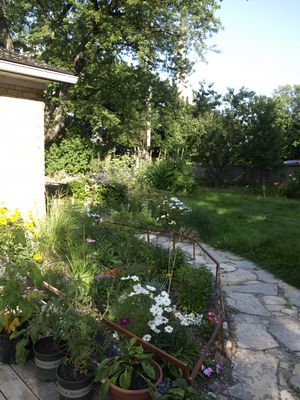 Iceland: some numbers
18 days
11 hotels or guesthouses
1 ridiculously hard bed
10 otherwise just ordinary hard beds
0 "soft enough" beds
0 incidences of salt and vinegar chips
At least a dozen incidences of searching grocery stores for said chips - Karen lived in hope
1 incidence, purely by the kindness of a charming waiter, of vinegar made available for french fries
7 completely new food experiences - puffin, whale, reindeer, hakarl, langoustine, monkfish and liquid nitrogen
5 hours. Until the very last night here, that was the longest consecutive sleep Karen achieved in a country with this much sun in the summer. On the last night here, she almost got 7 hours!
5 hours on the plane
4 hours ahead in time difference.
0 natural disasters - last year you see, there was this earthquake but no repeats this year.
1 incidence of whale watching that resulted in 0 whales spotted and 3 hours of vomiting
1.5 Canadian lanes wide - that's how large Icelandic 2 lane roads are in the West Fjörðs, largely unpaved and often steep and blind which makes driving rather interesting.
1 billion waterfalls encountered
2 volcano encounters - Krafla and Hekla
1 glacier - in a manner of speaking
1 billion museums or 'centres'
Dozens and dozens of dirty brown rags categorized and photographed
2070 photographs taken
18 days in Iceland? Priceless!

Questions? We'd be happy to answer. petersons@treheima.ca