Trip Details
In June and July of 2011, Neil and Karen embarked on a trip that we've been hoping to go on for the last 3 years. Neil is taking a degree in Archaeology and one requirement is to do a class taught hands-on in the field (a field school). Although he had applied to an Icelandic school a couple of years ago it was reduced that year and he did not get a spot. Instead we went on a trip around Iceland. This year, we were looking at a field school in Gotland run by Dan Carlsson who had done the Fröjel dig. Since the field school did not require any formal background in archaeology, both Karen and Neil signed up for the 4 week program. This is the record of our trip.
A note about our traveling companion, Snorri. Snorri was carved by Steve from the Dark Ages Recreation Company, of which we are also members. Snorri has traveled to many places in the world now, with various members in the group. Neil is responsible for DARC's webpages, and is considering giving Snorri a page of his own on the site.
Wed June 22
We spent the day packing and cleaning house, left the doggie and got on an Airways Transit van around 5. When we checked in we learned that the Executive Comfort seats we had bought had been upgraded to Saga Class, with no extra charge - nice! Neil was surprised at how run down Terminal 3 looked, since he remembers when it was new. We had dinner at the airport - lobster soup and a greek chicken salad for Karen, lobster soup and a burger for Neil.

Alda, from the former Iceland Weather Report has moved to Facebook with a fan page for IWR, and she recently posted a picture of the IcelandAir plane with the Eyjafjallajökull name on it. Apparently, IcelandAir recently renamed all of it's planes with the names of volcanoes in Iceland. Planespotters.net has a list of all the planes thus far. Our flight over was on Hengill. We attempted to sleep - it might have worked in brief moments at a time - 4 hours had passed before Karen felt compelled to check the time. Still better than our last trip over and leaving us in better shape.
Thurs June 23
We landed in Iceland at 6:25am - a four hour time adjustment, which is always a bit of a shock. We picked up our rental car and headed over to the Northern Light Inn to check in. We didn't feel too badly throughout the day (this part of the trip usually just kills the first day for Karen) so we wandered around quite a bit. We started with the Blue Lagoon for an hour to try soaking away the jet lag. We then visited the Vikingaheimer museum again to see what had changed there. This is a new museum, opening just about the same the world economic collapse in 2008 that hit Iceland particularly hard. They had added some computers with more in depth information, a sail on the boat, and a burial with a new section on religion. A large room that had felt empty with few exhibits was closed, and the exhibits moved into the other rooms which makes things feel more complete. It still needs some more depth. There is also a new exhibit out front with animals that was amusing. It is nice to see how this museum has grown over the years and we look forward to more changes in the future.


| | | |
| --- | --- | --- |
| | | |
| Various animals looking around | | Snorri tried to get on the boat again |


We went into Reykjavik for a bit and found the ever delightful Icelandic Fish and Chips - the service is a bit slow, but the food is just so darned good. We split an order of wolf fish with mango skyronaise and handmade garlic potato fries, with homemade sodas - lemon mango for Karen, and pomegranate for Neil. We wandered around a bit on the way back to the car, and unfortunately, missed the parking meter just long enough to get a ticket.

We visited the National Museum again to see if newer cameras would get better results with the really low lighting in the museum. Some improvement.... but heck, what's with the low lights anyway? Okay, we get it on the textiles, but seriously... beads and metalwork aren't going to be harmed by enough light to take decent photos.

| | | |
| --- | --- | --- |
| | | |
| Amber and rock beads | | Tablet woven border |

Dinner at the hotel - the Northern Light Inn. Neil had catfish in butter *shudder* with shrimps. Butter just isn't a 'sauce' in Karen's books - drowning anything in it is just..... wrong. Yes, Karen does love lobster, but will never ever order it in this all too common form. Karen had the lamb with wild mushroom sauce. The sauce was served separately, and several long minutes after the lamb - very odd. She'd actually forgotten about it when it arrived. We skipped dessert in favour of skyr back in the room.

Crashed pretty shortly thereafterwards.... having been effectively up for two days without real sleep. Karen had to put her night shirt over her head to block out the sun. All of the Icelandic hotels that we've been exposed so far don't seem to believe in blackout cloth and this really is the wrong time of year in Iceland for light sensitive sleepers.

Fri June 24
We were up at 4:30 am Iceland time this morning to catch an 8 am flight to Stockholm. The hotel had breakfast ready for us, even that early (2 hours before their usual breakfast time) and cheerfully looked up the answer to how to pay that parking ticket - both good examples of customer service. Turns out that Neil could pay it at the bank in the airport.

We returned the car, bought some more skyr for the traveling, and went off to the airport. That upgrade to Saga Class when we bought Economy Comfort persisted throughout our remaining flights with IcelandAir, and made Karen very happy. Let me say, the perks in the Saga class are fun! Access to a very comfortable lounge pre-boarding with free food and wireless, no lineups, pre-boarding (in Toronto only), gadget giveaways on the plane, free food on the plane and oodles of leg room. Of course, this doesn't help in the line up for the plane in Iceland. They had 4 flights leaving from 4 side by side gates - all in a 15 minute window. The airport gates don't have nearly enough seats for people waiting for their planes anyhow, and having 4 planes side by side was just a cattle call. Karen got her first experience of boarding a 757 by walking up an outside staircase as this gate didn't have a jetway. This plane was named Askja.

Off the plane in Stockholm, adjust the clocks again (only two hours this time) and we're off to the Hotel Rival (pronounced Ree-val). The concierge here writes a blog called The Stockholm Tourist which is very helpful - that blog and TripAdvisor's ratings and comments are largely the reason we chose this hotel. The fact that Benny Andersson of Abba is one of the owners is just an amusing coincidence. Really. Karen found out that tidbit out after we'd decided on it. Of course, it did explain all the Abba related comments on TripAdvisor. There are Abba cds in every room, and a big B&W Abba photo in each room, should you choose to become assimilated.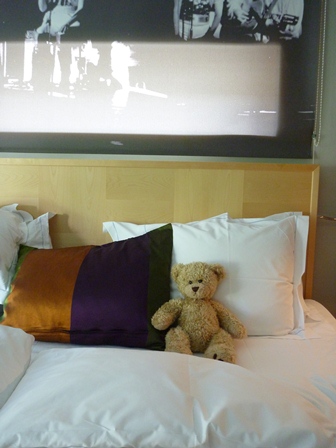 And teddy bears. There are teddy bears in every room. If there's a connection between Abba and teddy bears, we still haven't figured that one out. But he's darned cute.

We had taken Taxi Stockholm into the hotel (on the concierge's recommendation). The experience was a little odd. Crowded multistory buildings with water everywhere. Multilayer traffic, tunnels under stuff, bridges over stuff, lots of driving beside water. We started betting each other on how many bridges - there were more then 6 bridges between the airport and the hotel - Neil won.

We wandered around Stockholm for a few hours (and almost 4 km) before dinner - most of the small crafty tourist shops in the Old Town were open, even on Midsummer's Eve, and there are tons of them. Lots of little restaurants and shops were still open, including several stone shops selling amber. Since they didn't have beads of the right size and shape, Neil was able to resist. We saw an interesting blacksmith shop (closed) and some fashion shops (some open, some closed). Handefast: The Viking shop was interesting with some nice simple metalwork, books, other stuff - kitsch and good stuff mixed. We found a nice little chocolate shop. Lingonberry truffles in dark chocolate - yummy.

| | | |
| --- | --- | --- |
| | | |
| This painting, in a store here, of old town captures it better Karen managed! | | Stockholm is a city spread over 14 different islands. This is just one of the waterways that separates it. |
| | | |
| Some parts are very industrialized, like most cities, and some parts are still old and beautiful. | | A short walk down the street to the hotel. |
Dinner at the Rival Bistro - a delicious shellfish casserole for both of us which is more of a soup than casserole. Karen had a lemon creme brulee with fruit, and Neil had a raspberry souffle with licorice sorbet.
Sat June 25
Since almost everything (including the Historiska Museet) is closed on Midsummers Day, we departed at 8:30 am for 8 hours in a mini-bus with Steinthor Olafsson, the overly talkative driver on a Viking Day Tour. Right off the top, we had this inkling of trouble when he decided to use the 'new' definition of the Viking Age as 400 - 1300 AD instead of the more traditional 793 - 1066 definition that we're used to using. Apparently this means one can include a lot of gothic churches in the tour. He also provided lots of data about the social history, economics and royalty of Sweden which certainly filled the drive.

To be fair, there was an awful lot of interesting things to see and he had some interesting theories on the Viking Age to share, but the fellow just wouldn't shut up long enough for interaction or reflection or the chance to absorb through other means. Neil and Karen are both readers and like the chance to read the signs at places too. We stopped at the following places.

| | | |
| --- | --- | --- |
| | | |
| This is the runestone at Jarlabankes Bro which is an old viking bridge. There are two runestones and some other stones marking the bridge path. | | The next stop was Arkils Tingplats - a local thing site, with another runestone. |
| | | |
| The church at Vallentuna. There is a runestone here as well as some runes cut into the church. | | The runestone at Vallentuna. |
| | | |
| A very interesting house and stone site called Granby. | | The runestone is a HUGE stone but it is lying down and the writing on it is very difficult to see because of the lichen overgrowth. |
| | | |
| We looked at the runestone at Lunda from the bus as there is no place to park. | | In Sigtuna, where we stopped for lunch, we saw this interesting use of a faering. Some of the parents in our group of friends might enjoy the idea. It's a sandbox. |

The next stop was Gamla (old) Uppsala - mounds from circa 500-600 AD, with the Gamla Uppsala museum which covers the whole of the time period in which Gamla Uppsala was occupied. Lots and lots of fun things to get photos of and there were beads in the gift shop - Neil's biggest weakness. We had not nearly enough time here. Karen ran out ahead to let Steinthor know that Neil was on the way, buying him more time to spend more money in the gift shop. On our way out we finally noticed the "no photography" rule posted by the entrance to the museum. We do appreciate that the staff choose not to enforce this rule with us.


| | | |
| --- | --- | --- |
| | | |
| Beads and bead making supplies | | Norse decorative weather vane |
| | | |
| On our last stop, we went into Uppsala to see the Uppsala Cathedral - construction began in 1287 so technically it fits into Steinthor's definition of the "Viking" age. | | Both Gustav Vasa (one of Sweden's more prominent kings) and Carl Linneaus (famous botanist) are buried here. |


On the way home, Steinthor felt the need to fill the silence with a rather through recitation of the line of the royalty of Sweden - important features of each reign, who was gay and how they managed heirs anyway, etc. He finally finished with someone in the 1940's, still about 10 minutes away from the hotel. Karen felt cheated by not getting the list right up to date to the modern set of Royals.

On the recommendation of the concierge at the Hotel Rival, we had dinner at Pontus by the Sea in old Stockholm. Here's a link to the english menu for Pontus by the Sea. It is a lovely restaurant, quite literally on the sea-side in Stockholm. We watched boats come in, people of all sorts walking by on the boardwalk, observed the weather and skyline of the city.... and ate delicious food.

| | | |
| --- | --- | --- |
| | | |
| Here's Neil getting drifty with the scenery. | | Karen's food - char with lemon foam and dill pesto. |
| | | |
| Neil's choice - cod with shrimp and butter (again with the butter!). | | And Karen's dessert - fresh strawberries are a big thing at Midsummers in Sweden. Neil had a creme brulee. |

By the by, Karen neglected to mention the window dressings at the Hotel Rival. They have what amounts to blackout cloth! Yeah! A good night's sleep for the light sensitive sleeper in the northern climes.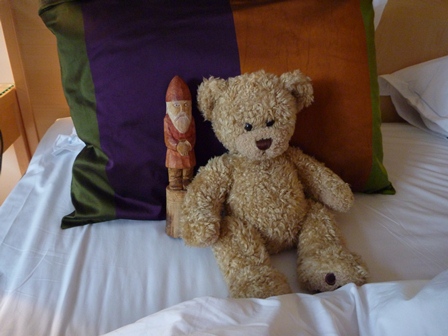 Snorri made a sad farewell to Teddy.

Sun June 26
Sunday morning, after a nice late awakening and mellow breakfast, we trundled off to Bromma airport to pick up our flight to Gotland. There was a slight delay in that they cancelled our trip and moved us to the next plane, an hour later. No big deal, we weren't in a rush. This was our plane - getting in by climbing up the stairs is old school now 'though - we did that on the last IcelandAir flight. But the propellers were new for Karen. And the experience of flying an entire trip in an airplane without understanding a word of the language was a first for both of us as well. Good thing the safety demo was pretty self-explanatory. :)

| | | |
| --- | --- | --- |
| | | |
| Nice little plane. | | The legroom - not quite the same as we experienced with IcelandAir! |
It's a much much smaller plane with four seats per row. If there had been anyone in the seat in front of Neil, they would not have been able to recline their seat.

We took a taxi to Hotel Stenugnen then went for a walk about the Hanseatic Town of Visby - a UNESCO world heritage site.

Visby is a delightful town to the senses - it really gives off a laid back beach front slow moving relaxed vibe - at least in the summer, at least inside the walls.

| | | |
| --- | --- | --- |
| | | |
| The town wall was likely begun in the 12th century. It was rebuilt to it's current height in 1280, and finished sometime in the beginning of the 14th century, although some towers were added in the 15th century. See the Wikipedia entry here for more information. | | Cobblestone streets inside the wall, including stone gutters on the edges of the streets, and a rather obvious change in altitude from the shore to the wall make it an amusing walk. |
| | | |
| Karen looking down over the town. The ruined church and cruise ship in the background add a nice touch. | | This is the laconic waterfront.... note the entire lack of a fence on the boardwalk. |
| | | |
| The whole town has these interesting sculpture/seats scattered around - some are adult sheep and some are lambs. Snorri and Karen visited one of them. | | Snorri and Karen were very very relaxed - She's got a sangria on the go, a blanket* on her lap, sunshine, a good book and Neil's company. What more does one need? |
Dinner was on another outdoor patio at Donner's Hotel Tapas Bar - interesting flavours of shrimp. Salty fish, Paella, fun dessert.

*Interesting note about blankets at restaurants - it's common to many restaurants with outdoor patios in Sweden to provide blankets should there be a chill. Karen thinks this is a very civilized practice.

Mon June 27
Today we spent the morning at the Gotlands Museum.


| | | |
| --- | --- | --- |
| | | |
| Wow, some of the silver hoards found on Gotland are BIG! You can say 40 kg but until you see it it is just a number. | | As soon as Karen saw the crystal necklace, she immediately coveted one of the big round lens. |
| | | |
| The focal room of the museum, with lots of carved rune stones. | | Beads and material from Paviken |

They also have a new exhibit on the 1361 battle of Visby. Neil has known about this battle/grave for years, used it as research on armour, and yet it wasn't until he was standing in the exhibit that the pieces connected. Overall, this museum is well worth the effort of a visit.
Just before we left Visby, Karen walked over to the music store that she had carefully looked up on the Internet. The location was an easy walk, just outside of the medieval wall. Karen had wanted to rent a guitar while she was here, so that she would be able to stay in practice and keep her calluses. She had corresponded with the store ahead of time by email, and they suggested that it might be cheaper just to buy a guitar rather then rent. She had hoped to finish that conversation with them - the problem is still the same - can't take a guitar back on the plane. Unfortunately, the store was closed for the Midsummers' holiday.

In the afternoon we got on a bus and headed to Fårösund (pronounced FOR-ur-sooned), at the top of the island. Our field school residence here is a wee bit of a walk from the bus stop, especially with heavy suitcases and an uncertain sense of destination - directions to the residence were sparse in the information package that the school sent out. Karen was very very thankful to find that the first people we ran into were from Toronto! Alanna and Andurs and her mom, Kim. Alanna and Kim are from Scarborough, although Alanna and Andurs now live in Stockholm and are regulars on the dig crew. Kim was, like us, on her first trip. They pointed us in the right direction and we quickly settled in. It's a nice room with lots of space, and a small kitchenette. Karen briefly mentioned on Facebook that there was only one internet connection in the room (we had both brought laptops) and quickly got told off by one of her older archaeologist friends who ran on about his first field school on the side of a mountain, in tents, and how cold it was, and how they had to take turns cooking, and could only do the laundry once a week when they could get to town....... She shut up quickly with mentioning any hardship after that!
Tues June 28
School started on Tuesday morning because of the Midsummers holiday. Our morning was filled with introductory information.
The vice-principal of the school welcomed the group, in Swedish, and gave us some information on the school's facilities and staff. Dr. Carlsson translated the highlights for us english speakers after she left.
Alanna, who is doing her Masters in Anthropology at the University of Stockholm, introduced the anthropological study she had planned for the duration of the dig.
Dr. Dan Carlsson recapped some important points from the manual, greeted new and old faces, and explained his reasoning for searching for a Viking era harbour town in Slite (pronounced Sleet-ah). It is not bad reasoning, but rather slim. A combination of knowing that there MUST be more harbours than have been found; a nearby viking era grave field (excavated in the 1950s), a note on a old maps (16th,17th,and 18th century) maps identifying interesting place names (such as Barlastplats [ballast place]) and Gamla Hamn [old harbour]; combined with currently understood changes in elevation [about 2m rise since the viking era]; and a review of maps to determine places where there has likely been no construction. Dan had gotten permission from a bunch of landowners to dig in their yards (and no permission from others) which controlled exactly where we went looking.

There are 24 people in the school - 6 of us are here for 4 weeks, and the rest for 2 or 3 weeks. There will be a second group of 2 week students that arrive mid-way through the 4 weeks that we are here. Because we are digging in people's back yards throughout a town, Dan divided us into small groups. All of the 4-week people are grouped together and stayed together throughout the school. Konrad was assigned to be our trench leader.

At the dig site we expected a lecture on about how to remove turf, how to remove ground; how to sieve. Nope, have a shovel, have a bucket.... off you go. The advantage to this method is that the 6 diggers assigned to our trench have 24 years experience digging (averaging 6 years year not counting Karen and Neil). That means we have a lot of experience to draw on, but it isn't presented formally. The school provides trowels and other digging supplies, but we had brought our own trowels - a Marshaltown and a WHS trowel. Apparently there are strong advocates for both brands and we wanted to compare and contrast the tools throughout. By the end of the dig, Neil and Karen had come to the conclusion that it's all a matter of what you get used to using. Neither better had any feature that stood out and made it better then the other. Moreover, we encountered at least one incident in which one of the staff archaeologists borrowed our tools to use when we were asking them about a spot in our trench and then traded it in for one of their own - a tool they were used to using!

Of the 6 people in the trench, 5 are avocational (including one anthropologist) - Neil is the only school trained archaeologist. But they have WAY more experience. Then we have Astrid (staff - osteology), Anna (staff - generalist), and Dan (lead archaeologist) wandering around, commenting on finds and poking away at various aspects of the trenches.

We addressed the lack of a formal program by asking lots of questions, and prompting english reruns of any trench related conversations that drifted into swedish. The field school is officially taught in english, but the Swedes outnumber english dependent speakers significantly and sometimes the conversation happens in the language more familiar to them.
As an example - Neil wondered why trench 1 was a 2m x3m trench rather than long/slim (say 0.5x12m). He asked for enlightenment. It turns out that we aren't expecting graves at this spot and a broader area gives us a better chance to identify other features. In the next spot that we would dig (trench 7), graves are more likely so it will be long and thin to better optimize our chances of finding something significant.


| | | |
| --- | --- | --- |
| | | |
| We are digging in the middle of a small town, in people's back yards, so..... we give you turf lifting the old fashioned way! | | This is the backyard of the house that we can dig in. Some homeowners were enthusiastic about the project and some put limitations on where and how long we can be there. This homeowner is very enthusiastic and apparently has said 'dig it all up!' |
| | | |
| This is Karen sieving her first bucket of dirt. | | We are each responsible for a 1 metre by 1 metre square. |

Neil was responsible for Square [Ruta] 2/0 of GO 2011 Othem; Mäsen 17; Trench [Schakt] 1. Mäsen 17 is the street address of the house that we are in. Othem is the parish that Slite is located in. GO 2011 is Gotland 2011. We dug in layers that are approximately 10cm each - this varied according to what we found as we moved through the depth.
Karen was responsible for Square [Ruta] 2/1 of GO 2011 Othem; Mäsen 17, Trench [Schakt] 1. Square numbers are assigned from the south-west corner of the trench - 0/0. Karen's square was in the north-east corner of the trench.

Layer [Lager] 1 was 10 cm of sod and plow zone mostly hard packed clay based soil with the western most 30 cm in pea gravel. Sieving pea gravel sucks since all of the gravel is caught on the sieve and it takes forever to look through it all. (sieving sand on the other hand is awesome - see layer 4/5).

This is Karen's first box of finds, in the first layer of the trench. For those not familiar with archaeology, that's the fairly modern stuff. You can see pottery shards (porcelain, glazed, and unglazed but shaped), burnt clay, flint shards (all of which is imported into Gotland), chert shards, some glass bits, two iron nails, and animal bones (fish, bird, pig). Dan offered a bottle of champagne to the first person to find a Viking Age coin.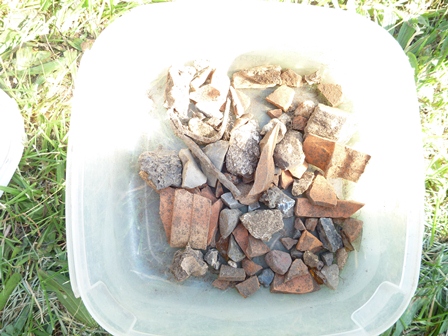 And for the gastronomically inclined, this is tonight's dinner. We're eating as a group on a meal plan, at a nearby student hostel. Buffet style, limited choices each night. Tonight we had some sort of fish in some sort of sauce and chicken in some sort of gravy with vegetables and baked potatoes. Both lunch and dinner are very...... culturally specific. Lots of potatoes, rarely spiced, and quite a few white sauces. Breads are generally preferred hard and crispy, although softer breads are not uncommon. A meal without a baked potato was extremely rare.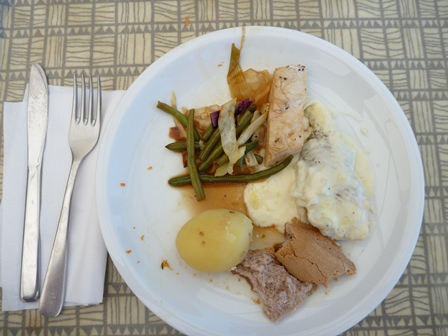 .
Wed June 29
Today began with us registering our finds from layer 1. First the finds are briefly cleaned then they are sorted into groups: Bone (Ben); Flint (Flinta); Iron (Jarn); Ceramics (Keramik); Glass (Glas - and boy is that confusing because glass is ice cream); Clay (Lera); Other. Bone is weighed and placed in a paper bag. Everything else goes into clear plastic bags. Bags are labelled with the square, trench, location and layer and well as type of content. The find contents for each layer are recorded in the trench binder both as text on the sheet for that square but also on a separate sheet giving an X for each type of find which provides a good overview.

We then began digging layer 2 - another 10cm of plow zone. It had the same type of soil as layer 1. The gravel stopped at 19 cm depth (just before end of layer 2) - YEAH! The difference in techniques used by the experienced folks is interesting. To cut through the heavy soil the experienced diggers, including the three staff archaeologists who came by regularly used a three pronged garden rake, and a hand-hoe in addition to scraping towards them with the lower point of the trowels. Neil found that with a sharp trowel sliding it forward easily broke the surface allowing him to control the depth from 0.5 to 2cm. Force could be kept lower so when his point hit something it was easy to withdraw the pressure. We initially thought that pulling with the hoe or back edge would have caused more damage, but there was no evidence that this method was more destructive - each method must be well controlled by the person digging. By later days Neil was combining both techniques (back edge works well in softer soil).

The evening lecture was by Ph.D. student Christoph Kilger and entitled "Viking Age treasures and female belongings". It was a discussion of hoards in a new light. Currently the hoards are split with coins in one place looked at by numismatists; other artefacts in another place examined by archaeologists. He is a numismatist but wants to look at the hoards holistically. Christoph believes a focus on total contents would allow us to ask, for example, why are so many all coin with a single snake pattern bracelet or why are so many coins cut? Why are some hoards mostly bracelets/ingots? Good questions. He also noted that some hoards are 'female' in that they consist largely of broaches and beads. We looked at the Spillings hoard (17 kg of silver, 14300 arabic coins [90% fragmented], 486 bracelets, 25 finger rings, 80 ingots) as a likely cash deposit; Stora Velinge I hoard (7.88 kg silver, 2685 arabic coins [50 fragmented], 1 snake patterned bracelet) as perhaps an offering?; Asarve hoard (7 kg silver, 2 arabic coins, 18 ingots, 22+8 neck rings, 19+9 bracelets, 10 spiral rings) as a likely cache of raw material; and the Nygards Horde (beads, broaches, etc) as perhaps a cache of female wealth.

Thurs June 30
Today we continued with layer 2, then registered the finds. At this point due to the very hard soil, and disturbed nature of the overall soil column it was decided to discontinue work on three of the squares in the western side of the trench (0/0, 1/0, and 2/0) and focus on the remaining eastern squares for layers 3 on. Neil went to help Karen, Andurs went to help Alanna, Astrid went to do analysis as she was having trouble digging, and Konrad continued alone in his square. Amusingly, in about another 2 cm we broke through to a brownish sandy soil that was much easier to move. It was decided to continue through this to 35 cm depth (a 15cm layer). The brown sand lasted 5-6 cm then a layer of yellow appeared and continued down. In the NE corner of Karen's square, where she was working on removing a metal box that had appeared in layer 2 (a hibachi? ash box?) the ground there was harder - apparently a rubbish pit. Neil did a lot of sieving while Karen dug.

Fri July 1
We continued the work defined above. Nothing too new today although Karen did get to remove her box.
| | | |
| --- | --- | --- |
| | | |
| Here's Snorri trying to puzzle it out while still in the ground. | | And Karen with her prize after it finally got dug out. It was visible in layer 2 but Karen had to finish evening out the layer and leave it until we could get to layer 3. It was somewhat frustrating walking away from it! It clearly isn't Viking Age, but it was the biggest find yet! |
Sat July 2
Today we registered the finds from layer 3 and started to dig layer 4 (15cm planned). The ground was very sandy. Filled two buckets fast - then Neil went to sieve while Karen continued to dig and sent him buckets. Having finished his square, Konrad came over to help her dig at the end of the day.

They noticed that the rubbish heap seemed to have ended in a very hard packed clay surface - this was left intact so the NE corner was not cleared to 50 cm. Another interesting couple of finds from the bottom of the pit area - two glass jars with "Viking" embossed on them which Dan recognized as shoe cream jars.


| | | |
| --- | --- | --- |
| | | |
| Just to help with an impression of the types of finds here are the cleaned finds from layer 3. From left to right - flint, iron, bones, slag, ceramic and glass. In the middle between the bones and ceramic are two small objects - a clay pipe, and a button. | | Konrad's square was also interesting in layer 4. It had the right side of a cow's mandible and teeth, and some big stones in the bottom of the trench that may or may not be part of a construction, although they think it unlikely for a variety of reasons. |
Sun July 3
On Sunday, we didn't dig, but we did have an all day excursion to go on. The day started well enough, but Karen was sorely missing some down time for her inner introvert by the end of it. The first stop was the Gotlands Museum. We spent time in the rune stone room, the new 1361 exhibit and spent some time in the hoard room. It was interesting having Dr. Carlsson discussing the finds in all three rooms to provide much more context then our first independent visit.


| | | |
| --- | --- | --- |
| | | |
| Coat of plates from the 1361 exhibit | | Projectile points from the 1361 exhibit |
| | | |
| The second stop was Högklint which is supposed to have an awesome view - unfortunately the view was completely fogged out. | | We moved on to a sequence of late bronze age stone ships starting with Smagarde. According to Dan the stone ships are sometimes cremation graves (usually 1 per boat). |
| | | |
| Next was Gnisvard. | | And finally Gannarve. There are over 750 identified stone ships on the island and very few have been dug. |
| | | |
| Lunch was a stop at the fishing village of Gnisvard to eat the lunches we had packed in. | | The next stop was Fröjel. The dark green strip in the photo would have been water (strait) with the trees further out as an island. The green/brown field is the site - 100,000 m2. Only 1.5% of the area was excavated, revealing 40,000 objects. There is no plan to excavate more as they don't feel that it will add more to the story as they know it. |
| | | |
| Next stop was the Vallhagar Iron Age settlement - a large number of iron age house ruins. In walking among them, we had a good discussion of how to read the landscape. What? You can't see the wall of the house there on the right of the image? | | The next stop was at the picture stone at Ange farm - the picture there is pretty much gone. We spent time trying to puzzle it out. |
| | | |
| This was followed by Gervide which has two Iron Age reconstructed houses. | | The second house at Gervide. This one had a lower pitched roof since it was made with sod, not straw. |
| | | |
| The second last stop on the way home was the Bara parish deserted church. It was deserted in the 1600s due to economic decline. At that time 3 or 4 parish churches were being supported by only 4-6 farms each and could not be maintained. Parishes were consolidated. | | This church ran out of money during reconstruction. The tiny little part should have been MUCH bigger. |
Karen opted to make Mac and cheese in the room rather then go out with the group to dinner. She needed some down-time for her introvert side.

Mon July 4
We started another week of digging by finishing up the registration of layer 4 finds, then began digging layer 5 (including removal of the hardened clay area; and wall cleanup for profiles) and registering layer 5 finds. Layer 5 went fairly quickly. It was intended to be another 10cm but we hit a changed sand (yellow) fairly fast and stopped at that layer (clearing one layer of sand to leave another exposed is really tricky). We cleared in and around the hard packed clay base Karen found (turns out it was broken with sand filling the gaps). The clay was photographed by Anna, then removed by Neil and Karen. Underneath was very hard soil - this was also cleared until we hit the same yellow sand layer.

Neil polished the north and east faces of square 2/1 for the profile. Polishing means smoothing out the sides of the trench so the profile is easier to read. The profile of the trench is an overall image of the soil changes over the course of the dig's depth. This tells archaeologists more about the relative dating of each layer. Polishing is dang hard in sandy soil, and pretty much impossible in a rubbish heap with shards of glass and glass bottles sticking out every which way. Interesting and tricky when laying on your stomach working down. Neil, Karen and Konrad then measured and drew the profile.

In total, Karen and Neil found a plastic button, what is likely a BBQ ash box, oodles of glass (window, bottles, two jars of shoe cream), iron nails and rivets, ceramic (shaped pottery, glazed pottery, and porcelain), various animal bones, a couple of very tiny clay pipes, broken clay bits (possibly both pots and bricks), and an absolute ton of flint.

Collectively, we came up with something in the order of 10 kg of flint in Trench 1 alone. None of the other trenches had that much flint show up, of course we were the closest to Barlastplats (ballast place). We should put this in perspective - flint isn't native to Gotland. So it begs the questions - who brought it in, when, and why?


| | | |
| --- | --- | --- |
| | | |
| This is possibly the single largest piece of flint that we dug up - weighing in at 320g all by itself, and it's only one piece. | | One piece of ceramic Neil found while sieving Karen's square might be Viking Age. Maybe. But the square is so mixed up, it really doesn't mean anything. |

The two jars of shoe cream are definitely Viking shoe cream. We know that because it says ``Viking`` on the bottom of the jar. :) We forgot get a picture of it.

We discussed the stones in 0/1 (Konrad`s square) and the conclusion was that they are a possible (but not probable) construction. The stones are laying flat, where a post hole would be standing on edge. The decision is to document it in the layer drawings (which was already done), and close the pit.

In discussion about Karen's rubbish heap in 2/1 we agreed that there is a clear pit in the NE corner of 2/1. Hardened clay was found below the pit. Viking shoe polish was found at the bottom of the pit in glass jars and is datable to the 1940s or 1950s, which provides a good date for the pit. Below the hardened clay we found glazed ceramic so the clay itself can't be too old - medieval at least. Since the pit is not Viking, opening the surrounding area would not advance our investigation.

It was also agreed that finishing the 3 metres on the west side would likely not add anything to our knowledge given the very mixed layering.




In this profile shot of Karen's corner the midden is visible coming up to the right and sort of hiding behind the metre stick on the left. The large white patch by the stick is near the bottom of it. You can likely make out some glass in the walls. The three different layer colours are fairly visible on the left.




A little creative editing to help people visualize

For those who think more pictorially here is the official profile.


In the evening we had a lecture from Gunilla Runesson, whose Ph.D. thesis is trying to tie bronze age finds (hoards, burnt mounds, stone ships, etc) to settlements (none currently found). Dan Carlsson is trying to branch out the educational historical focus from the Viking Age as it has been in previous years. Bad timing for Neil and Karen to be here! But as a friend said to Karen earlier this week "it's all archaeology". Which is why Karen found her rubbish heap of a square in Trench 1 to be so exciting to dig!

The bronze age in Gotland runs from 1700BC to 500 BC. There is apparently only one dissertation that looks at the time period (and it is from 1927). Gunilla discussed mounds like the one at Lärbro. Generally these were assumed to be inhumations for chieftains. The one at Lärbro is 23 m in diameter, 2.7 m high. Inside was a stone coffin with unburnt bone and bronze. Also in the mound were late bronze period graves, and viking graves. Similarly there are approximately 380 stone ship settings (and Dan found two more in the 4 weeks we were there!). These are generally single cremations. We also find a lot of fire cracked stone in or near these types of burials, often in mounds of their own. Her assumption is that some of the burnt mounds are domestic. She has been finding traces of post holes nearby. Others are likely more like graves. In some cases there are settlements near the graves, and even re-activation of old mounds. Perhaps this is territorial in nature "our people are buried here so it is our land" or something similar. Some fun questions and collections of data.
Tues July 5
A new trench designated trench 7 was laid out 17 m long on an east-west axis by 0.5 m on a north south axis. This trench was located to the north of trench 1 in the same yard and was close (100m) to where three Viking graves had been previously found. The east-west alignment of the trench was to increase the probability of intersecting graves which are traditionally aligned north-south during the Viking age in Gotland. The plan was to open a total of 6 m of the trench, 2 m at each of three spots.
We opened the first 2 m, dug it down to sterile sand at 50 cm through pretty much exactly the same lack of stratigraphy as trench 1 with very similar finds to those from trench 1 but with almost no flint. It was determined that a profile of this trench would not advance the excavation goals so it was backfilled and closed. The next day we opened the remaining 4m of the plan.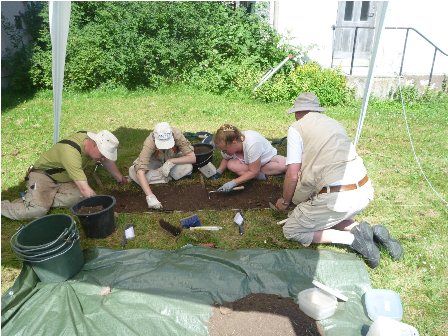 Left to right: Andurs, Alanna, Karen and Konrad. Konrad bought the shade tent for us - a wise and caring trench master.
Wed July 6
Today we finished the remaining 4 squares. The eastern two squares were in line with a gate in the fence and an old drive shed in the yard. Karen, Neil and Konrad handled these 2 squares while Andurs and Alanna started on the western two squares. Immediately under the sod was 3 cm of crushed limestone - likely a driveway given the alignment of a gate with the house. That material proved difficult to dig through. Interestingly the limestone covered everything except a 40cm band approximately 40 cm from the eastern edge.
Below this was the soil column we were familiar with containing the usual assortment of finds. A little further down we hit a very compacted clay - mostly in the eastern meter but some spots in the western meter as well. It was also missing the same 40cm strip noted in the limestone layer.
Immediately below the clay was a very thin black layer. We called in a staff member to examine it before we dug through it and down through sterile sand to 50 cm. We then drove two test points down to around 80cm to ensure it was sterile.

The determination on the eastern section is that we had two driveways, one modern (the crushed limestone) and one older (the clay). The 40cm gap in the driveways was likely either a slot opened for a pipe, or the driveway was built as two tracks rather than a solid surface. There is a water well south and a little east of where we were digging so a pipe is possible, but we did not find it. As there was nothing exciting or specifically Viking-era the eastern section was closed.

In the western section, Andurs and Alanna had worked down through the familiar soil column finding the usual finds. In the eastern part more of the clay layer was uncovered. They had a lot of rocks in this section, so they were slower going. Neil, Konrad and Karen joined them to finish off this section.
The fact that we found a hardened clay layer in three of the four trenches we did in that yard at approximately the same depth never did get a good explanation. Since it was clearly not dated to the Viking era it was not of primary importance to our excavation.
We continued to work on the western part of the section taking it down to 50cm while we waited for the staff to arrive to examine the clay on the eastern side. At 50cm depth the western end had a demarcation between the sand that filled the rest of the trenches and a brown earth. Even odder was that the demarcation matched the slightly north-east alignment that had been seen in a possible grave being investigated in trench 6 by another team.
It was decided to open an additional meter on the northern edge of the western meter. We found masses of rocks mixed with gravel and brown soil all the way down to 50cm. It was distinctly different from any other soil column we had worked with. Neither we nor the staff archaeologists could make anything looking like a habitation layer out of it. We did find a bit of modern porcelain in the brown earth in the eastern square at 50cm depth and some modern blue glass at the bottom of the original western square. We decided that it was likely that we had a mixed/backfill situation.
Since we failed to identify a Viking layer, or any graves we closed the remaining trench and marked that yard as completed.

| | | |
| --- | --- | --- |
| | | |
| At some point this week, we had a bit of excitement in one of the other group's trenches. Trench 6 produced what many speculated might be a possible Viking grave. | | But by the end of the week, we knew it to be a well, and the lead archaeologist thinks it belongs to the 18th century at the earliest. So crushing... |


Overall the group opened a scattering of about 38 m2 in various folks yards. There were interesting finds like a 16th century coin, and an 18th century Danish coin. Since neither of these coins were Viking Age, there was no champagne awarded. Where we found a lot of flint and a little slag, others found a lot of slag and very little flint. Ceramics were everywhere but we had the only very early piece. Like our trenches the other trenches seemed to have little in the way of stratigraphy. Overall that makes it unlikely that a viking harbour was in the area we surveyed. Not impossible, just unlikely. There are many other spots in that town that could host a viking harbour town but we didn't have consent to dig those areas, nor had a previous construction review been done. Further investigation will need to await another year. For those interested in this possible location the concept is discussed in The Spillings hoard - Gotland's Role in the Viking Age World Trade, Ann-Marie Pettersson ed., Gotland Museum, Visby ISBN 978-91-88036-71-1, beginning on page 93.

Wednesday night's lecture by Johan Norderäng and Margreta Christon was about the excavations in Västergarn, which was really quite interesting. It's really close to, and historically related to another place called Paviken, which has some evidence for bead-making so needless to say, Neil listened closely. The speakers were the organizers of the University of Gotland field school at Västergarn. To provide background, Paviken was dug from 1967 to 1973 by Per Lundström and was a bit north of Västergarn but on a lake fed by a river passing in front of Västergarn. They found 210 kg of animal bone, 20 kg of slag, 2 kg of pottery, 2400 rivets, that thousands of other finds. They excavated 1000 m2 of a site believed to be 15000 m2. C14 dating of some uncertain samples gives a date range of 915-1075 AD although Per apparently just used 995. A grave provided bone for dating with a range of 940±85 AD.

Apparently the river silted up and Paviken shut down around 1000 or 1100. Västergarn seems to have been created around the same time and had a large stone wall in a similar shape of Hedeby and Birka. The wall was apparently built around 995 and is 1 km long, 15 m thick, and 3 m high and built using viking, not medieval techniques. Previous digs confirmed medieval habitation but didn't turn up viking era artefacts. The assumption was that the place was empty before the first church was built in 1150. The field school for the last 6 years has been focused on locating viking era finds. From 2006 to 2011 the school has dug 775.55 m2 obtaining 650.2 kg of bone, 447.6 kg of slag (iron and glass), 54.5 kg of pottery and more than 1600 rivets including many viking era objects.

Since our group had finished up our trenches on Wednesday, we all went out to Burs, in southern Gotland, for a new adventure on Thursday while the other groups finished and closed their trenches.

Thurs July 7
As in Canada, when someone in Gotland plans a significant change of land usage they need archaeological clearance. Dan was called to do a survey of a field outside Burs in which the farmer wanted to add a crayfish pond. He did the usual map survey and scanned the RAÄ database for known architecture. Nothing was known in the field. He then walked the field with a metal detector on 10 m lines and came up with 10 viking era silver coins in a small area of the field. Since any more than 2 coins found together constitutes a hoard, a more significant dig was required. Given that hoards, even when plow scattered tend to be within around 20 or 30 m2 the home owner decided to proceed with the dig. Dan arranged a big backhoe to lift the turf and called us in for help. We were to help find more coins, and then to hunt through the resulting rather large trench for postholes (evidence of habitation - building construction). It was one rather interesting and very hot day.

The process was to walk the complete ground with the metal detector, digging and removing any hits the metal detector got, and then scanning each layer of ground for signs of habitation. The backhoe would then remove 10cm of depth. The removed dirt was again scanned with the metal detector and any new finds removed. The freshly exposed ground was also scanned and again any finds removed. This was repeated until we hit the clear yellow sterile layer of sand.


| | | |
| --- | --- | --- |
| | | |
| Metal detecting a coin | | We did find the original point source of the hoard. We saw 7 coins on it. |

In all of the layers removed we saw no trace of a cultural layer, no postholes, no visible finds. Even in the sterile sand we saw nothing that could indicate a post hole. We did find old plow marks cut into the sterile (3-4 cm deep) which was fun to see and profile. The sterile layer itself was between 26 and 30 cm below the sod according to the spots we profiled.

Shortly after we found the source of the hoard Michael Jonsson the numismatist from Stockholm University arrived, read out the other coins we found (all dated from 980-1017). That was actually a lot of fun. He would look at each coin for a couple of seconds, state the country, king, and mint date range. Only one or two coins took him any thought at all. Scary.

We made him start to dig out the 7 coins and possible bits of fabric (small clusters of thread or very fine roots, perhaps the biggest was one cm2). He dug out three but noticed more coins under them. So instead of proceeding, we dug around the hoard, wrapped it in a plaster cast and removed it as a single plug over 30cm deep.

Anna finished the processing of the hoard on Friday and we learned there were another 20 odd coins buried in the top 2-3cm. The latest coin in the hoard was dated to 1009-1017 so the poor fellow who lost his purse walking home one night (probably drunk), or who sacrificed the hoard by placing his purse 2-3 cm under ground did so sometime very shortly after the turn of the millennium.


| | | |
| --- | --- | --- |
| | | |
| Snorri thinks it's his birthday! | | The rest was excavated in more controlled conditions Friday morning. |

We left the place a big mess. But we did find a silver hoard! In total there were 70 coins and two small pieces of jewelry. And before you ask, they don't like to put monetary values on silver hoards - it's simply too tempting for thieves to steal the cultural treasures of the island with their own metal detectors. A small group of people were recently arrested and prosecuted for such a crime.
Karen wasn't quite as impressed with the day as Neil was - for her, it felt more like treasure hunting then archaeology, and she was bored. There 20 odd people following Dan around with his metal detector and taking turns pulling the coin up from where he pointed, and trying to find a place in the increasingly diminishing shade to wait out the boredom. She recognizes that the excess of people would have been necessary if we'd found any evidence of habitation, and that 'rescue archaeology' is important, but she spent the day being bored and scorched by the sun - not fun.

Fri July 8
This morning was a trip to a possible location for next year's field school - File (pronounced feel-uh). File was a farm through recent historical times but is now abandoned. Nearby is Litla File which was abandoned in the 1500s.

We did a field walk trying to locate traces of Litla File. We located several tentative stone buildings. We also looked at contours and possible field use patterns, which was something interesting to learn. The next step (better done in spring) will be to come back with a GPS, Total station, theodolite combination to map out the possible buildings and compare them to 16th, 17th, and 18th century maps. Phosphate mapping would also be helpful in choosing target areas.

A theodolite is a piece of surveyor's equipment that provides accurate elevation measurements and can also be used to triangulate positions.

A Total station is like a GPS on steroids. You set up a base station, then carry a stick around with you. You put the stick on something interesting (say a rock in a wall) and press the button. The total station records the position. Repeat for other rocks in the wall. Total station stores everything then spits it out as a database file used for mapping software which prints you out a very accurate map of your site.

Phosphate mapping is the process of taking a grid of soil samples from various depths across an area of interest. Humans and animals tend to produce phosphates in a number of ways which means that occupation areas, burials, food-processing areas, latrine areas and animal compounds and droveways tend to show higher phosphate levels. Doing a survey can suggest places to dig.

Ground penetrating radar (GPR) is useless here due to the very thin soil over limestone bedrock, and magnetometry doesn't seem to be common here.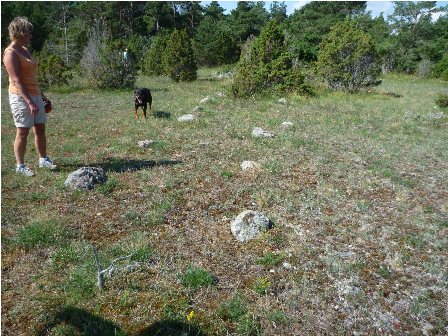 We did find this interesting stone feature. It went into the trees in the distance. Perhaps a road?

Two of our teammates plus our osteologist had been pulled away to do rescue work on a pipe laying site that had hit stone age burials - we got their report at lunch. They excavated 8 skeletons in 4 graves. Grave 1 was an 18-20 year old male with a 6-7 year old child. Grave 2 was a woman with a VERY newborn placed between her legs, and was buried holding the legs of a man. This burial had a bunch of grave goods - 2 stone axes, a javelin and a fishing hook. Grave 3 was a single burial. Grave 4 was a single body, apparently also with a young child. Dating for these graves was around 5000 BP. The rescue work here was quite intense on the time line with the backhoes having a "must start again" time and date. Apparently the last skeleton was uncovered just 3 hours before they moved in. Recovery instructions given: grab the bones, grab ceramics with decoration (ignore undecorated ceramics), grab any other artefacts and get out of the way of the machinery. This was a very hectic three days for the team.

Sat July 9
Today was our first real day off!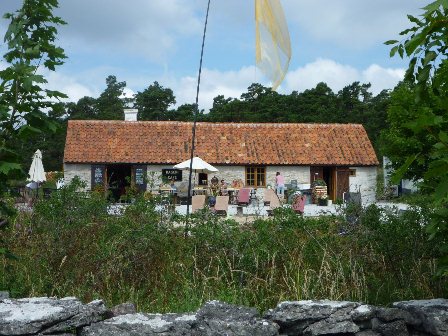 We started with a quick stop at the bakery down the road which we had heard so many good things about. Their cardamom buns were wonderful.

We drove down the west coast to Hemse to the hand spinners guild. Then over to Ronehamn to see Eko Yarns. Karen made acquisitions in both places. :)

Then we drove up the west coast - while we found the town of Paviken, we weren't sure where the dig had happened and couldn't see the wall around the town that was mentioned. Mind you, we didn't look any harder then out the windows as we drove by.
We had no trouble finding Vikingabyn in Tofta - wow. They try to present history to kids and get bonus points from Neil for letting kids throw axes, fire bows, carve wood, make 'viking bread' on the fire, and.... hit each other with pillows while balancing on a beam. The historical accuracy here is pretty light weight. Costumes aren't the best. Many of the things available for sale in the booths (not the gift shop) are clearly there just to fleece the tourists who don't know any better such as the sheela-na-gig figure or pentagram necklaces.




This first shot is looking back past the merchants to the entrance.


One of the many problems with the site. This anvil is no older then the 18th century.


Here are the skills area. Pillow fight on the log on the left, then axe, and bow as you move right.

Dinner in Visby at Friheten after some wandering the streets and shopping. Surprisingly, most shops closed earlier than we got there - who closes at 2 pm on a Saturday during tourist season? Karen had been wanting to rent a guitar, in order to continue practicing while she was here. Alas, the music store was closed as well. After dinner we drove back to Fårösund and around town a bit, looking at Fastning (a restaurant we never did get to) and looking for the "city centre" which apparently is the ICA (grocery store).

Sun July 10
We took another set of mellow drives around today, including a peek at a local wool shop. Karen cheerfully made an acquisition here as well. :)


| | | |
| --- | --- | --- |
| | | |
| Welcome to the Blue Lagoon - not quite the same as the one in Iceland. This one is an old limestone quarry - rocky, cold water, and windy. We skipped taking a dip in it although apparently it is a popular swimming place. | | We went back to Slite for lunch at the thai and hamburger place and spent some time on the beach and played in the baltic ocean - neither of us had ever been in the baltic before. |
| | | |
| We also stopped to look at Slite's cement plant which comes with an amusing sign. | | People claimed this was last year's trench, but I think it belongs to the cementa gods. |

In the afternoon we stopped by the Bunge Museum which consisted of 17th, 18th, and 19th century farm buildings brought together from all over the island. There were also some reconstructed iron age graves, and a bunch of picture stones from the local area. Although the time period is relatively modern, this museum is well done - a very nice presentation.


| | | |
| --- | --- | --- |
| | | |
| Reconstructed house | | Karen and one of the local picture stones |

We had dinner at Bunge Krog (a nice new Italian place) and back to the residence for some mellow time with our trench mates around the picnic table outside before work began again the next morning.

Mon July 11
We began the new week with a lecture to welcome the new diggers joining us for the last two weeks, review the status of the work in Slite, and the plan for Hellvi, the next site that we would dig. Our particular work at Hellvi was to be an Iron Age house (RAÄ 44:1). It's a 600m walk from the parking lot, through both cow and sheep fields and we climb over two fences and one bridge. We did this twice a day, going both in and out for lunch back in Slite. We really got some exercise in!

So why Hellvi?

In April 2011, a bronze mask was turned in to the museum by the heirs of a recently deceased person. Since the original finder is now deceased, there is little information on the exact location of the find other then in this Iron Age (in Gotland - 500BC to 800AD) house near the church at Hellvi. Museum staff have tentatively identified it as a bronze roman gladiators mask (or ceremonial mask for an auxiliary legion) from c. 150 AD that was used in ceremonial parades.


Given that the mask has an estimated value of 20M SEK (approx. 3M Cdn), the museum funded a 10 man team under the leadership of Per Widerström for a week to look into the house. Since our plan to find a Viking Age harbour in Slite didn't work out, Dan volunteered the 24 of us to help for 2 weeks. The combined team excavated all four corners and an area in the middle of the house, based on Dan's use of the metal detector to detect possible finds. Our group dug a 4m wide trench across one end of the house. Pers' group started at the other end.

Interestingly, the mask is damaged, most likely from the shovel. The damage passed though one eye. These masks usually have open eyes (so they can be worn in parades). The one remaining eye in this mask is apparently closed. According to Dr. Neil Price (via conversation with Per), you sometimes see this as an Odinistic adaptation of older work. Now they both want to see the missing bits to see if it is one eye closed or two.

There are over 2000 iron age houses in Gotland and not many have been dug. Most iron age buildings are found in pairs. One large house, one smaller building. This site has only the larger building. Why?

The afternoon was spent laying out the trench and de-turfing 48 m2 for 24 people and 2 weeks (yikes). Once again, we de-turfed the old fashioned way, but this time we had 22 people working all at once - it went quite a bit faster. Although... there are a few rocks.

Our trench was outside the north-west side, and included the north-west wall, the interior, and the south-east wall. For convenience, north has been re-defined to be parallel with the short side of the building meaning the long walls run "east-west". Our group (the 4 week people) was given the space just outside the north wall. These squares are 16/6 (westernmost square) through 16/9 (easternmost) this group is about a metre "north" from the house wall rubble field. We also had 17/6 through 17/9 which is the next metre north of the 16 group of squares. In the final days we took over the 15 and 14 squares (which included some of the wall rubble and wall) next to us when that team's members went home.

| | | |
| --- | --- | --- |
| | | |
| De-turfing in full swing | | Here is Karen getting ready to attack our trench |

When he came in for the morning lecture, Dan brought in some beads from the Fröjel site for Neil to analyze. Here is the size of that project: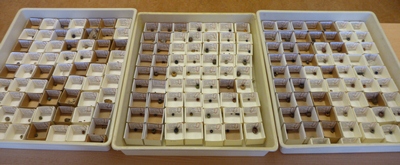 This would occupy most of Neil's free evening time for the next week and a bit.

Tues July 12
Today the dig really got up to speed, with the team digging the whole 8m2 to a standard depth.

Finds included lots of animal bones, and blackware pottery (very hard to date - very early Iron Age to Viking Era). The ground was very dense with roots. When the site was originally surveyed in the 50s, it was covered in trees. The trees are gone now but the roots (big and hair fine) were everywhere. The ground was also very hard - and likely completely undisturbed. So far, there are no visible layers and there may not be any given where we are digging. We got as far as beginning layer 2 but didn't complete it. It very quickly became apparent that we had a wall of boulders running north from the house in our westernmost metre (squares 16/6 and 17/6). Most of the boulders were just underground, and the two we had thought were small rocks near the surface turn out to be big and proceed well below the surface. Judging from the other rocks we can see on the surface, it looks like the wall runs a good 15 metres out from the house (perhaps more).


| | | |
| --- | --- | --- |
| | | |
| After de-turfing but before much digging | | After the first level was removed. Notice the wall is more obvious. |
| | | |
| The final trench drawing showing the wall and square elevations. | | For those who can't quite make out the house. We have drawn black lines on the walls, and a black arrow pointing to an entrance. The blue line is the outside wall that we are still puzzling over. |
| | | |
| One of the other trench groups found a blue bead in the house (Callmer type A172 for those interested) | | And another group found a knife (likely migration period 350-450 AD) just outside the building in the fallen wall. |

The evening lecture was from Dr. Michael Jonsson on Roman Coins in Sweden. Michael is the same guy who read off the coins the previous week at the hoard dig. He had a book of his work documenting coin finds (including Viking Age) in Sweden - IN ENGLISH. Neil grabbed a copy. There were 7,689 roman denarii (dated 50-193 AD) found in Sweden of which 6,568 were found in Gotland. Roman Solidi (dated 450-550) only number 817. 252,784 viking age coins (800-1140 AD) have been found in Sweden - that number still boggles Neil's mind. The earliest known coins are Greek c. 625BC. The oldest coin known from Gotland was found in 1938 and is dated to 121-63 BC. Normal roman coin finds on Gotland are silver denarius and various bronze coins [sestertius, Dupendius, and As]. Most of the Gotlandic finds are denarii with 3g of silver. Coins minted after 190 AD are debased with copper - which matches the silver ingot we found at the house. Gotlandic coin finds are generally very heavily worn. About 100 imitation coins have been found on Gotland - these were struck by the Franks, Burgundians, Visigoths, and Ostrogoths. A total of 3.5 kg of coins have been found but 45 kg of gold objects have been found - the biggest single objects are necklaces (ranging from 615 to 820 g). The reason for the big imports of gold isn't really known. There is an idea that it was a share of the tribute paid to the various tribes but there are no hoards matching any of the known tribute time lines. It has also been suggested that it was a trade item (perhaps for iron) but again the known timings don't work out. Overall, this was a good lecture.

Wed July 13
We finished layer 2 and registered the finds. The west most squares (/6) were very poor in finds with only 2-3 bones per square, 1 piece of ceramic etc. The /7 squares for layer two had more interesting finds, or at least more finds. We also began layer 3 uncovering more finds - clay and ceramic as well as more animal bone, however, we didn't finish layer 3 by the end of the day. Even through layer 4 we weren't seeing any real layers in the soil, although we are finding larger amounts of rotten stone. Neil found a big chunk of iron but it feels modern to him. No doubt they will figure it out in post excavation analysis.


| | | |
| --- | --- | --- |
| | | |
| A small silver coil from 17/9. Neil found this in the sieve. | | A piece of migration era pottery found in the wall. Karen found it in the sieve. |

Per's team (working in the middle of the house) hit a nice collection of bronze. The end cap for a drinking horn, arm-ring (or ring for the mouth of the horn), a massive stick pin in amazing shape (I'd say 20cm+ in length) and some more pieces.


| | | |
| --- | --- | --- |
| | | |
| A bronze arm ring and horn mount | | The pin being dug out |
| | | |
| The Y shaped pin finally free | | They also found this possible necklace |
| | | |
| One terminal of the necklace | | One of our teams found these three pieces of a nice pot. |

Joakim Wehlin gave tonight's lecture on baltic stone ships. He provided an interesting way to look at the ships. The first step is to divide the boats into 4 different types.The first group is that with the stones just barely showing above ground. This type tends to have more than one burial, perhaps they are a family grave? The remaining 3 types tend to have one burial closer to the north end of the ship. The second type are entirely made of small stones. The third type are made of large slabs but are only vaguely ship shaped. The final group are very well made using multiple different sizes of stones to get the shape correct. The three boats pictured from the excursion on July 3rd are all of this type. The third group often has inhumation graves with knives. All four types seem to have the same basic dates. On rock art, ships often have a circular companion. About 20% of the stone ships have an accompanying circular feature mostly without any burials. Joakim did excavate across the north end of one ship and part of the accompanying circle. The circle had two graves dated 630 years apart. There were also burned bones between the ship and circle. He is also trying to link them to geography and the idea of trading emporia.

Thurs July 14
Today was a half day due to rain. Neil finished digging 16/7 and 17/7 at layer 3, including a lot of work between the rocks. There were very few finds - mostly ceramics, some more blackware, some bone but all small pieces (circa 1 cm2). We are going to do a layer 4 on those squares.

Still no visible layering of the soil, although Karen (in 16/8 and 17/8) and Neil (in 16/7 and 17/7) were getting a massive soft spot between our squares. About 1.5 m long, running from a point in the south and widening out to the north (maybe 20 cm wide at the 16 - 17 boundary). The full extent of this won't be known until Karen finishes 17/8, layer 3. The ground is so soft that if you point the trowel down and let it go it will sink in an inch. Yet the ground beside it is very hard to scrape. The folks in 15/7 and 15/8 are seeing something similar but there it is forming a ring with 10-15cm width wrapped around a hard core about 30cm wide.

Given that we have bones from at least 3 different rabbits we are wondering if it is a warren that filled in, or something else. Perhaps layer 4 will tell us more.

Gustaf Svedjemo's lecture on the Iron Age landscape on Gotland was rescheduled for the afternoon to make better use of the time. Unfortunately this fellow was not a good lecturer, which was not helped by his math heavy thesis, and running about double his allotted time. He is trying to use predictive analysis on iron-age houses to understand settlement patterns. Neil is comfortable with the math showing correlations such as the 84% correlation of iron age stone houses with moraine based soils - but it is so easy to drift into assuming that there is causation involved and the math doesn't give you that. Plus of course, such modeling just confirms what you already know. It won't point out to you new finds that don't match (and hence might invalidate) the model involved. He was also very unfocused in his lecture giving us a broader historical range than his thesis work would normally involve which didn't help. He went on long enough we needed a coffee break in the middle.

Neil spent the evening working on the beads, getting the first box (of 3) completed.

Fri July 15
Today we finished all of layer 3 and worked on layer 4. Neil had one of those amusing field school experiences today. Dr. Dan wanders over, looks at the one side of the rock wall in 16/7, says "I wonder if those rocks are a stone packing" and asks him when digging out layer 4 if he can dig around them to expose what is below them. So Neil did.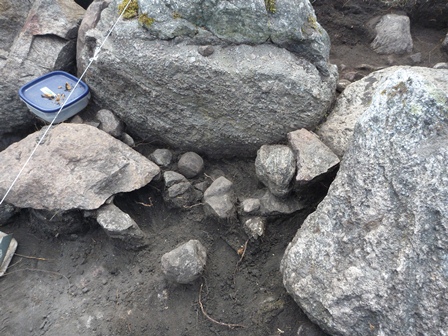 It took a freaking hour for just that little fragment of the square. Dr. Dan wanders by, says "nope not a rock packing, get rid of the rocks" Sigh. Five minutes later that area is done. In general 16/7 and 17/7 turned up lots of big animal bones (horse teeth, scapula, etc) and minor bits of ceramic. On Monday, we'll finish layer 4 and start layer 5. The soft soil is mostly a job for Monday so still no clue there - but it went away in 15/8 so we doubt it has any significant meaning.

The people of trench 2 (squares 15/x and 14/x) have finished their time here and left. Our team took over their trench. For layer 5 we are going to dig squares 15/9, 16/9, 17/9 for the profile. 14/9 won't be dug as it is the actual wall of the house. The profile still isn't showing much in terms of layers. We will also dig 15/6, 15/7, 16/6, 16/7, 17/6, and 17/7 which is where the interesting finds had been (the extended rock wall). This should show us what is under the boulders.

Given that Per's team is also done we expected some of our groups would be moved to their squares early next week as well.

Neil again spent the evening with the beads getting to the half done mark.

Sat July 16
We spent the first part of the morning in a field near Lärbro looking for possible future dig sites. This field is a good candidate as the area has everything from stone age to medieval sites registered but not dug. Then Karen and Neil took off to head into Visby with Al and Andurs for some shopping and to try to rent Karen a guitar.

We failed. While we finally got into the music store while they were open, Karen left frustrated because they refused to rent their guitars. They said it wasn't worth the trouble for them because it had ended up costing them too much in repairs when the guitar was returned. They could have mentioned this policy in the email correspondence that Karen had had before we even arrived! Karen asked them, if she bought, would they buy it back from her at the end of the week? The answer was the same. Not wanting to buy a guitar and treat it like a disposable object (they suggesting burning it!), Karen opted to walk away.
Karen and Neil toured the town, and met Andurs and Alanna, and two of the other folks from the dig after dinner. We had borrowed the school's van for the day so we could give everyone a ride home.

| | | |
| --- | --- | --- |
| | | |
| Our group focused on trying to spot stone age grave mounds (the red areas). | | Karen and Snorri found more than a few. |
| | | |
| The inside of the Visby town wall | | One of the more amusing tourist shops |
| | | |
| The market at Stora Torget | | Botanical gardens, inside the medieval wall |
| | | |
| St.Katerina - they hold outdoor concerts here now | | Karen inside one of the church walls |
We finished with a nice dinner at Donners Brunn. Fish and seafood casserole for Neil - which he still says is a soup. But it did have huge amounts of seafood and a very tasty broth. Karen had the lamb. Desert was creme brulee with marinated fruit for Neil (yummy) and kardemompannacotta (yes spelled that way - sound it out) with rhubarb sauce for Karen. Also tasty. Then a drive back to the school with our classmates.

Sun July 17

Karen did the photography for the beads while Neil catalogued them in a complex spreadsheet. Entertaining us both in the background, Karen had reruns of Castle playing on Youtube. The cafe at the school has a decent wireless connection. By the end of this very mellow day of working together, the beads were over 75% done. Neil thinks it's is a shame that they aren't more closely datable - all of them are plow zone finds and the datable objects around them are 500-1180 AD.

We went off to Rute for lunch at Sjökrogan- the restaurant wasn't open but they did have a little shack outside that was open, serving a limited menu. Smoked Shrimp for Neil - yummy! Karen thought they were Icky! Karen had a pan fried herring after she passed her smoked shrimp to Neil. It wasn't so much the flavour of the shrimp, but the way it was served. Karen doesn't like pulling seafood from it's shell, and separating the inedible from the edible - it's slimy and smelly.


| | | |
| --- | --- | --- |
| | | |
| Karen and Snorri discussing a bead | | A very odd pendant bead |
Mon July 18
Karen had hoped that Team 1 would get to take over the trenches when Per's team left because that's where all the exciting archaeology had happened in the previous week. Alas, teams 3 and 4 were moved into those trenches instead. They did not find any further bronze or silver, but there was quite a bit more exciting archaeology left for them to find throughout the week. If there is more silver and bronze in the house, it will need to wait until a full excavation can be accomplished. Since the bronze and silver were found in the areas of wall that had fallen over (among the rubble) and a bit spread out it is hard to decide if there is more to be found.

We continued with our planned work and finished off layer 4 this morning. We then photographed everything to get the rock positions and started layer 5 on the eastern half metre of 15,16,17/9 (for the profile) and all of 14 (what could be reached),15,16,17 in the /6 and /7 squares. We hit the sand/gravel sterile layer quite fast on the southern edge, and not too much deeper on the northern edge. Past that there is only packed clay. We drove two very small test pits down into the packed clay to be sure.

At the interface of layer 4 and 5 we did find something fun. As you got close to the house the soil got very dense - hard enough to warrant digging in with the point of the trowel and breaking it open piece by piece). Under that was a centimetre or two of black earth, then the sterile sand/gravel mix. The profile is silly. There is the sod layer, a grey layer in trench 2 (squares 14/9 and 15/9) that vanishes almost as soon as it hits trench 1, mixed soil, and the sterile layer.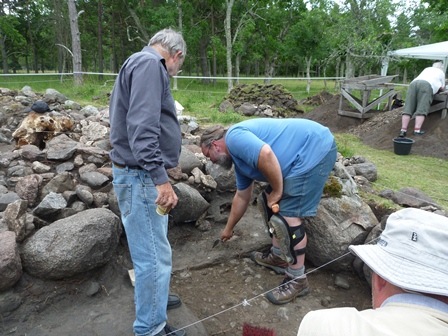 Neil and Dan discussing the hard packed soil. Note that 15/7 where Neil was standing is dug down but 14/7 isn't, you can see the two layers in the transition between the two.


In layer 5 we were getting bone above the sterile and almost no ceramics - just some very bad shaped clay with lots of inclusions. Karen found some iron - including an iron needle or awl in the rocks in layer 4.

The rocks were good for trapping stuff. Karen found some serious animal bones tucked nearly under the really big rocks and wanted to move them, to find the rest of the animal but kept getting told 'no' by her trench mates and the lead archaeologist just laughed at the idea. She had at this point completely blocked the 'rationale' but she does remember that it had some logic and accepted it grudgingly. The answers were so close (!) and yet so very far away. Neil remembers the rationale clearly - huge boulders (a half-meter on every side) set against finding more horse/cow bone - when we already knew there was horse/cow there. What more could be learned from a few more bones?

In the evening Neil got the beads finished up to 90% but we are having some real trouble getting photos we both like. Some re-shooting turned out to be necessary. Karen opted to do our laundry and hang with our trench mates outside at the picnic table. It was a beautiful evening.

Tues July 19
Today Neil dug layer 5 on 14/6 while Karen, Al, and Konrad dealt with 15/6, 16/6, and 17/6 respectively. Some more clay, ceramics, and bone but nothing really impressive. (Karen disagrees, see her rant about moving the stones above.) Neil and Andurs did the profile (14/9 through 17/9 east wall). This was extended by using the theodolite to help lay out the profile over the northern wall of the building. We then began to backfill trench 1 and 2 getting about 1/2 done before the end of the day. 16 m2 of soil and rock ranging from 20-80 cm deep is a LOT of soil and rock to move with shovels and buckets. But it had to be put back as this is a pasture field.


| | | |
| --- | --- | --- |
| | | |
| Visual profile | | Enhanced for those who have trouble seeing the complex layers |
| | | |
| Official Profile drawing of the trench and wall cross section | | Karen and Snorri helping with the theodolite measurements |
| | | |
| Here is an example of the description for one of our squares | | Karen did find something interesting at the last minute... |

In the evening the first pass of the beads was completed and the photos reviewed to see what needed to be re-shot.

Wed July 20
Today we finished filling in trenches one and two. Teams 3 and 4, who had moved over to Per's trenches were still coming up with finds like these:


| | | |
| --- | --- | --- |
| | | |
| An old hearth | | A bone spindle whorl |

In the afternoon, our team opened a new 1 x 2 m trench over a possible medieval house about 200m away from the iron age house. We ran the trench through the anticipated wall. This was a very shallow layer - less than 15cm under the sod. We found lots of iron (nails mostly), ceramics, and some flint. The wall was very obvious. Ceramics were mostly inside the wall, some wood traces inside the wall (likely a floor). The likely date based on ceramics was 1600-1750 AD - so not medieval. According to the maps, there wasn't a house there in 1695 so the date has been tentatively assigned as 1695-1750. We did find a piece of clay pipe stem which can be dated so that can provide a double check. The airway in the pipe stem is 5/64" which provides a rough date of 1720-1750. That likely refines our date further towards the 1750 date. Since this was just a trial to establish a possible date the artefacts were dumped back in or thrown out and the trench was closed. A good afternoon's work. If someone decides to dig the house later they will be able to go in with a good idea of what they will find.

When the first group of 2 week students left, and a new group came on board, we needed a driver for the second school van. Neil volunteered when it became clear that no one else was willing to do so. Apparently, many folks are afraid of driving larger vehicles on unfamiliar roads. Neil doesn't have a confidence problem with large vehicles or roads. Anyway, some of the new students (who's names we never really absorbed properly) in our van had wanted to see the "Singing Stone" There's a great Youtube link to someone using the stone here - http://www.youtube.com/watch?v=YcOofH5m0mQ. Today, we decided to stop by to see, and hear, it. The 'Singing Stone' is a ringing stone sitting on a site that had been a market, a drill ground and a battlefield for two different battles - one of them (in 1030) involving St. Olaf. The stone is really weird. When you strike it with another stone it makes a clear ringing sound like it was made of metal. Strike any nearby stone and you get the normal stone sound. It's very odd. Maybe our geologist friend can tell us more about the phenomenon. We'll let you know if he can come up with an explanation.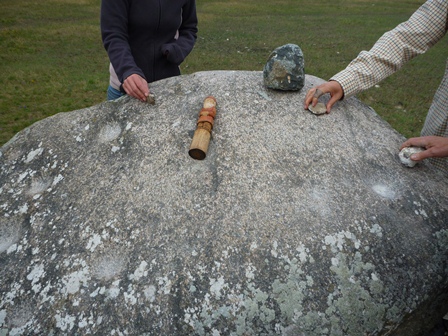 In the evening Neil finished the beads re-shoot. Since all of the beads were photographed and recorded here are a couple of teasers.


| | | |
| --- | --- | --- |
| | | |
| A nice decorated bead | | And a broken amber bead. Note the hourglass shape of the hole - drilled from both sides. |

We ended the day thinking we might do some phosphate mapping the next day, although we knew we might have to help others fill in their trenches. Most of the rest of the crew were close to finishing and the area that needed to be refilled was huge. We would find out in the morning. Phosphate mapping would be new to us, and useful to future archaeology here but it seemed right to pitch in and share the load. Everyone knew the school was ending soon, and we didn't quite want to let go just yet.

Neil brought out a tafl board and showed some folks how to play the game. He had brought 3 boards to give away - it proved easy to find takers since there was a lot of interest in the game. Karen found this part of our adventure interesting - in that, while most folks had more archaeological experience then we did, and many were on par with Neil for book learning on the Viking Age, few had actually tried the activities of the past as we have. Neil has made a study of tafl and figured out the rules of the game, and he's made beads in what might be a Viking Age furnace and Karen has woven on a warp-weighted loom and done tablet weaving and spinning, etc. Next year, Karen thinks she wants to bring drop spindles and bone needles teach willing victims how to spin and naalbind.
Thurs July 21
Today wound up being a very simple day. We filled in the big holes that everyone had dug and helped move the gear back up off the site. We wound up closing the site a whole 45 minutes early so we didn't get a chance to do the phosphate mapping. Neil is comfortable with the process in theory, so he didn't feel that missing the actual experience was a big deal. We were all very tired after moving all that dirt anyway! Erratic bucket lines both helped and hindered - we couldn't quite seem to co-ordinate well enough. Wheelbarrows would have been a big help but that would be too efficient of us. Nonetheless, we did manage to get it all done just as the rain started to become a serious issue. We walked away feeling satisfied.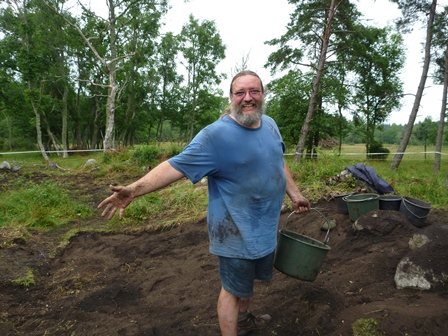 Neil is a dirty boy!



The evening began with Alanna talking about her anthropology work. She promised to send us a final report in April but she did provide us with her first thoughts here. In this and past years she has noticed certain groupings among students at the field school. There are the new folks who come in with high expectations - "will we find more interesting stuff on day 2?". There are those who are here because it is something they have always wanted to do (avocational types) - she noted the gleam in their eyes when they talked about the topic but also noted that they have trouble explaining why they love it. She also called out the shared history of this group, some even refer to their "trench family". This is shown in shared jokes and songs like "there's a rock in my trench dear Dan-a". She noted the passion that most folks have - something Karen can relate to, having discovered a fair bit of passion for digging herself. Her original thesis idea had been the question of why hoards were never reclaimed or plundered but that is changing, and she may write about the students of archaeology themselves. We look forward to seeing her thesis.

The second lecture was Dr. Carlsson talking about the Eastern Connection - Scandinavia and Russia. He is consulting with a group of Northern countries to look at how to open the whole eastern viking route to tourists. This is coupled with an academic push to include more of the eastern connection in the publications. Neil liked that, as one site is said to have perhaps done bead production. The basic eastern story comes from the Nestor chronicle in the 12th century which documents the "invitation" that Rurik and his brothers got to come be the lords over the Russian cities and bring order. Rurik settled in Novgorod, Sineus in Beloozoro, and Truvar in Izborsk. The trail itself would begin in Stararia Ladoga. There are excavated viking graves just across the river from the town, and there are traces of a viking fortress there. The artefacts start around 750 AD. Unfortunately the excavations haven't bothered with sieving, which means that most of the small things will be missed in the hurry to get to the lowest levels. Beads, tortoise shell broaches, and a mould for a Thor's hammer have been found. There are apparently some sparse publications by the lead archaeologist (Dan wasn't sure of the name - perhaps Kirpisnikov?). The town was called Aldeigjuborg by the Norse.

Moving down the river, the story come to Gorodische. This was excavated by Nossov and is the predecessor town to Novgorod likely being created around 850 AD. Since Rurik came in 862 it is actually to Gorodische he would likely have come, but this is often glossed over. Novgorod itself (called Holmgard by the Norse) was created around 950 AD. Work here is interesting as each year they have an excavation that is fully open to the public (with covered viewing areas, and a public presentation area). The 10th century layer is 7 m down from the surface (as opposed to around 50 cm in Gotland) which leads to some amusingly deep trenches. The site is very wet, which means that a lot of things survive, like logs and posts, as well as over 4000 birch bark messages. The town was also important in the Hanseatic time and had a Gotlandic type section - traces of which still remain to this day.

Izborsk is close to Pskov. They have re-enactments each year and Dan noted that at least one artefact he was shown had two matches found in a Gotlandic site. Pskov itself has some Scandinavian graves found during hotel construction and at least one chamber grave was fully preserved. Apparently the hotel has a good display of the artefacts. The artefacts themselves were rather mixed, some Scandinavian and some Russian. It is worth pointing out that the link goes both ways. Of the 9 tested male graves from Fröjel, 4 of the bodies had an eastern origin.

Our evening lecture closed with Konrad's rather humorous summation of the year (apparently a tradition). Alanna videotaped his talk and promised to put it up on Youtube. It was priceless - picture stones as postcards!

Afterwards, many of us sat around the usual picnic table and talked until quite late at night. The sky was full of lightening and thunder occassionally could be heard in the distance. The lights blinked on and off in the residence as the power and the backup generator took turns maintaining systems. We discovered the next day that the whole island of Gotland had had power outages, some quite severe, as the main transformer station had been hit by lightening. Thank goodness we were in a residential school housed in an ex-military base!

Fri July 22
Our last day at the school was taken with a morning excursion, followed by lunch and a summary lecture.

The excursion was to Trullhalsar - a big grave field with over 350 cairn type graves dated from migration through viking age in the middle of a very tall quiet forest. A very pretty place and some interesting differences in graves. Then we stopped at Tjelvar's Grav. Legend has it that Tjelvar was the first person who lived on Gotland. Before he came Gotland sank each night beneath the waves. Then Tjelvar brought fire and the island didn't sink anymore. The last stop was Fornborgar, a hill fort. This is just a decent hill with a bit of short wall here and there. Nothing much to see.


| | | |
| --- | --- | --- |
| | | |
| Grave mounds | | Snorri stopping on one of the judge stones |
| | | |
| A stone path? Part of a boat? | | Neil in one of the judge stone circles |
| | | |
| Grave mound with a curb | | We then went to Tjelvar's grav. Another stone ship |
| | | |
| And finally Fornborgar - a hill fort. | | The view from the other side of the fort |

After lunch we got the the preliminary results of this year's dig. Per talked about the finds at Hellvi. Astrid talked about the rescue dig for skeletons early in the month, since the later group of 2 week visitors had missed it. Dan re-capped last year's dig again for the same group of late-comers. Dan summed up the dig at Slite and it's disappointing results.

At Hellvi, it is looking the like bronze/silver hoard is late Roman Iron Age (200-400 AD) with the other finds likely from then through migration period (400-550 AD). That lovely Y shaped pin is dated 300-800 AD and is not Gotlandic in design. A wooden post from a post-hole was recovered for dendrochronological dating and C14 dating - that will narrow down the timeframe of when the building was built. As well, we took a sample of charcoal from under one of the boulders in our odd wall that had clearly fallen off the wall at some point which might give us an interesting date. Since Neil dug that bit of charcoal, he will be paying close attention to the results when we have them. Dan and Per think that were also traces of an earlier cultural layer under some of the floor stones and one or two things that might be signs that this house was built on the site of an earlier house. Per hopes to make a fuller dig on the house in the future, if time and money permits.


| | | |
| --- | --- | --- |
| | | |
| Some finds including Karen's needle | | A nice ingot of debased silver |
| | | |
| More finds including the Y shaped pin | | Horse teeth - one of our more unusual bone finds |
| | | |
| Part of a set of sheers | | There were also many good byes said |


We then packed up and hitched a ride into Visby with Konrad. We wandered the town a little more, picking Karen up a chain to hang her new bobble on (the rock crystal pendant replica) and when the storm started we ducked into G:A Masters for dinner. We had heard good things about them and they were well deserved. Not only were they very nice to us letting us sit out the rain in their bar, but they kept an eye on us and when a reservation shrunk they made room for us to have dinner. Neil had a very nice lightly salted angler with citronette, chili, coriander, black radish and seagrass as an opening dish, and a halibut with herbs, butter and horsradish. He finished with a creme brulee. Karen had the white asparagus with truffle butter, proscuitto and parmesan to open and lamb racks with pesto, roasted potatoes, jerusalem artichoke and beet root. Karen finished with Gotlandic strawberries with lemon fromage and cake crumbs. A lovely meal in a pleasant place, unfortunately marred somewhat by news on tv in the bar of the bombing and shootings in Norway. Although the news was obviously in Swedish, the pictures and people's reactions to them drew them to Karen's attention and she looked up the news in English on the internet later in the hotel room.

Sat July 23
The flight back from Gotland was as expected - no leg room. We checked in at the Hotel Rival again, happy to see a new teddy bear in the room and then ducked over to the Stockholm Tea Centre which Al had recommended. Then we were quickly off to the Historical Museum - we were afraid we'd run out of time before the museum closed, as we have been known to take hours photographing exhibits in the past. It was absolutely worth the visit, and yes, we did spend quite a few hours there! Lots of artefacts on display and we found ourselves often intrigued with the unexpected size of things. There was a rock crystal pendant even bigger then the one in the Gotland museum! And the grill from the Mastermyr was larger then Karen had pictured in her head, even knowing the measurements.

On the critique side of the scale, our usual problem with museums held true here as well - poor lighting and difficult display choices make for difficult photography. Also, we found that the information posted doesn't list artefact numbers or in many cases their context (where were they found, approximate dating of the object), but it did give case number and item number so you can follow up with the museum later which is better than many other museums. As usual with us, there was not nearly enough time to photograph everything we should have.


| | | |
| --- | --- | --- |
| | | |
| These tafl pieces have always interested Neil being made of glass. | | Notice the size. The sign saying "15" is about a centimetre tall so the flattened spheres are around 2cm across. |
| | | |
| It was also nice getting a sort of underneath shot showing no mandrel/peg holes. | | These hearts are interesting as we found one in the hoard of silver we dug up. |
| | | |
| Neil has always like this glass beaker from Birka - also bigger than you would think | | And Karen was taken by these broaches shown upside down to display fabric impressions and pin connections. |
| | | |
| Finally a nice necklace with big amber beads. Notice the Gotlandic crystals on the right? There is one made of amethyst. Very cool. | | Karen's favourite piece |

In addition to the viking area we went to the Gold Room in the basement. It's special, so it gets capitalized. For reasons we don't understand, they don't allow photos in the gold room. Security perhaps? Although being placed underground in a bunker with bank vault type doors and obvious motion detector devices and cameras ought to be serious enough security. It was also funny to find viking stuff there as much of it was silver not gold so why keep it in the gold room?

Dinner in the Rival Bistro at the Hotel - seafood casserole (read soup) for us both. Smoked shrimp to open for Neil. and Toast Skagen for Karen. Karen had read about Toast Skagen as being a classic Swedish dish and had been curious to try it but unfortunately, mayonnaise is still mayonnaise and she was less then impressed. We split bit of lemon creme brulee with fresh berries (including lingonberries) for dessert. Good food, like the last meal we had there, and nice and relaxing. We were feeling the long month of travel and activity.

Sun July 24
After another restful night in the Hotel Rival, we flew back to Reykjavik - again we had seats in the Saga Class and the leg room was very nice. No private lounge in the Stockholm airport (or we didn't bother to find it) but Karen did find a special edition bottle of Highland Park scotch whiskey celebrating Leif Eriksson's journey to the new world, and presented Neil with an early anniversary present. She had read about this special edition issue a few months back, and was keeping her eyes open for it.

We also got to use the good seats, good thing the owners didn't ask them them back. "Why yes Mr. Thor it DOES have your name on it. No need to use that hammer, I'll move"



The fly bus into Reykjavik was, as always, crowded and it doesn't have any legroom. Ah well, we have been getting too used to the good life in Saga class. There was a change of bus at the terminal (awkward with big suitcases) and off to the Hotel Reykjavik Centrum. We had a half hour there to struggle with their internet connection before we needed to duck out to meet our friends Kevin, Michele, and Emilie at the Tapas Barinn for dinner and chatting. We just couldn't stop talking when dinner was over so they invited us back to their place for more chatting and picture sharing. We don't get to see these friends often as they live in Rhode Island, but our paths were going to cross in Iceland so we planned this get together. As always, they are delightful to converse with, sharing an avid interest in archaeology.
Mon July 25
We started with breakfast at the hotel (surcharge for that) then went to Reykjavik 871 to see what had changed. There was one new display but mostly it was the same - still a nice little museum with great use of technology. We picked up a couple of books to add to the collection and then wandered up to Hallgrimskirkja by way of the wool store and a bead store, so that Karen could grab a photo of the church without the scaffolding. On both previous trips, the church had been undergoing extensive restorative work.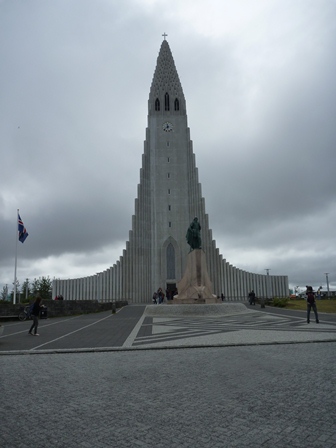 Then down to Laugurvegur and some shopping on the way back downtown for lunch. Lunch was at Sægreifinn which boasts of the having the best lobster soup in all of Iceland because some fancy New York food critique once said as much. While it is good, both Neil and Karen have had better in a variety of places in Iceland. We also ordered a side of grilled minke whale, mostly because it was there. It's not that Karen doesn't feel for the anti-whaling campaign in the environmental movement, but her philosophy is "it's already dead, let's not be ungrateful to the animal." Neil is perfectly happy with "Meat good" as his philosophy.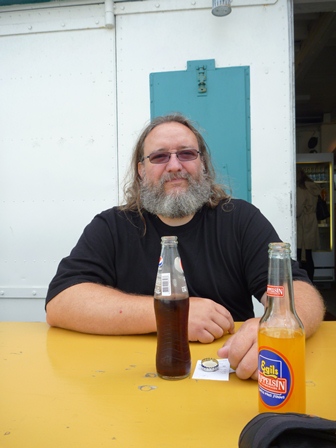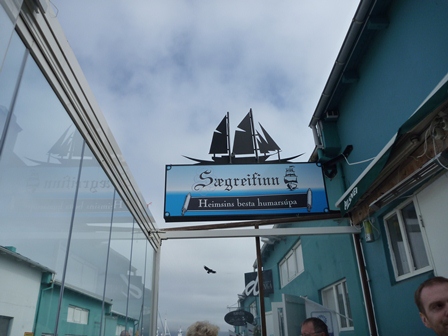 And finally, we had to say 'bless-bless Iceland' as the Flybus picked us up, swapped us to another bus at the terminal, and ran us to the airport. We had a mellow hour in the lounge with free wireless and snacks before the flight home, and Airways Transit was there in Toronto to take us home. It was considerably hotter and more humid in Toronto then we had left behind us in either Iceland or Sweden. We said hello to the very eager puppy, goodbye to the sitter and finally crashed quite heavily until it was time for Neil to go to work the next day. Karen had the luxury of taking an extra day off to unpack and re-assimulate to being home before she had to return to the grindstone. This is a trip that we will remember for a long time to come and we have already started to talk about wanting to find another archaeological dig!