Cape Breton September 15 to 24, 2021
In the interest of history this trip was taken late in the cycle of the Covid-19 pandemic. Things had calmed down enough that vaccinated people were being allowed to travel. After a year and a half of being locked down, Karen and I grabbed the chance for a quiet trip.
Halifax (Wed Sep 15th to Fri Sep 17th)
Our flight from Kitchener to Halifax (and back) on Flair Airlines. The are an ultra-low-cost-carrier so you pay for everything including your choice of seat. The do, however, fly out of Kitchener which is really nice as it is a small airport (hence not the same crowding as Toronto/Pearson would have had - which is a good thing for the late-in-the-Covid-pandemic time). For what they are they seem to be a solid airline. Mostly ontime for the two flights. Their customer service needs some help but hopefully that will improve over time.
Apparently we picked a great day to fly as a few planes were around for an airshow in Stratford.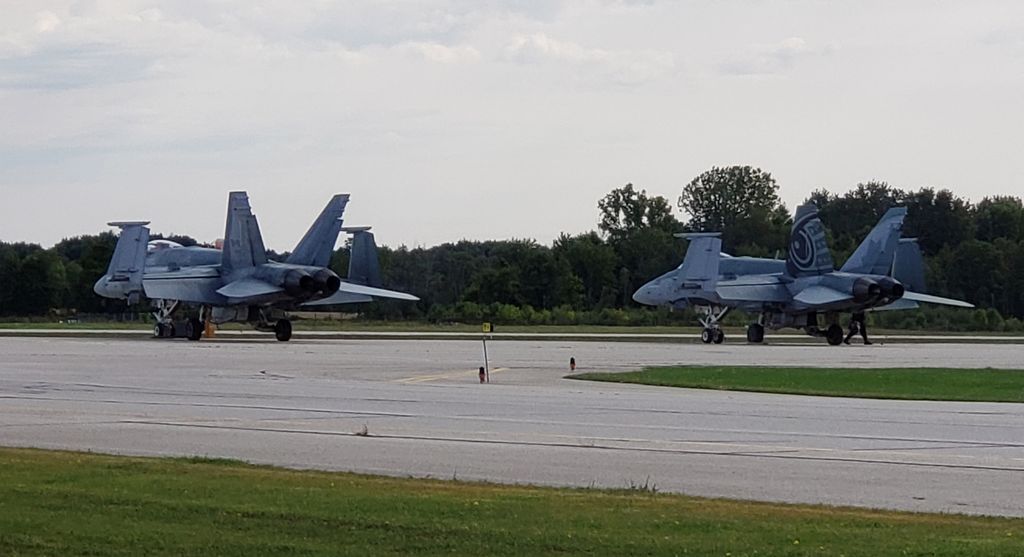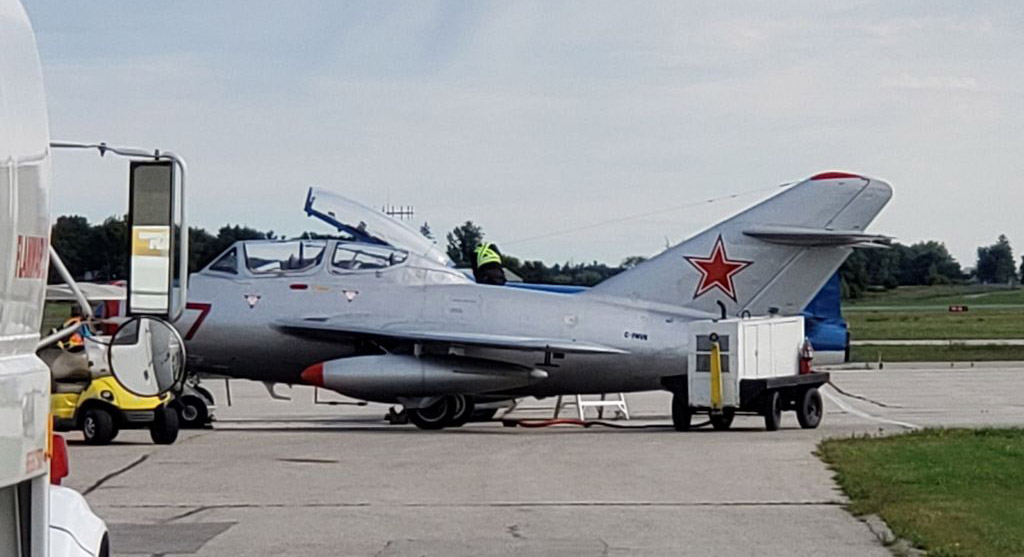 We stayed at the Hollis Halifax Hotel - about a half-hour drive from the airport but very near the harbour which was really nice.
We did Wednesday and Thursday night dinners in Halifax. One at Salty's and the other meal was at Pickford & Black. Pickford & Black does flights which allowed Neil to try a hard root beer, a cider, a strawberry pale ale, and a dark ale. Quite nice!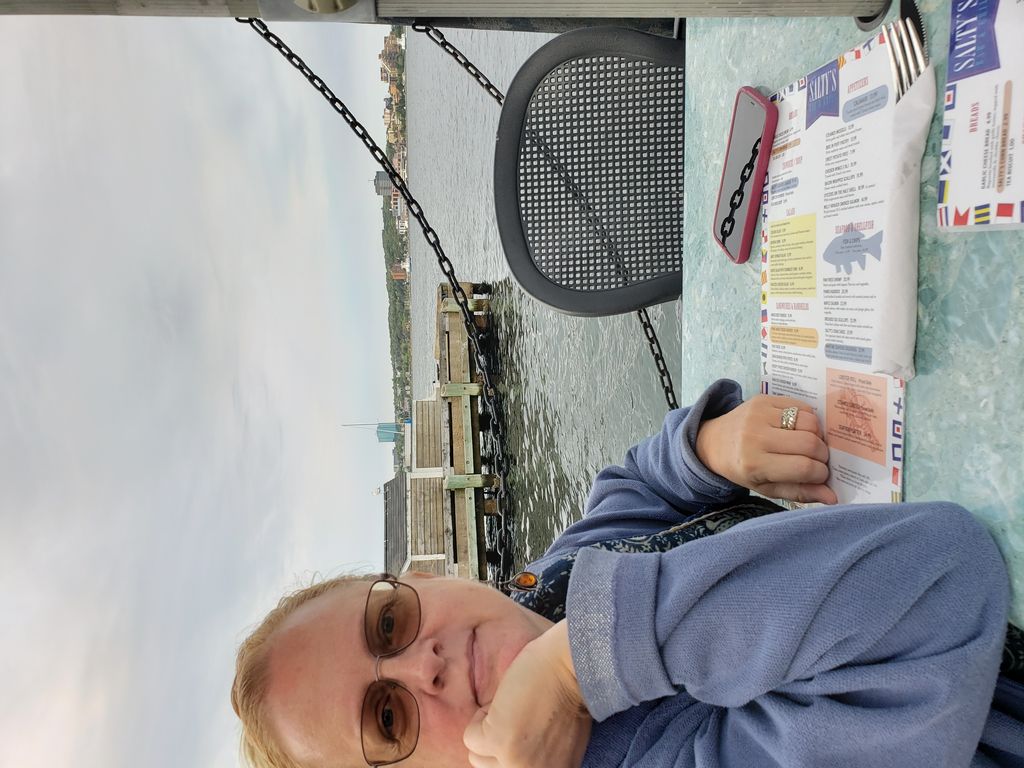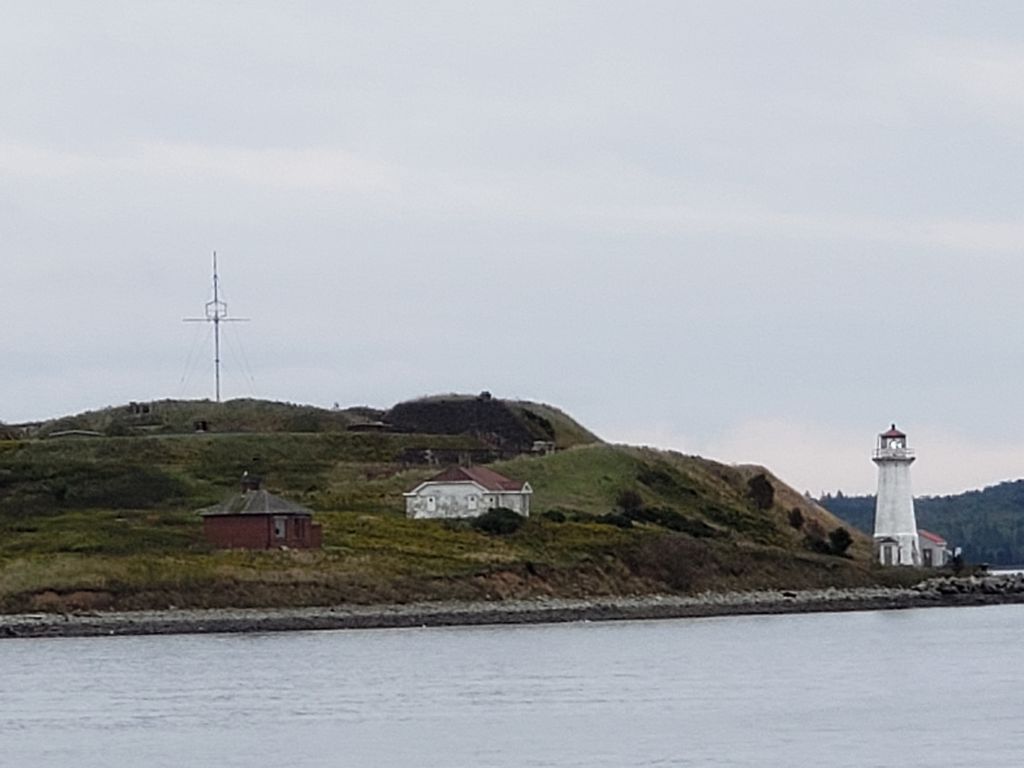 We did lunches at the harbour on Thursday and Friday. Karen had a lobster roll one day while Neil did scallops and fries. The other day we did the tourist thing and had Halifax donairs. The harbour was certainly working hard at being Covid-safe and reminding people to keep distant.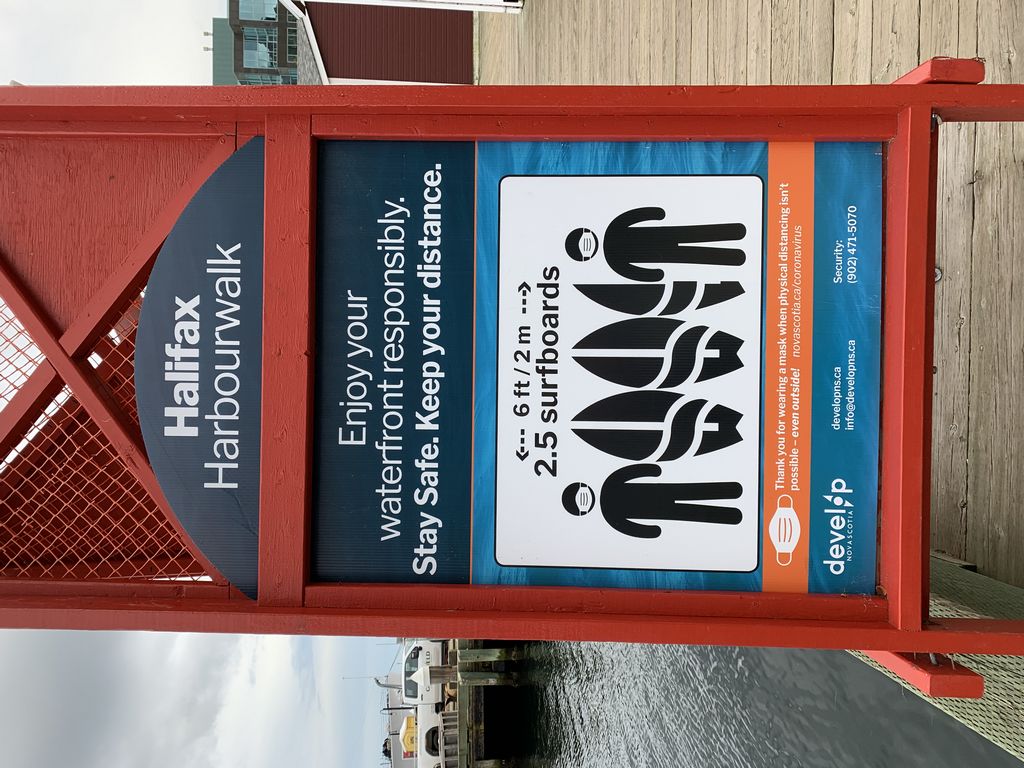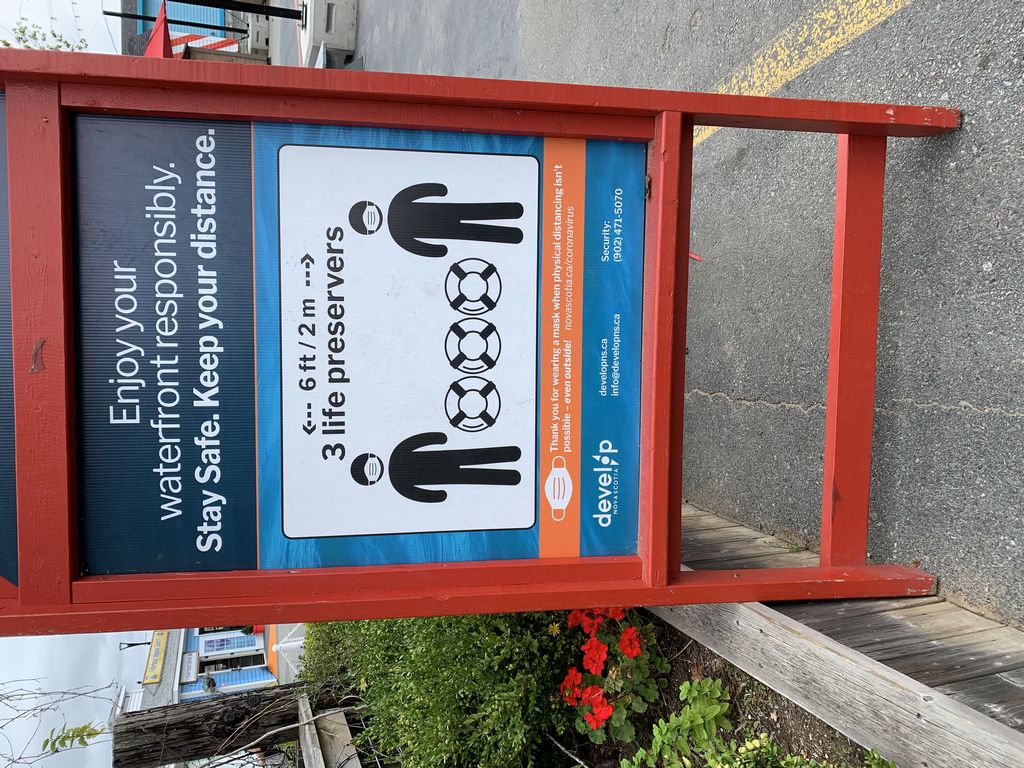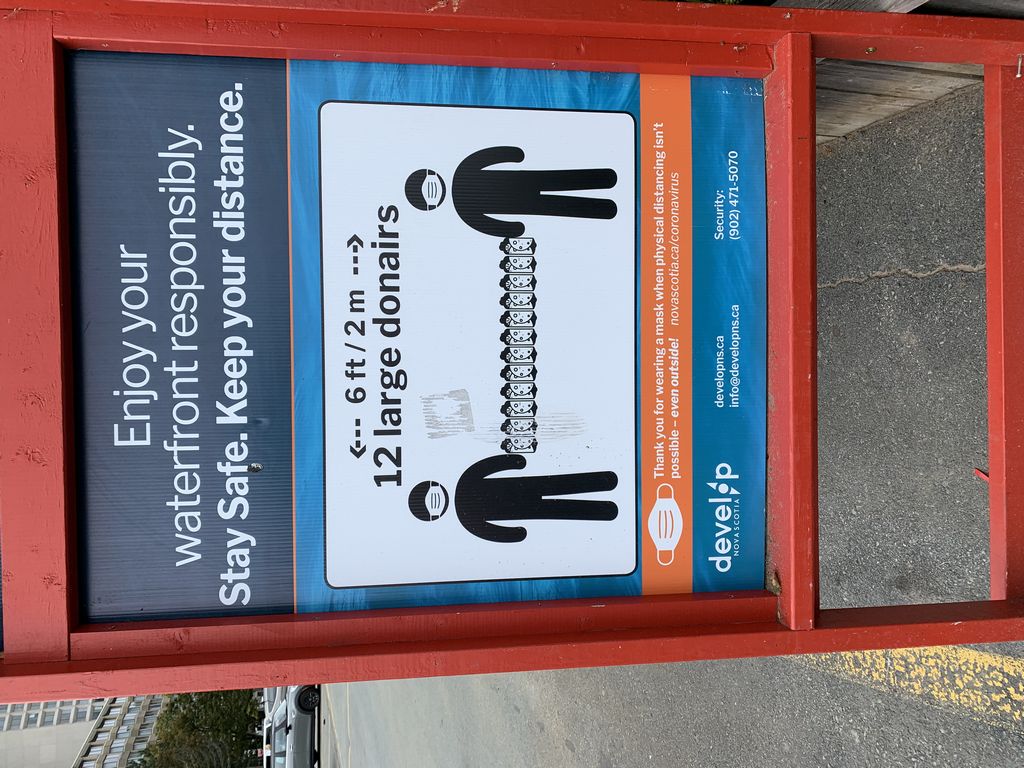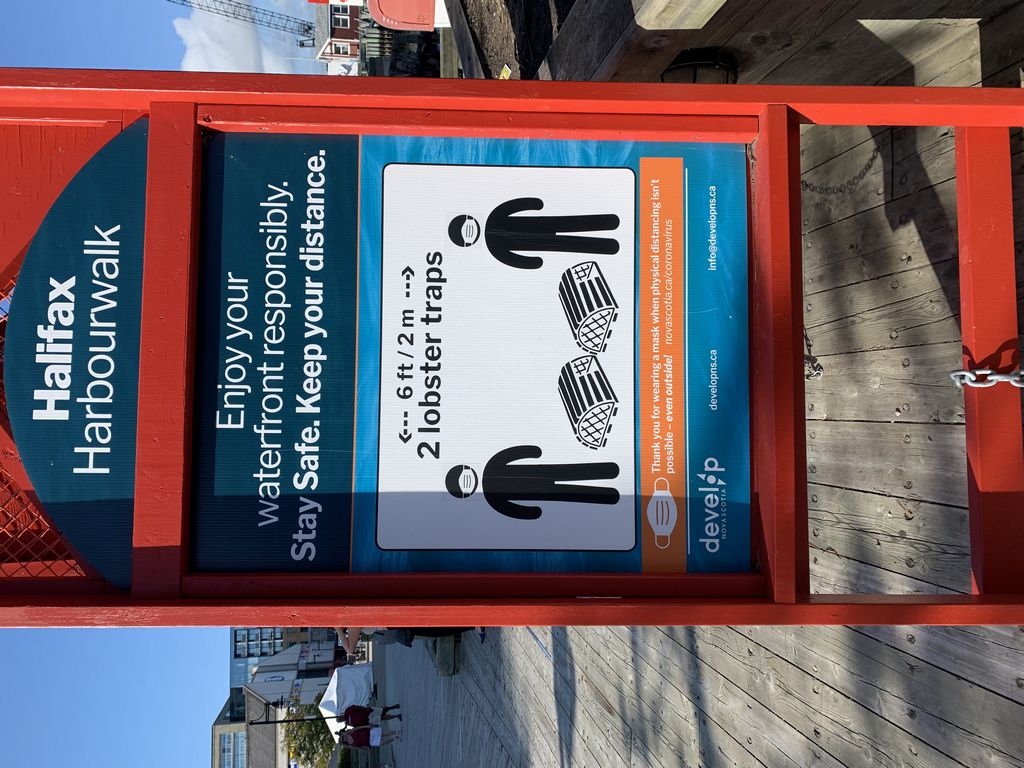 The walk up from the harbour to the Citadel was "interesting". It is a good thing that Da Boyz are keeping us in training by taking us out for walks as often as they do. That was a lot of elevation change in a fairly short order.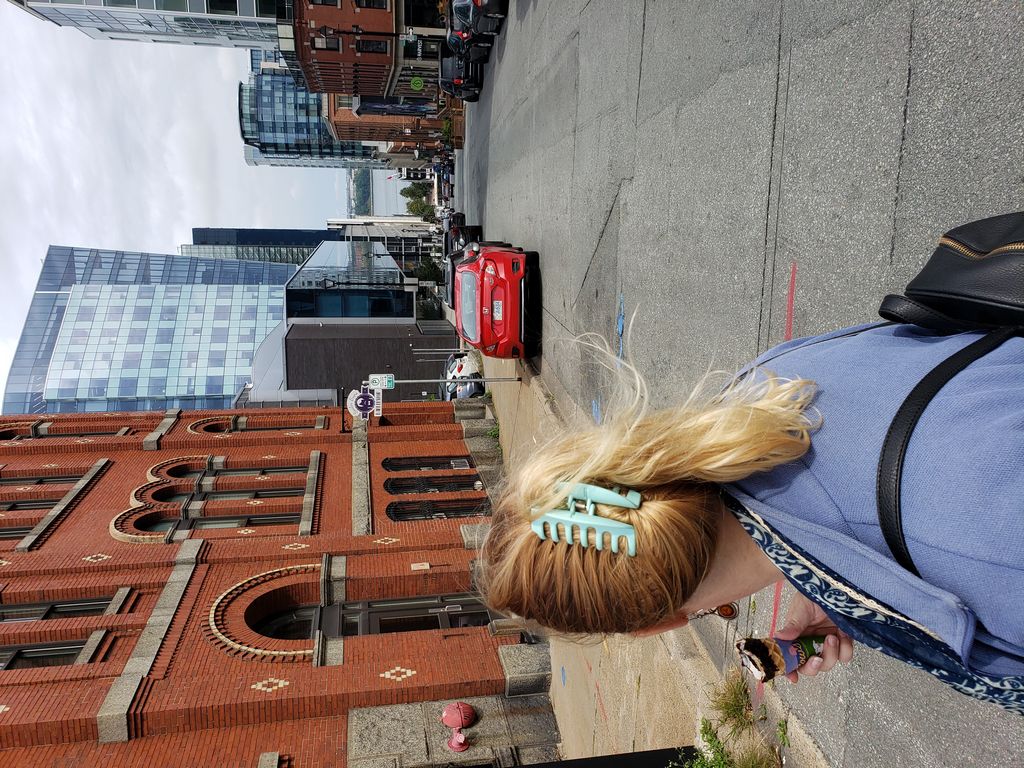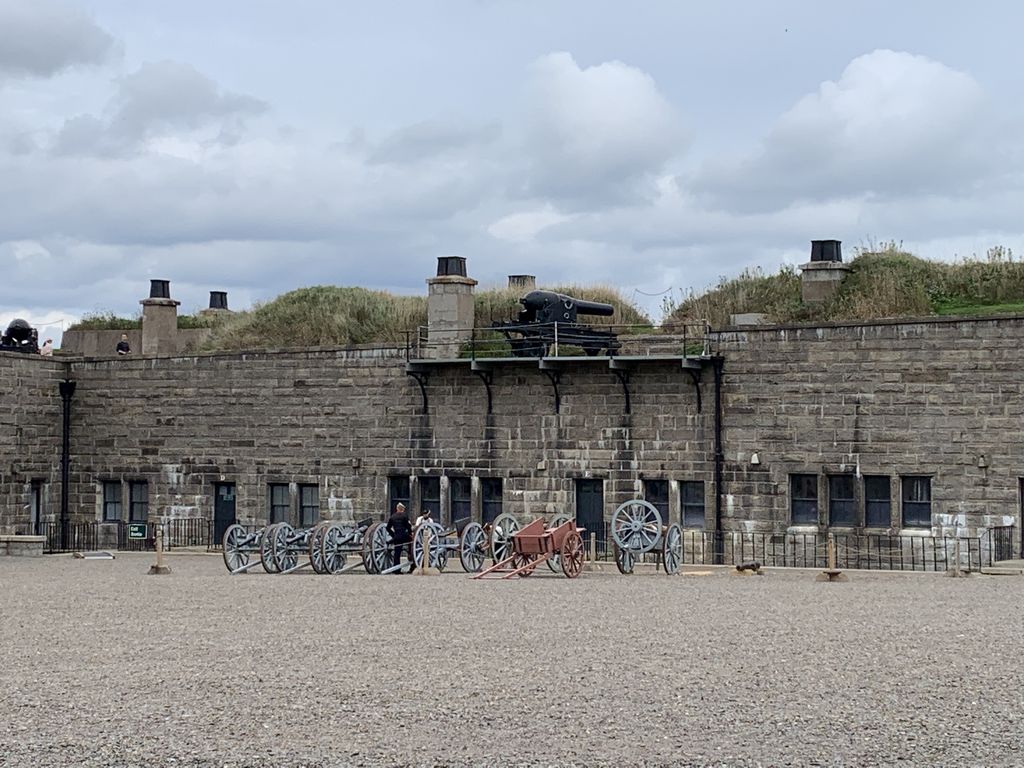 Things we did in Halifax:
The Drive Up to Ingonish (Fri Sep 17th and Sat 18th)
We drove up along the coast (a slower way to go) through Sheet Harbour and Sherbrooke to Antigonish where we stopped for the night. We stayed at Maritime Inn where we also ate dinner. Karen had the Lobster Mac and Cheese with a Peach Iced Tea cooler. Neil did the seadfood chowder and parmesan crusted halibut. Dessert was O'Henry creme brule and a bread pudding.
On Saturday we drove up to Ingonish with a few stops along the way.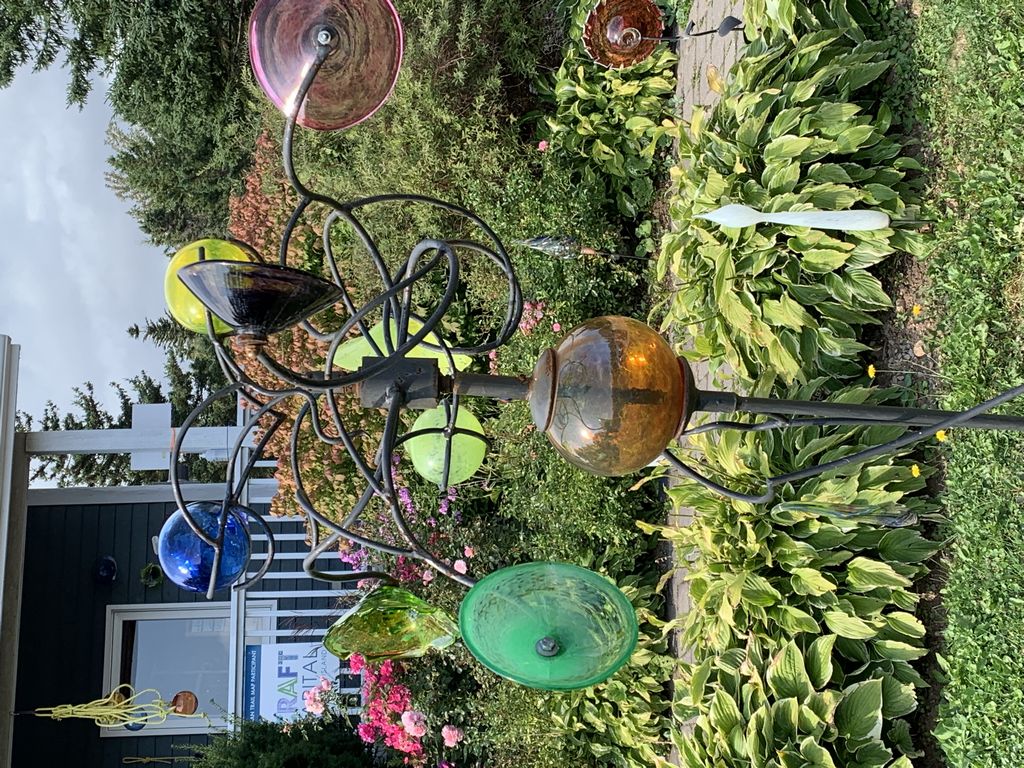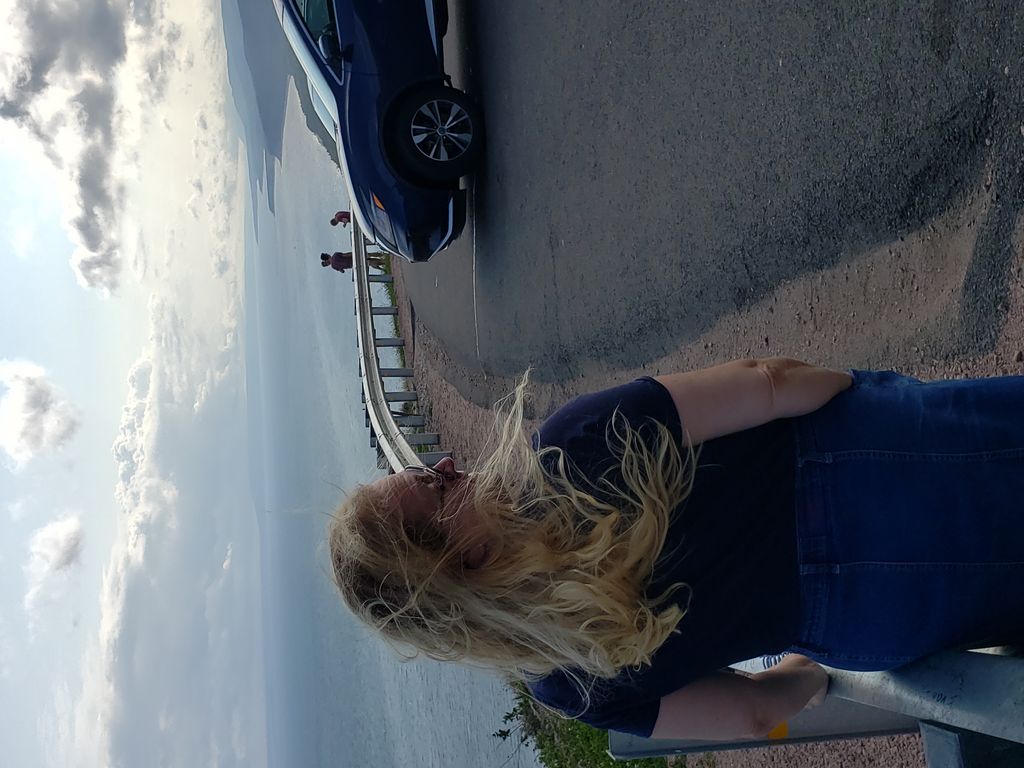 Lunch was in Baddeck at the High Wheeler Cafe. Just a simple chicken quesedilla & iced tea or egg salad sandwich & orange crush
Dinner on Saturday was at Main Street Restaurant. Neil had Fish Tacos and Seafood chowder while Karen had the fish and chips. Then some quiet time in the hot tub watching the sunset.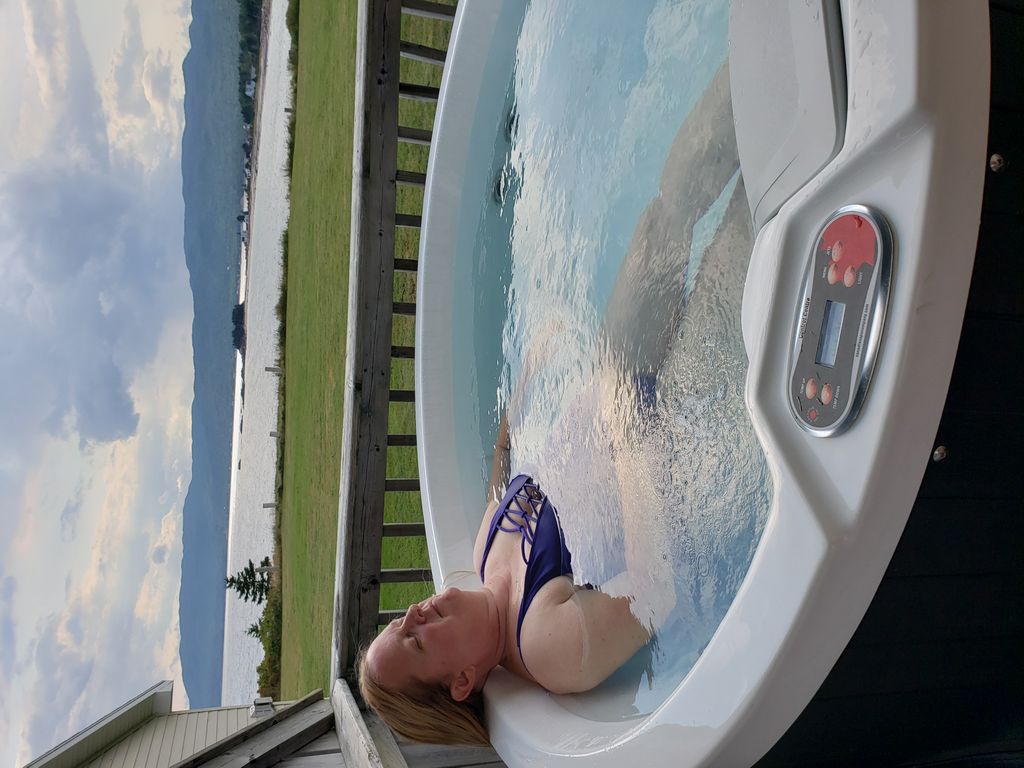 Ingonish and the Cape Breton Highlands (Sun Sep 19th through Fri Sep 24th)
We stayed at the Seascape Cottages in Ingonish. We highly recommend this place. Well located, adults only with limited numbers of people in a cottage. That means a quiet, restful, place. One bedroom cottages, with small kitchen spaces in the living room. The view looks out onto the Bay in Ingonish. In our case a hot tub on the deck with the same view. A lovely quiet garden space with a few places for 2-3 people to gather.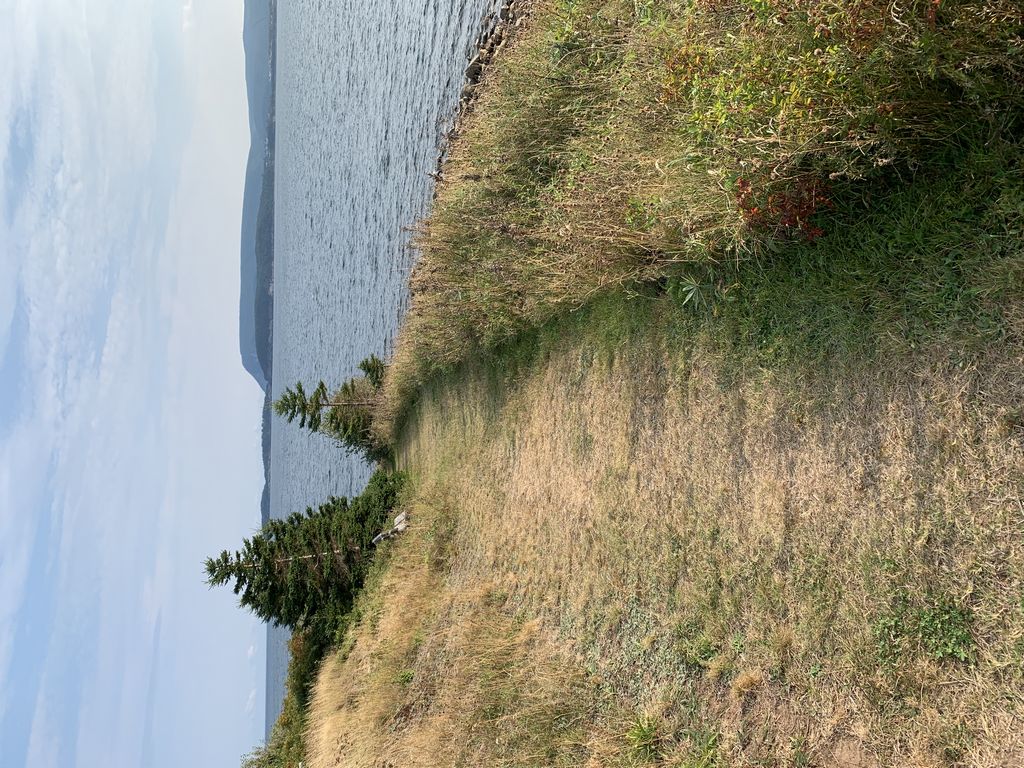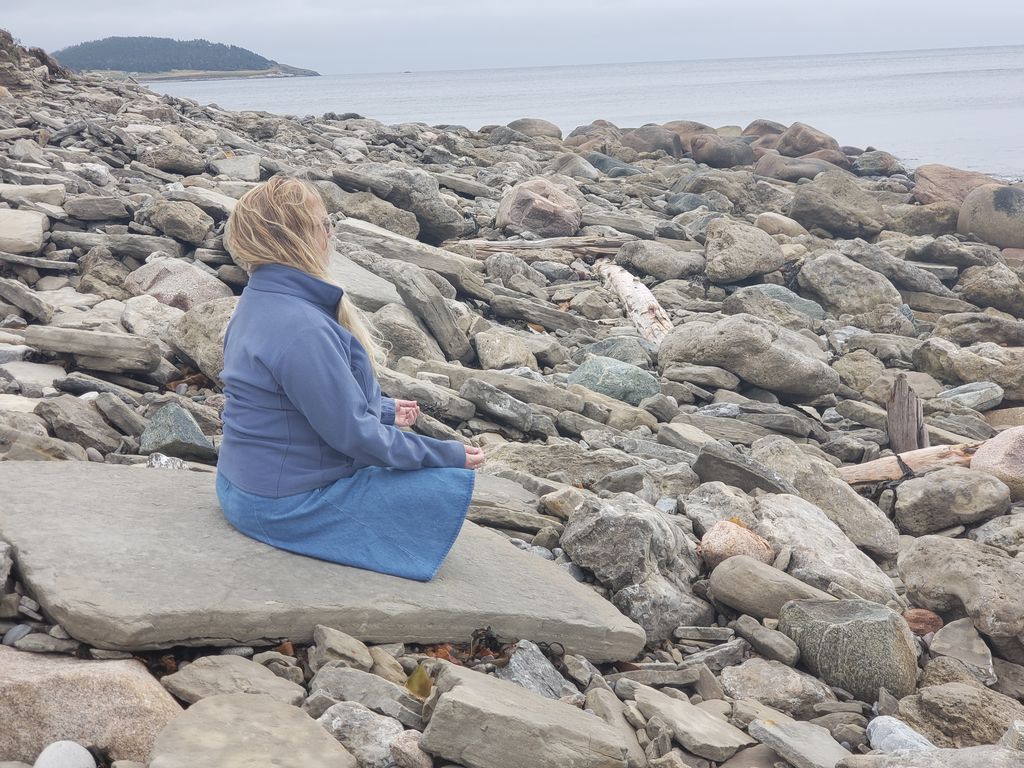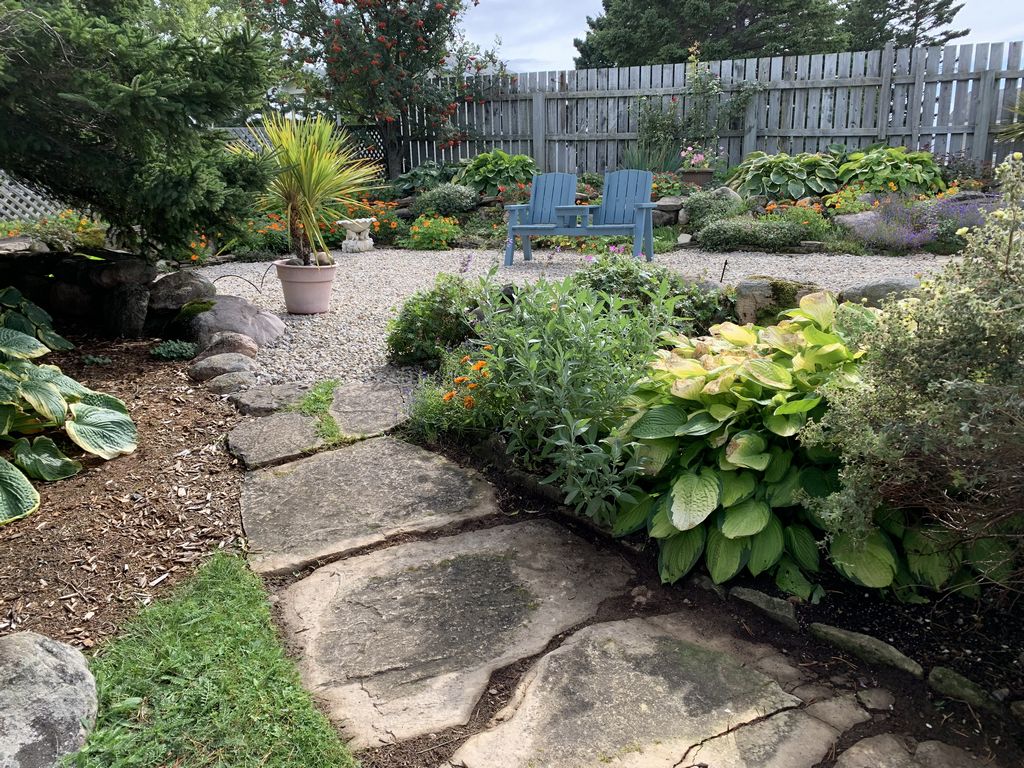 Sunday was a quiet (rainy) day in the cabin. Wandering the area during breaks in the rain and just relaxing. Lunch was leftover fish/chips for Karen while Neil did a run down to Bean Barn for a breakie sandwich and what turned out to be their amazing chowder. Dinner was at the Coastal Restaurant & Pub. Nice muscles and a great seasfood pasta here.
Monday started with Karen's remote workout with her crew. Lunch was back to the Bean Barn. Fish Cakes & Chowder; Chowder & Chicken Sandwich. Good food! Then off to hike the Middle Head Trail. A great hike, especially doing the lesser travelled northern part of the loop. Quite a few elevation changes, but well worth it to see a pair of eagles above one of the hills, along with a few other birds here and there. Because it is close to the Keltic Lodge though and is reasonably short it is fairly heavily travelled. We rarely went 15 minutes without meeting other people. Dinner was leftovers augmented with some local fish and scallops - followed by a restful hot tub time to sooth the leg muscles.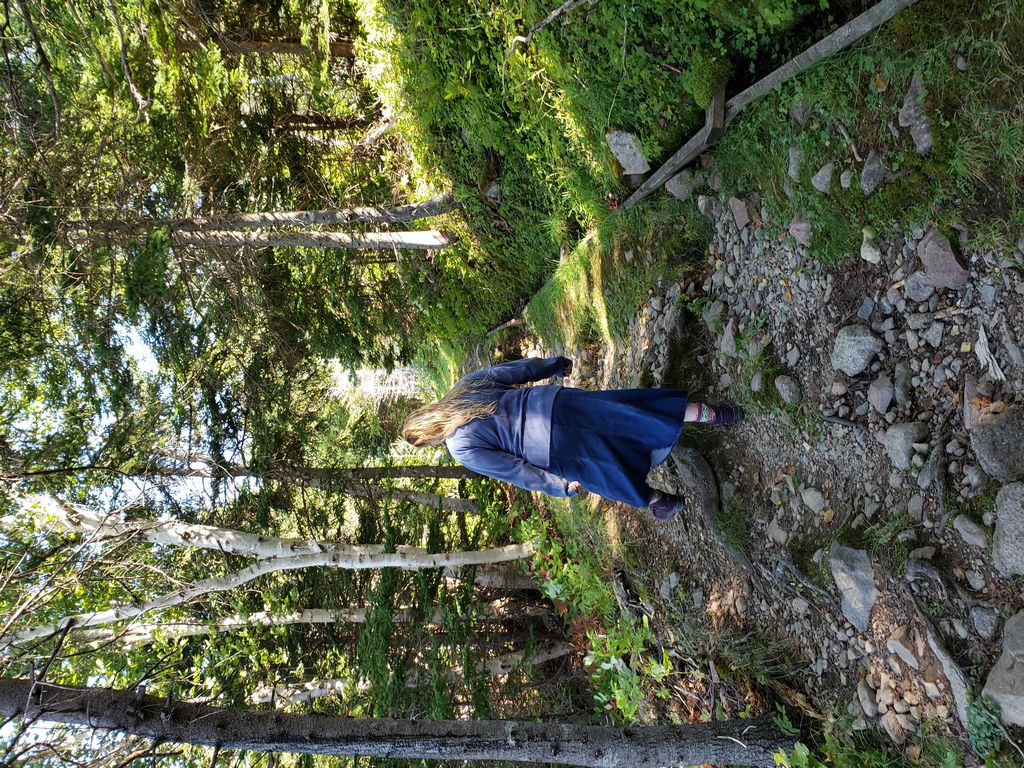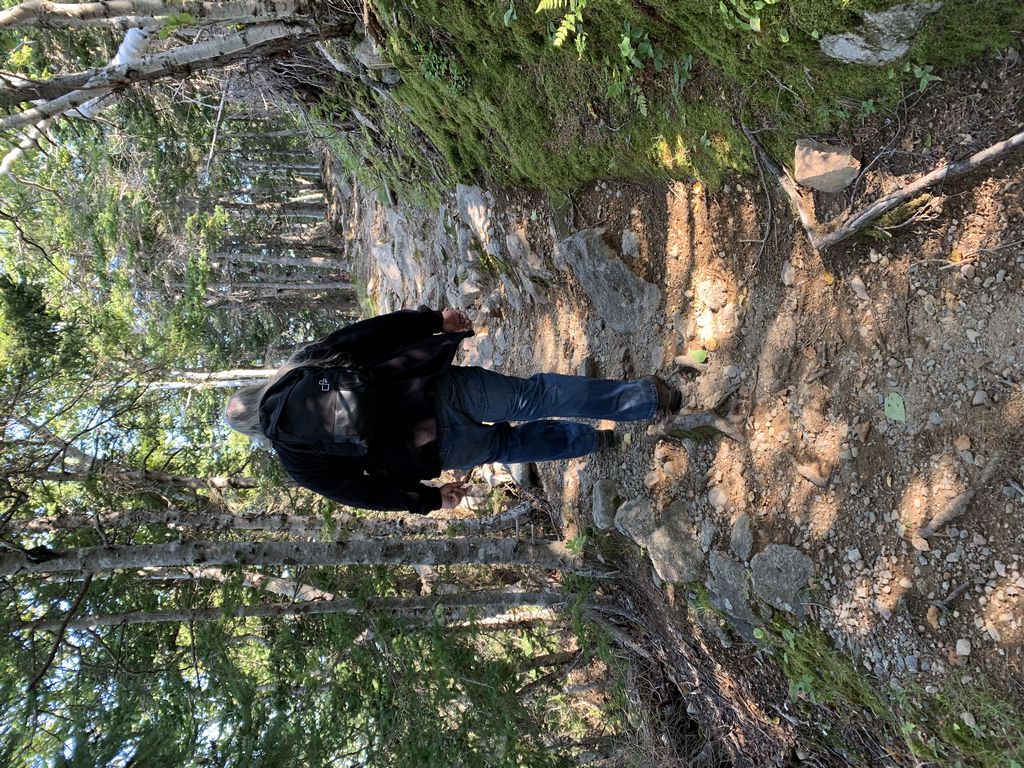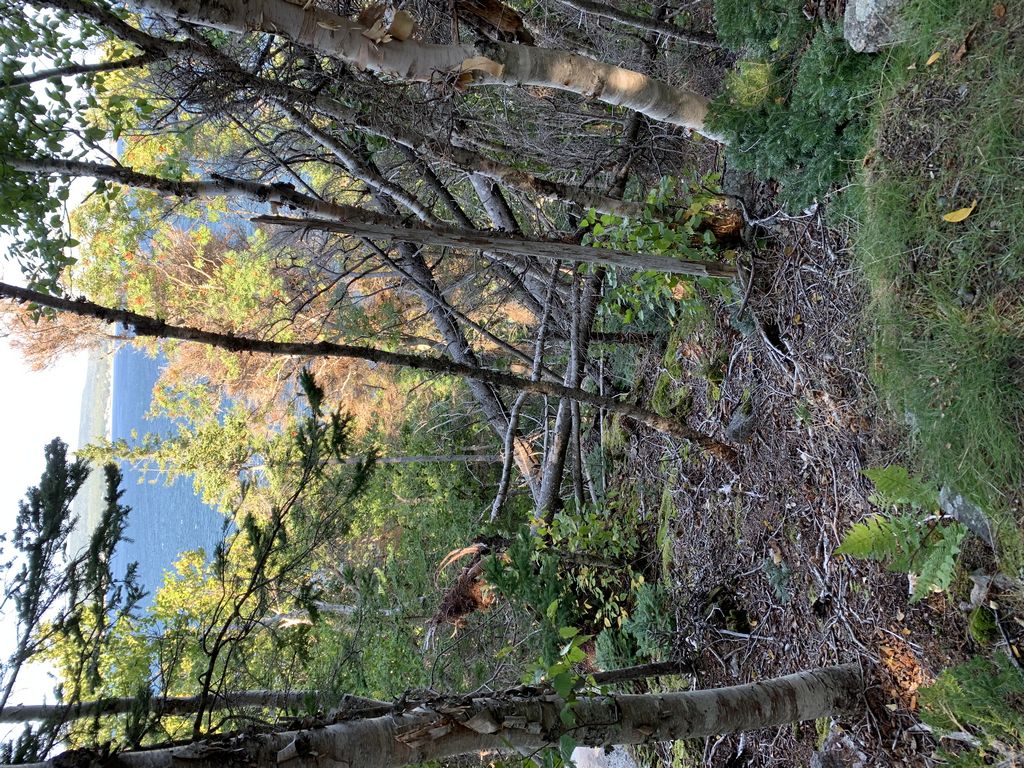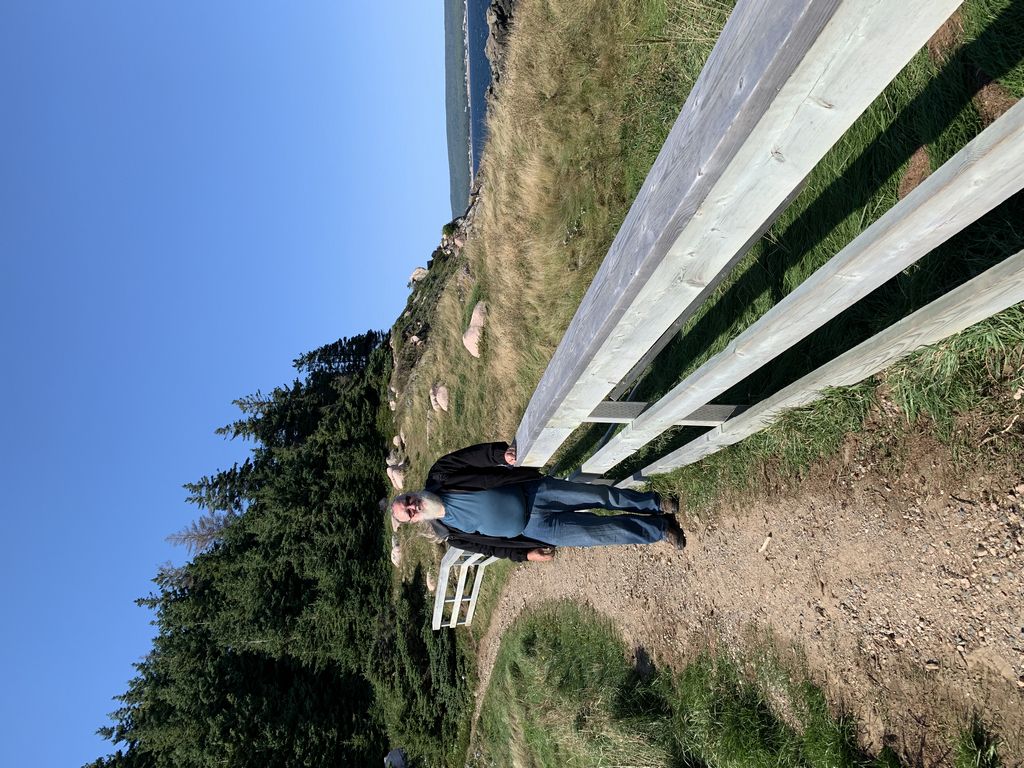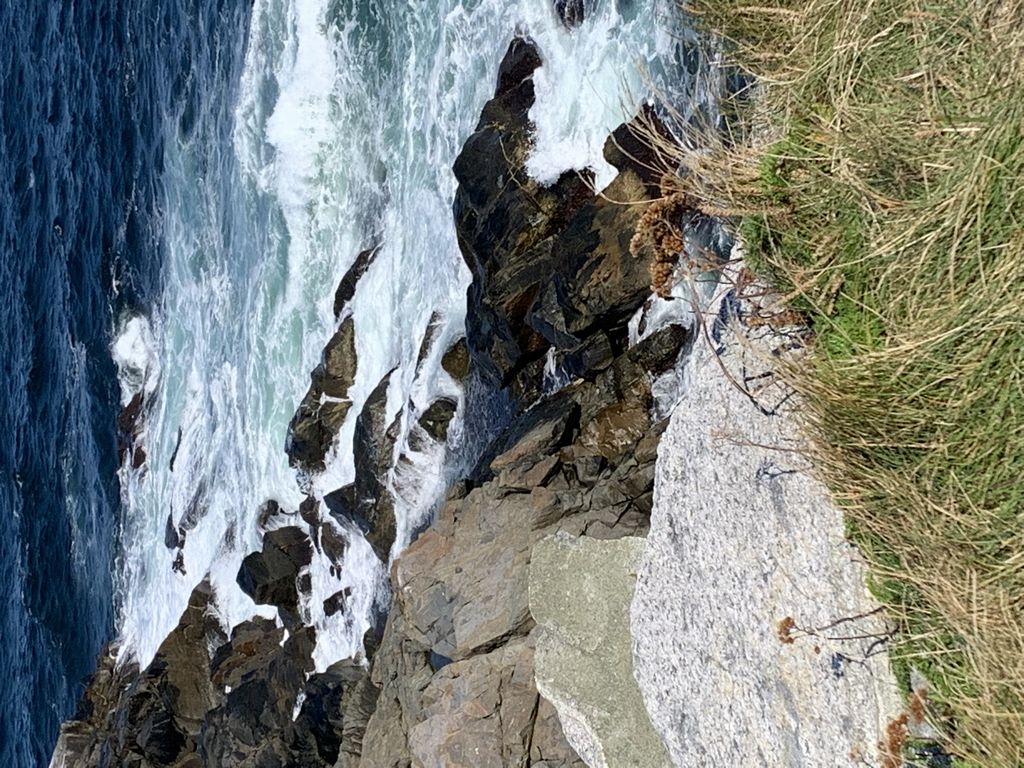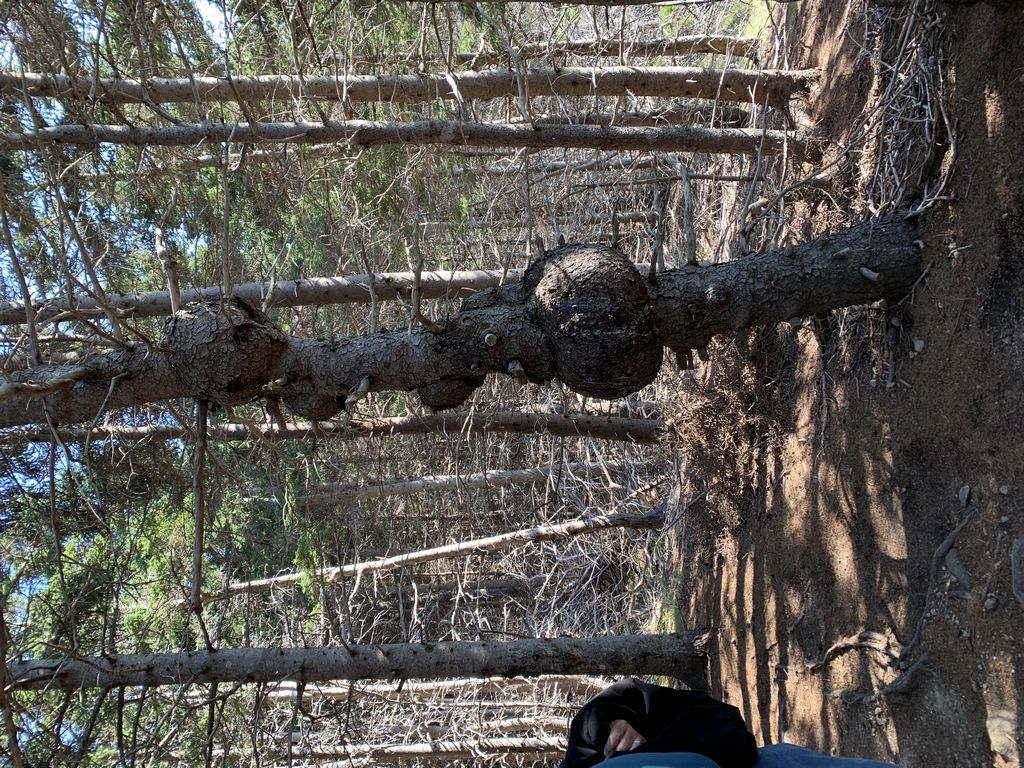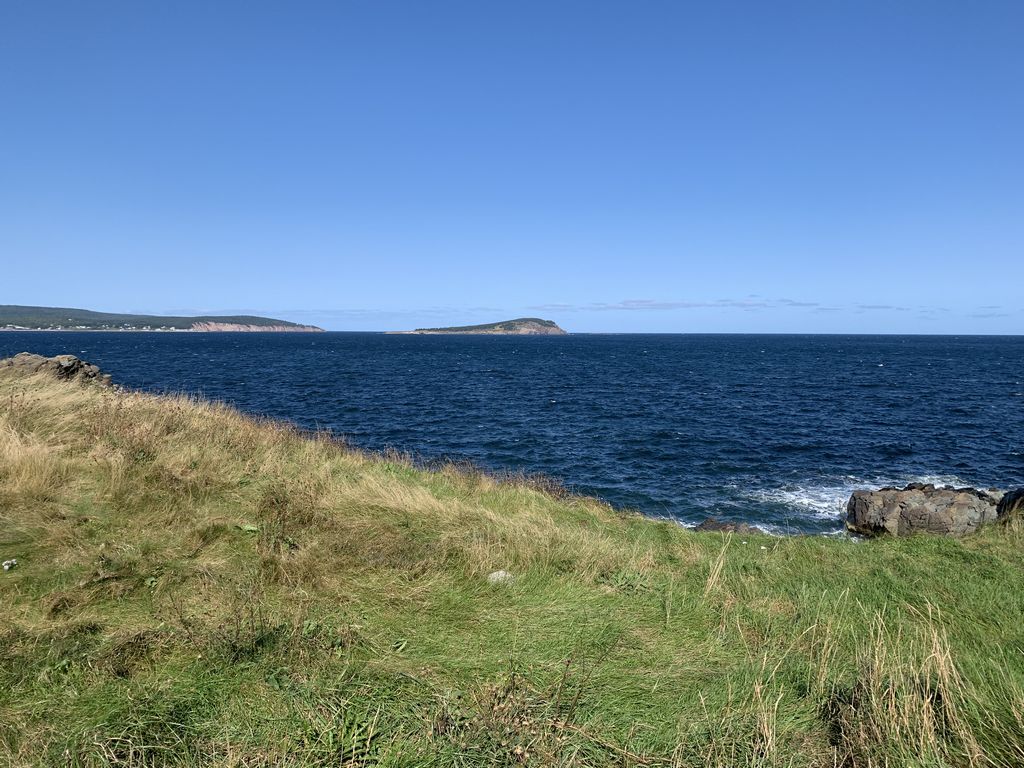 Tuesday we drove around the northern route through Neil's Harbour, Dingwall, Chetticamp, to get to Glen Ora Distillery. Neil likes visiting there to see what they have. The usual Glen Breton you get in the local liquor stores isn't great but they have other things at the pub on site, including the ability to build a bottle straight from the kegs they have. Having half shots in the pub makes tastings easier when one needs to drive. The 17 year old ice wine casked was quite nice. Sadly they didn't have it in the shop. This time he picked up an 18 year old single cask, and a 19 year old. Then back home through the same route.
That northern route has some amazing vistas and some fun little shops including tartans and treasures. Due to the timing of the drive we wound up having both lunch and dinner at the amazing patio of the Rusty Anchor, looking out onto the north Atlantic.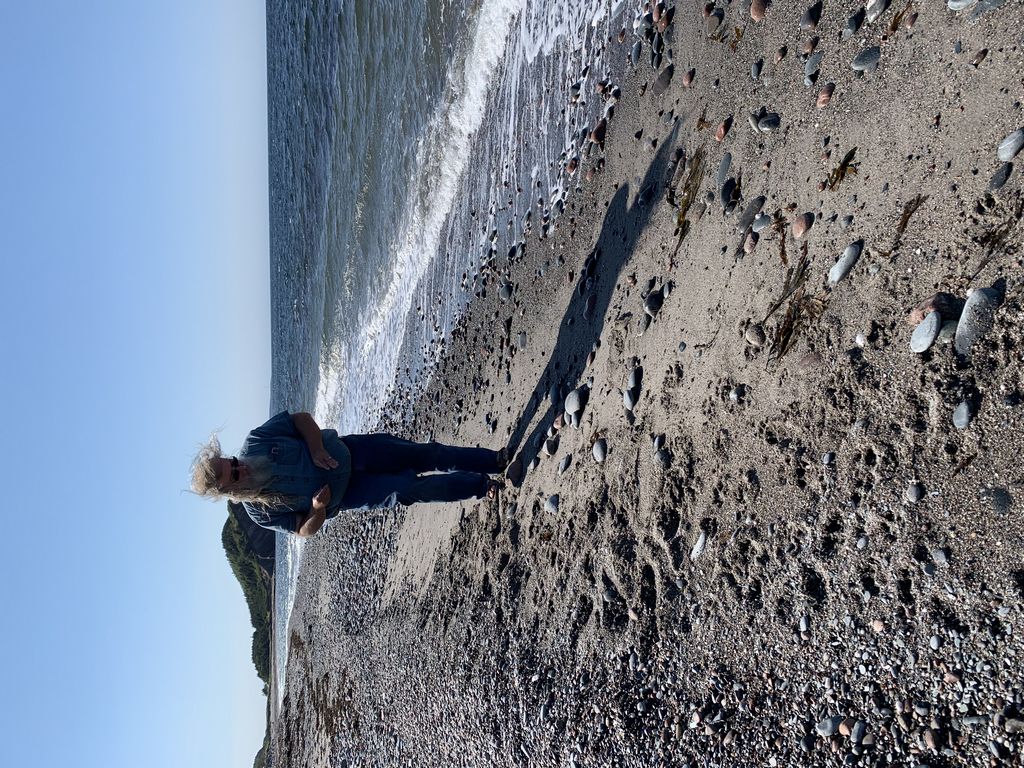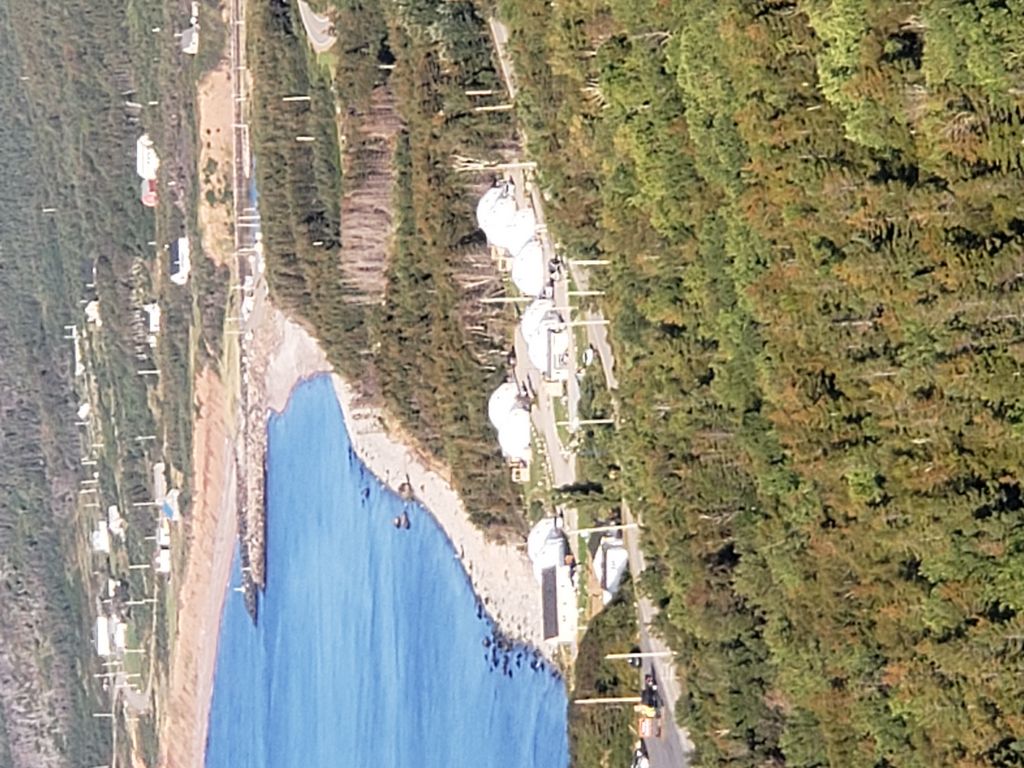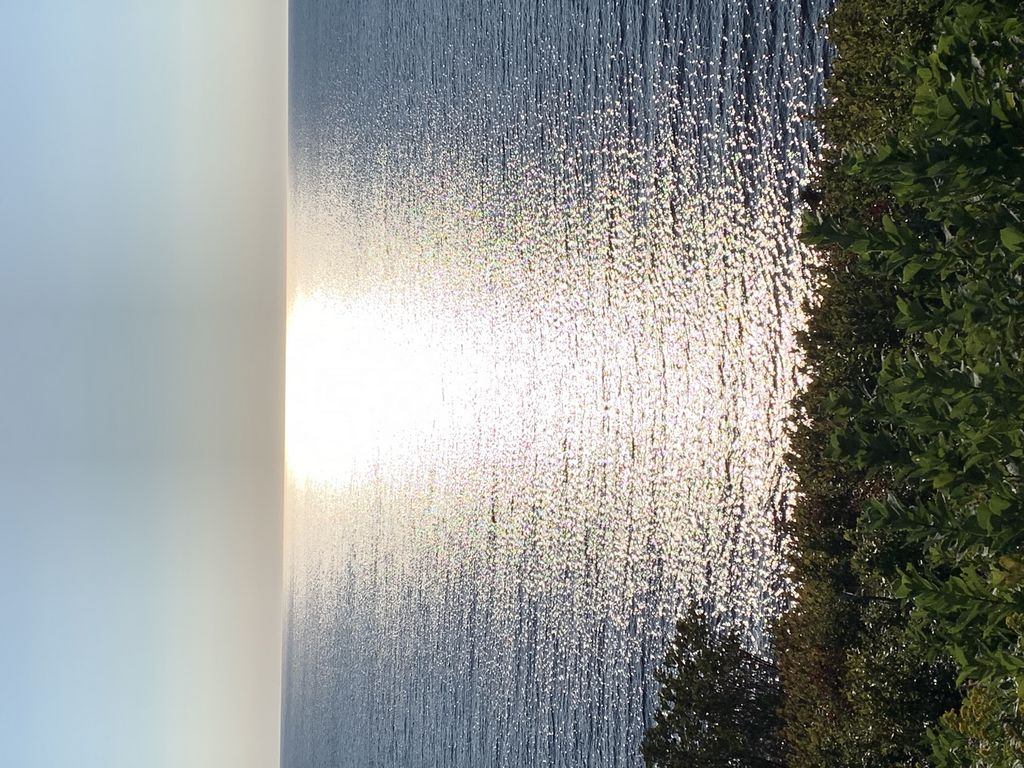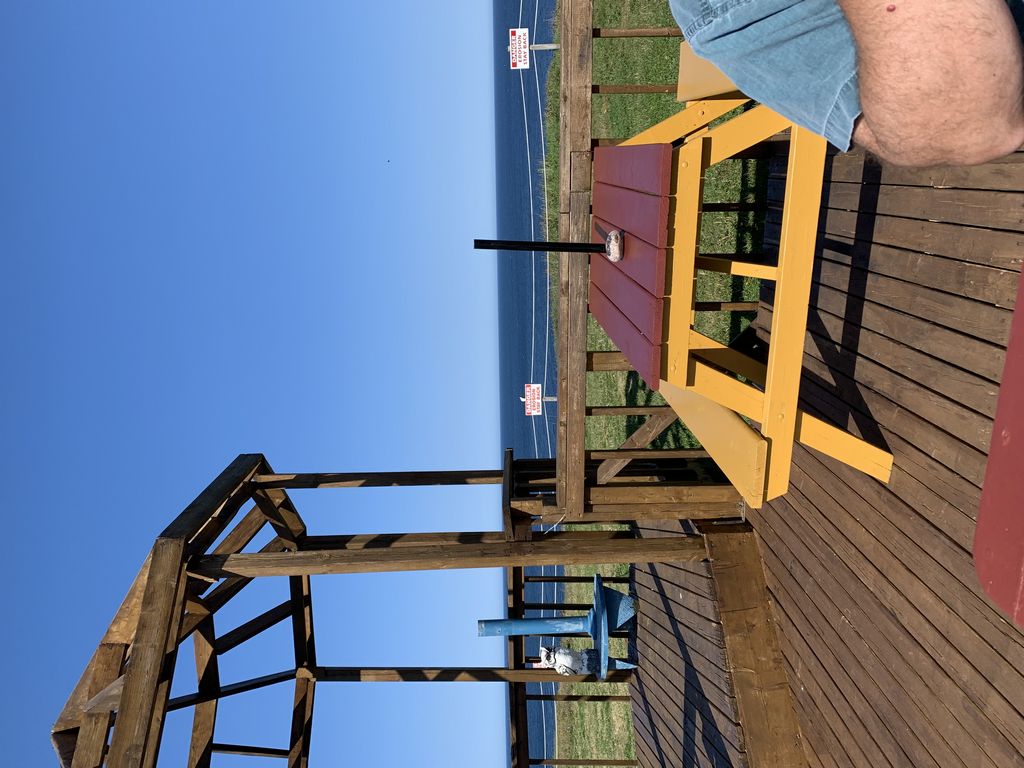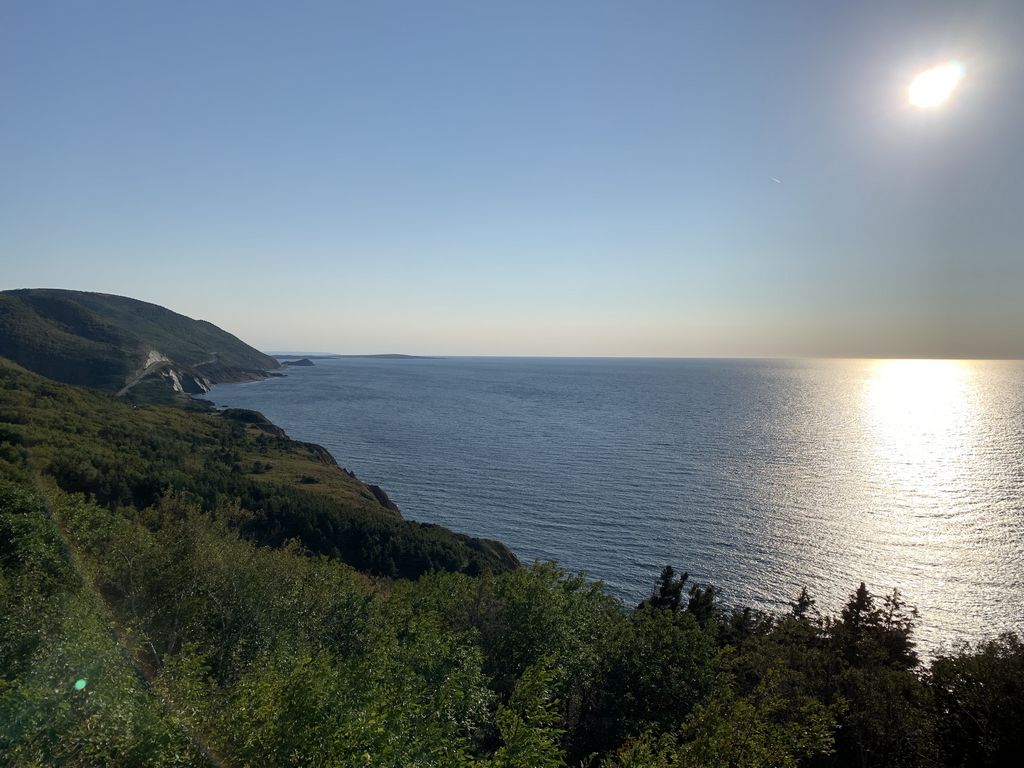 Wednesday we had been thinking about hiking the skyline trail but with the long drive on Tuesday and another coming on Friday the hour plus to the skyline just felt a bit too much. The Coastal Trail had also been high on our list so we decided to do that one today. We started at the southern point. The first part of the hike is nice and easy, several nice lookouts high on the rocks. The trail can be a bit confusing as it overlaps with another one and branching points are not well marked. In this area we ran into a couple of other poeple but it was much less populated than the Middle Head trail. As you keep going along the coastal the trail degrades. Instead of being more than shoulder width and graded with tiny gravel - the trail often got small enough that you were pushing plants aside in order to move one leg past the other. At a couple of points the trail crosses "beaches" of rocks. The trail is "marked" at these points, usually with fishing floats hung in the trees so you know where to find it. We went along to roughly a nice rock beach a little way past South Point then turned back to make sure we were back before dark. A wonderful hike!
Dinner that night was left overs and some extras from the Coastal Inn.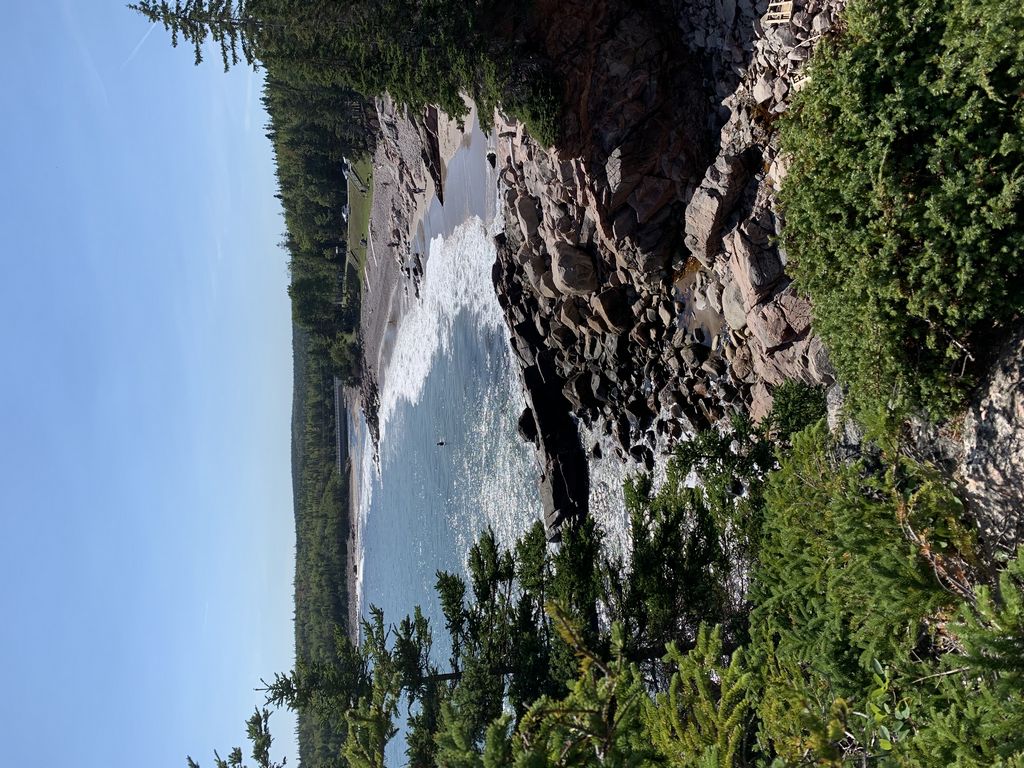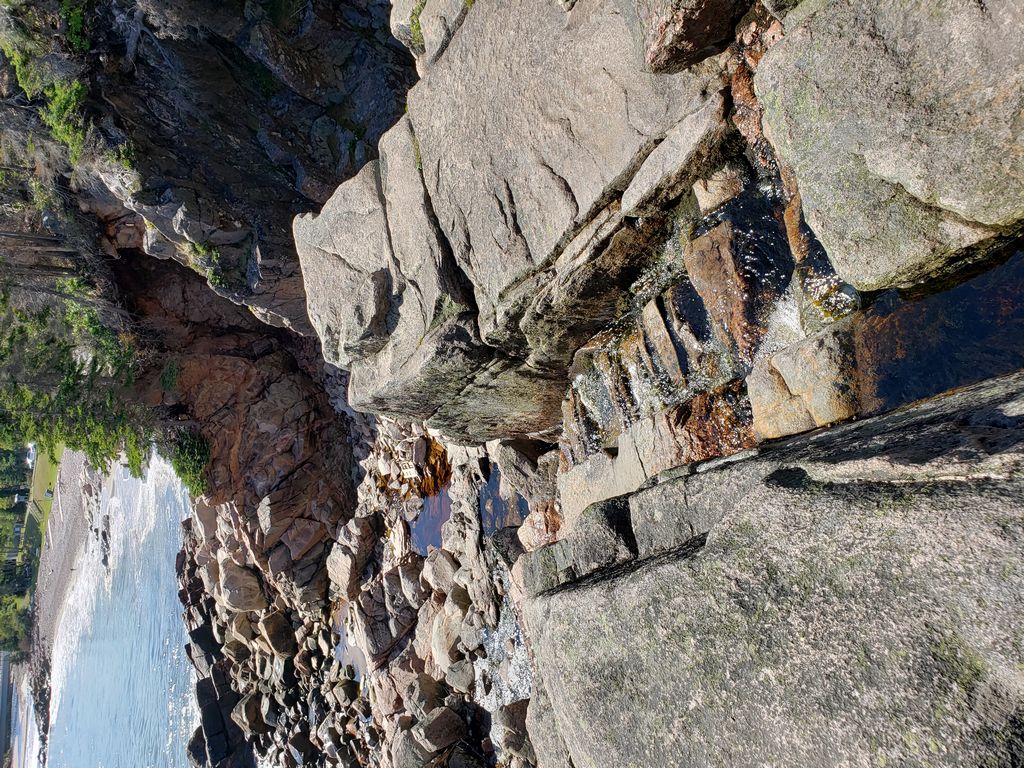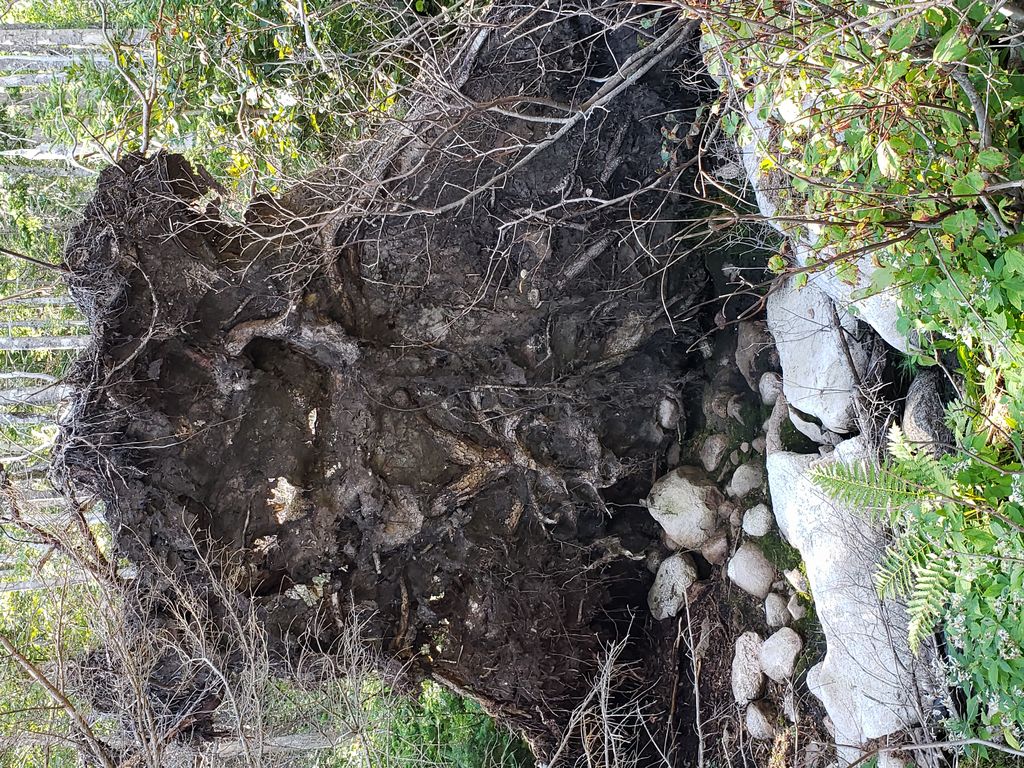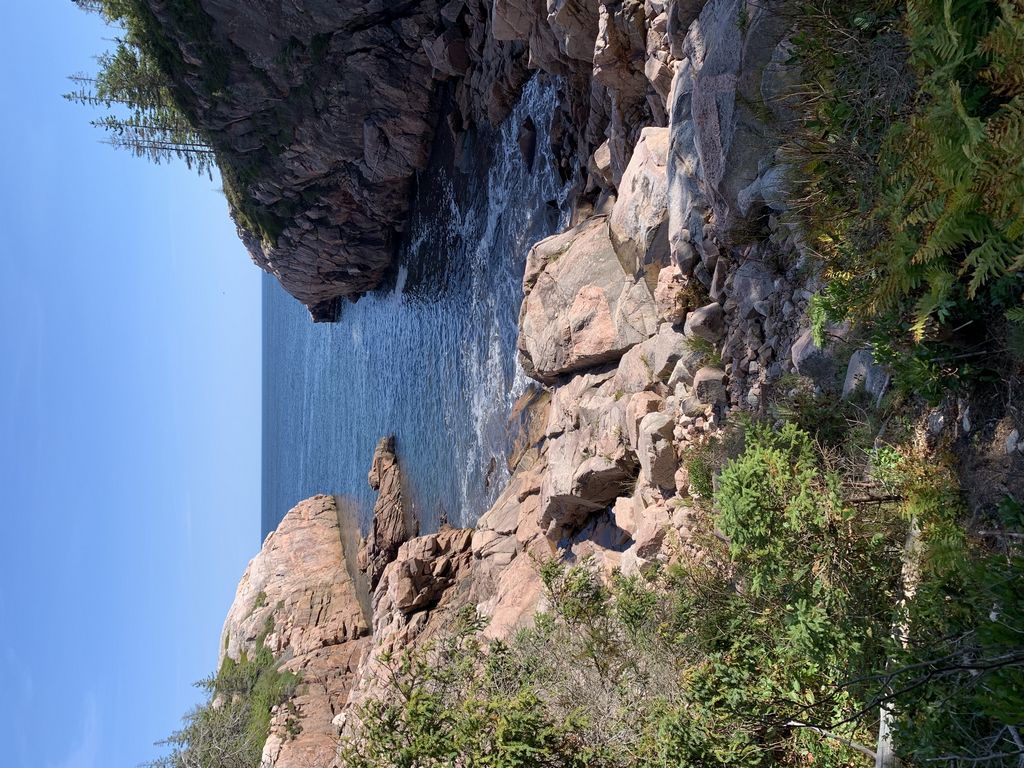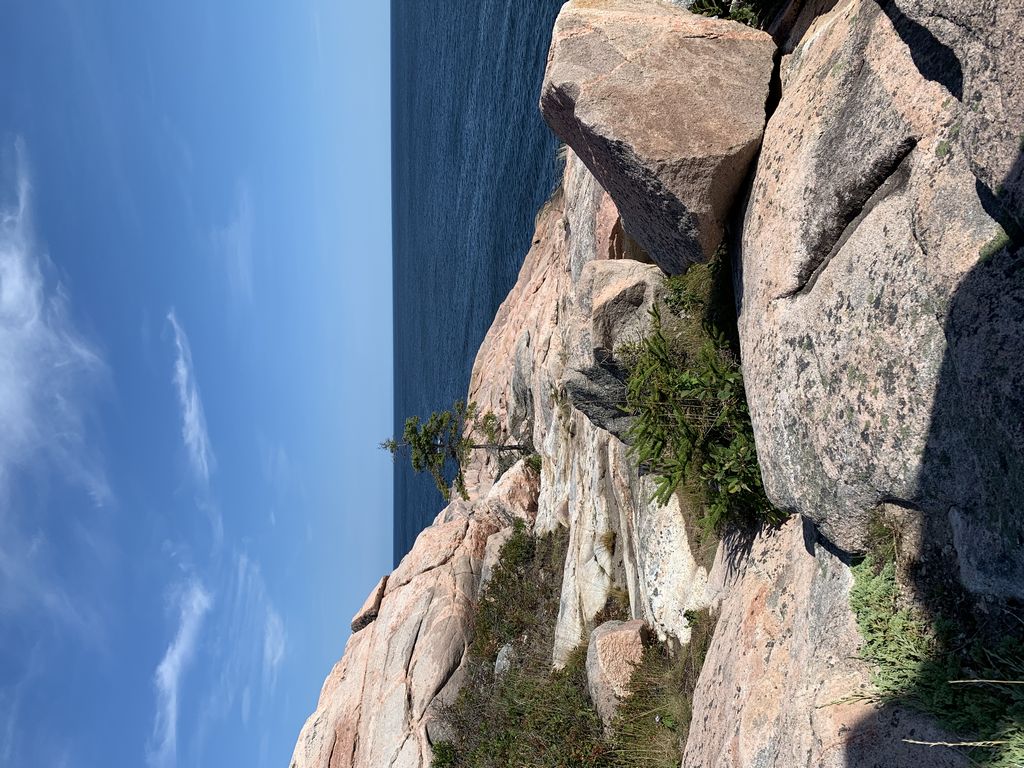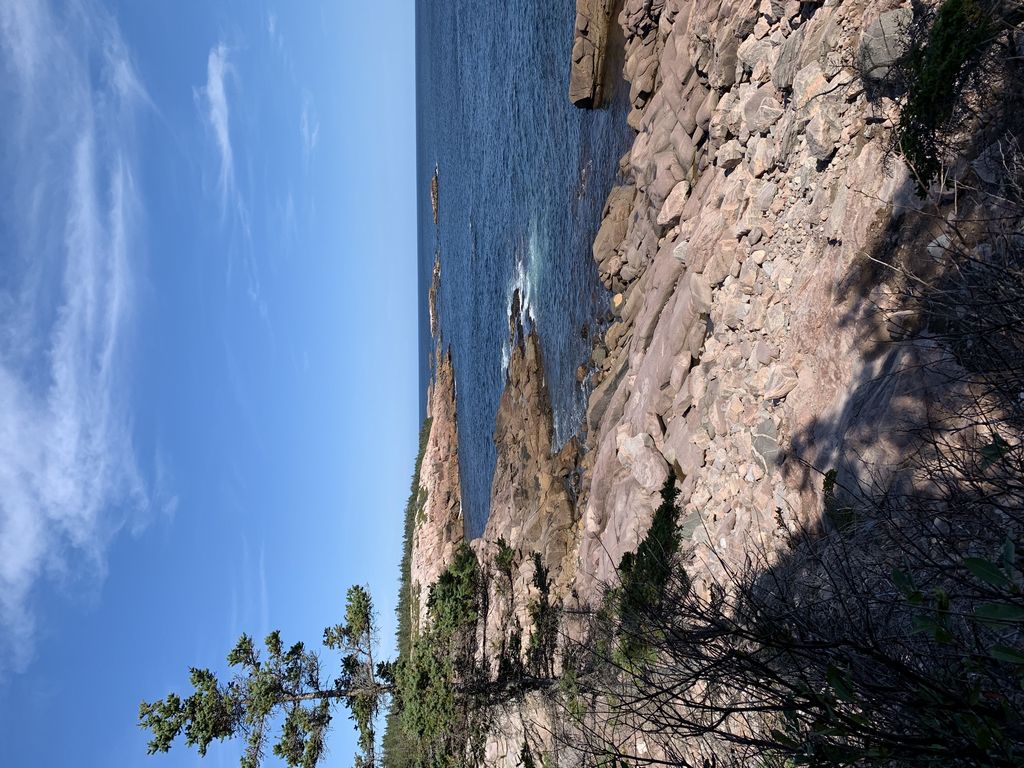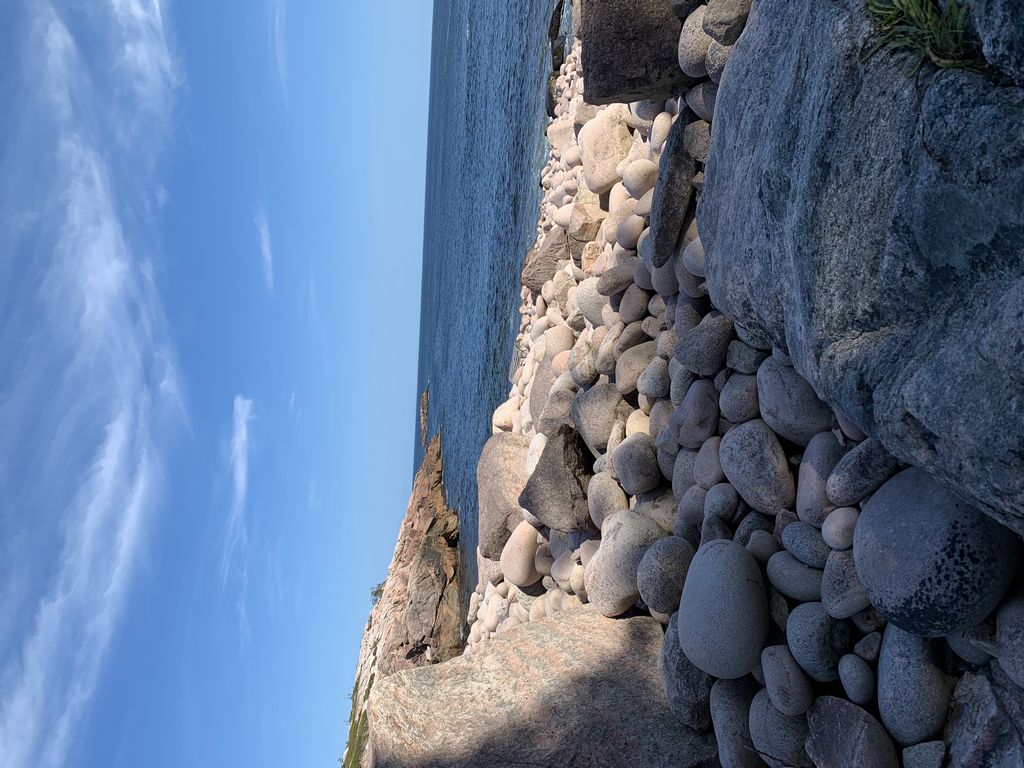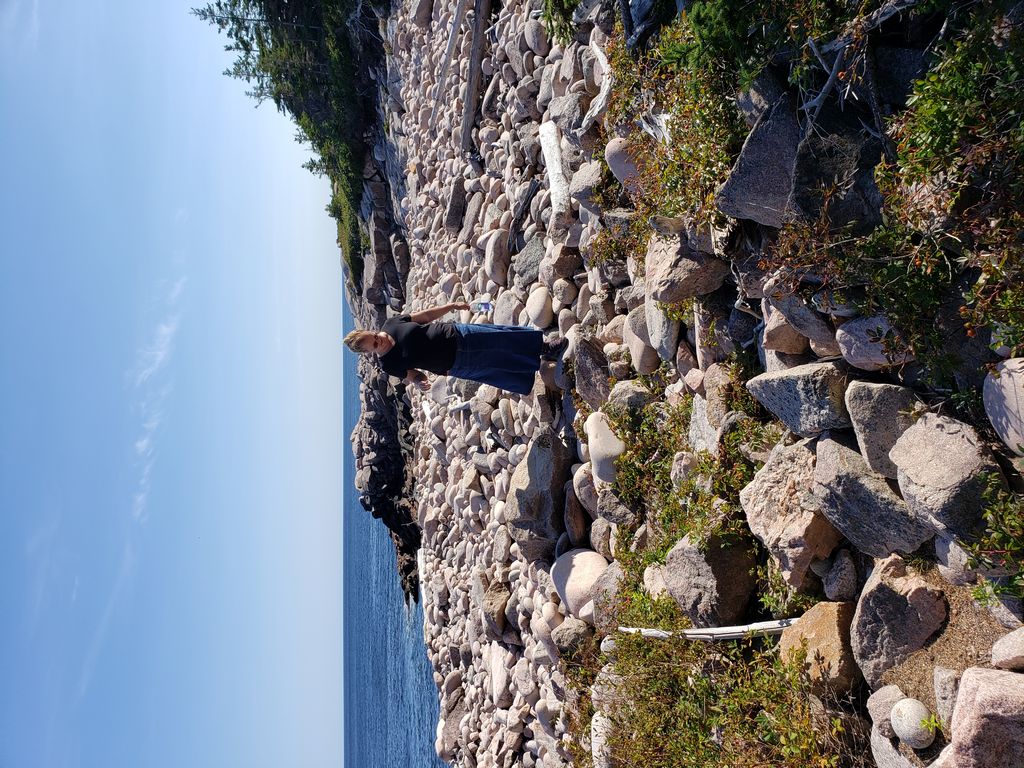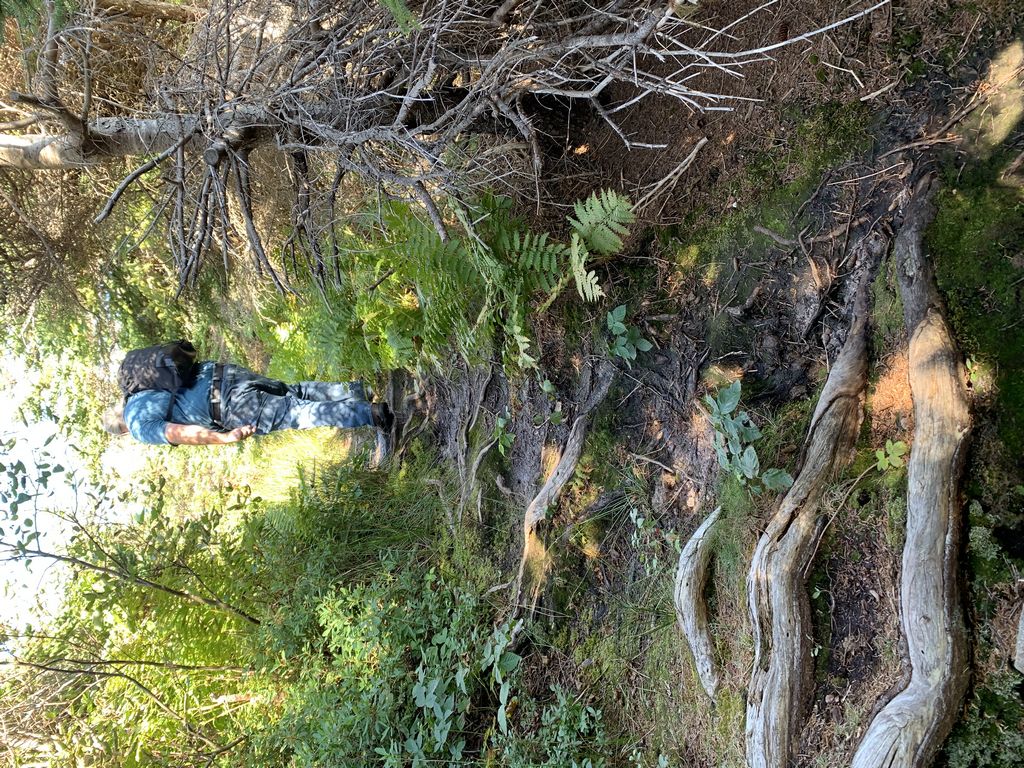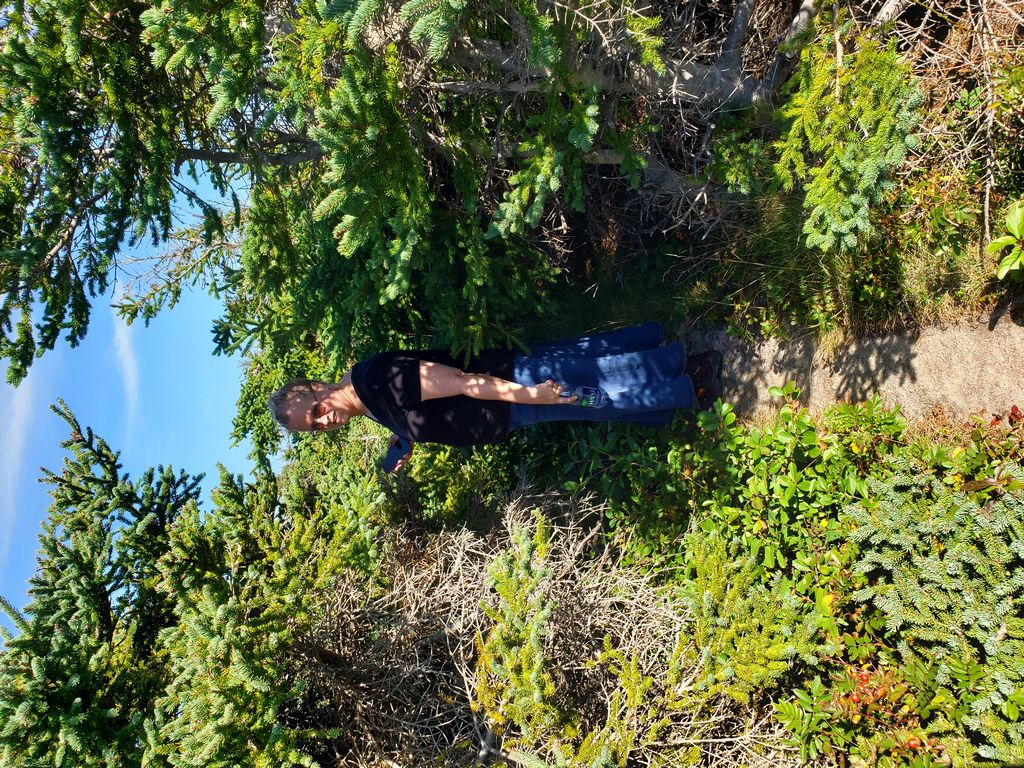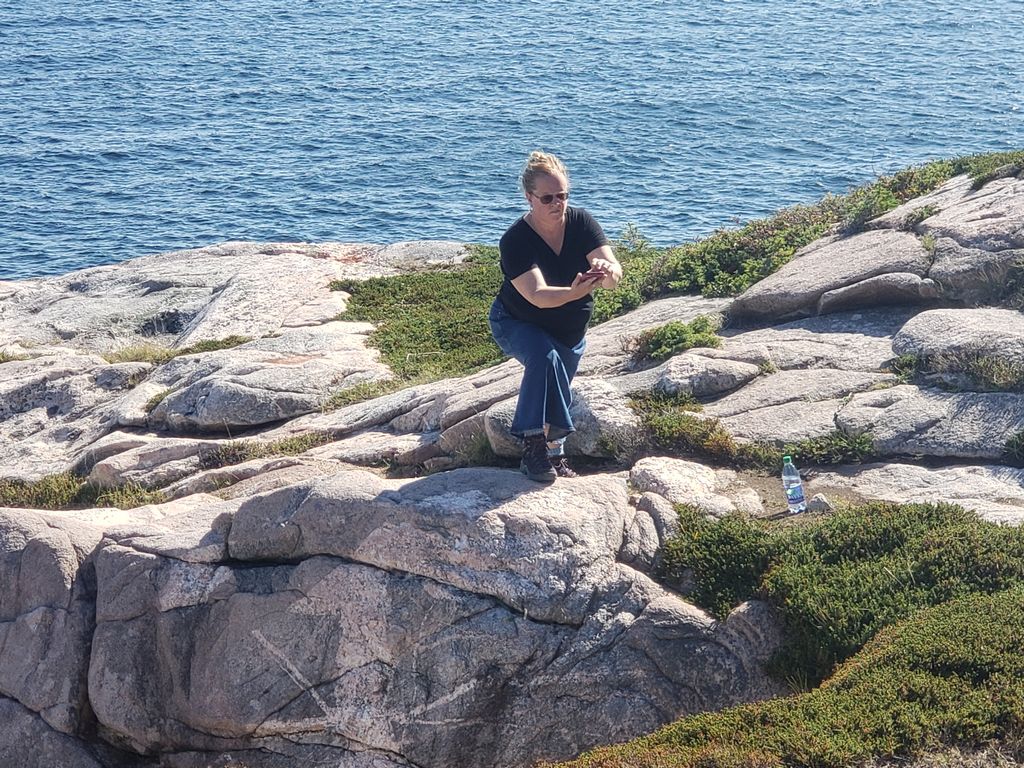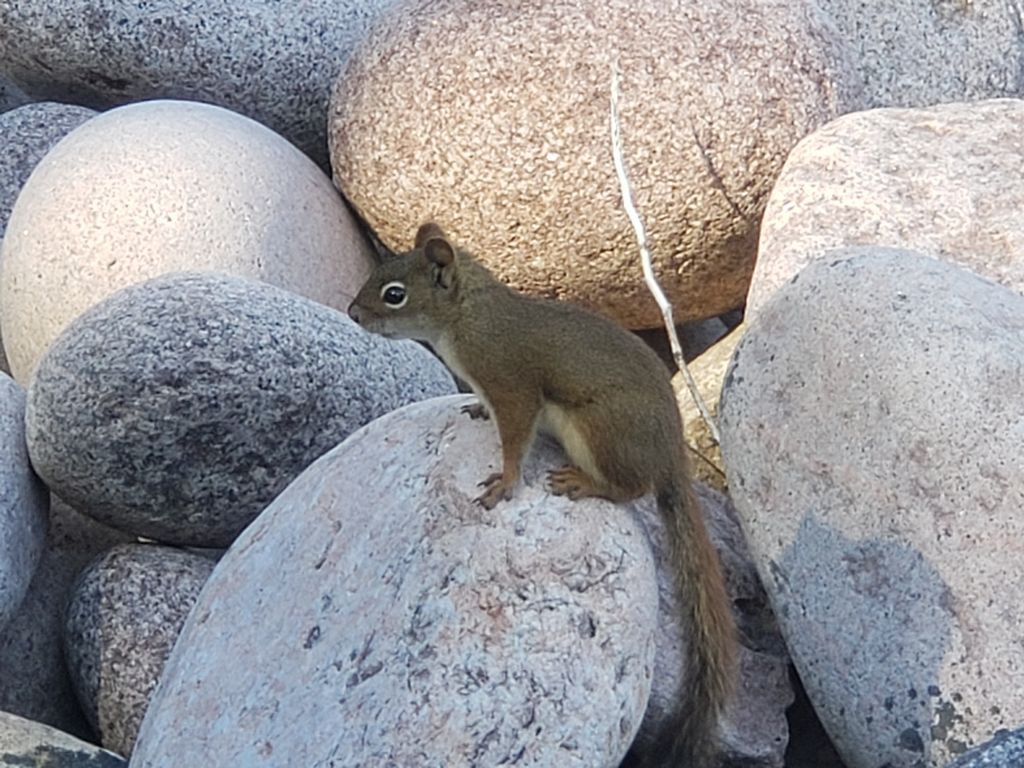 Thursday was our Beach Day. We slipped in to Neil's harbour to hit the Periwinkle Cafe, the Chowder House and the Ice Cream at the Lighthouse. We looked at Broad Cove and Black Brook beaches before we settled in to relax at Ingonish beach. The water was brisk but the waves were fun to play with. We grabbed some takeout from the Coastal Inn after finding Williams Beach House and Main Street both closed for the day and headed back to the hot tub. A nice final day in Cape Breton.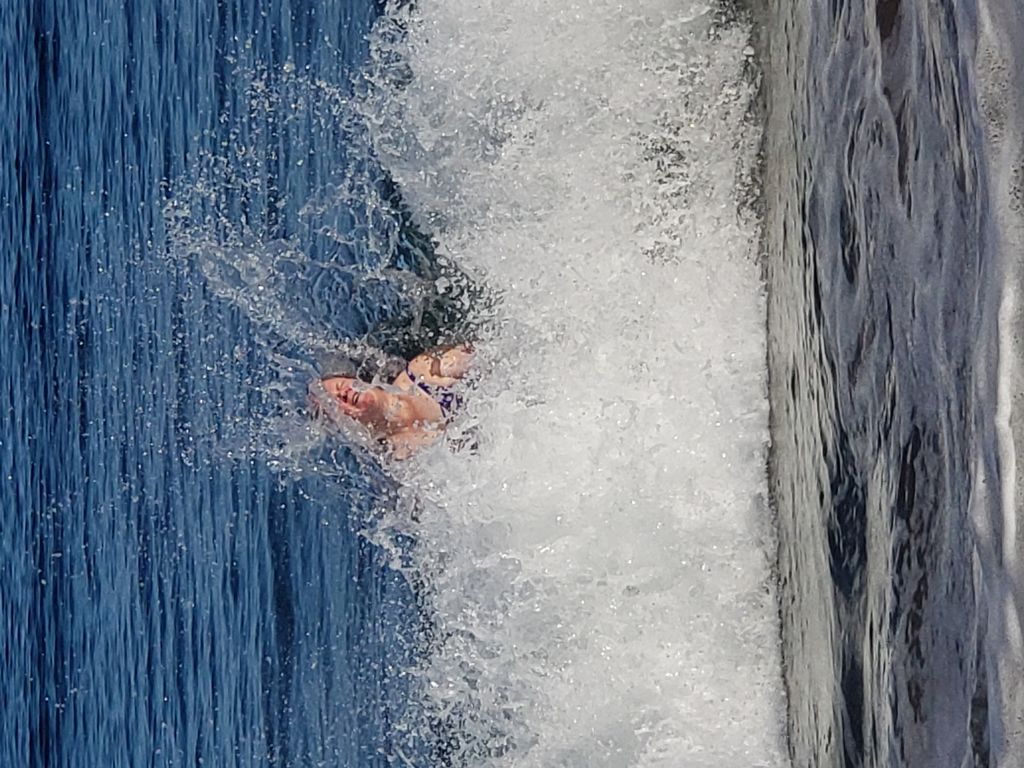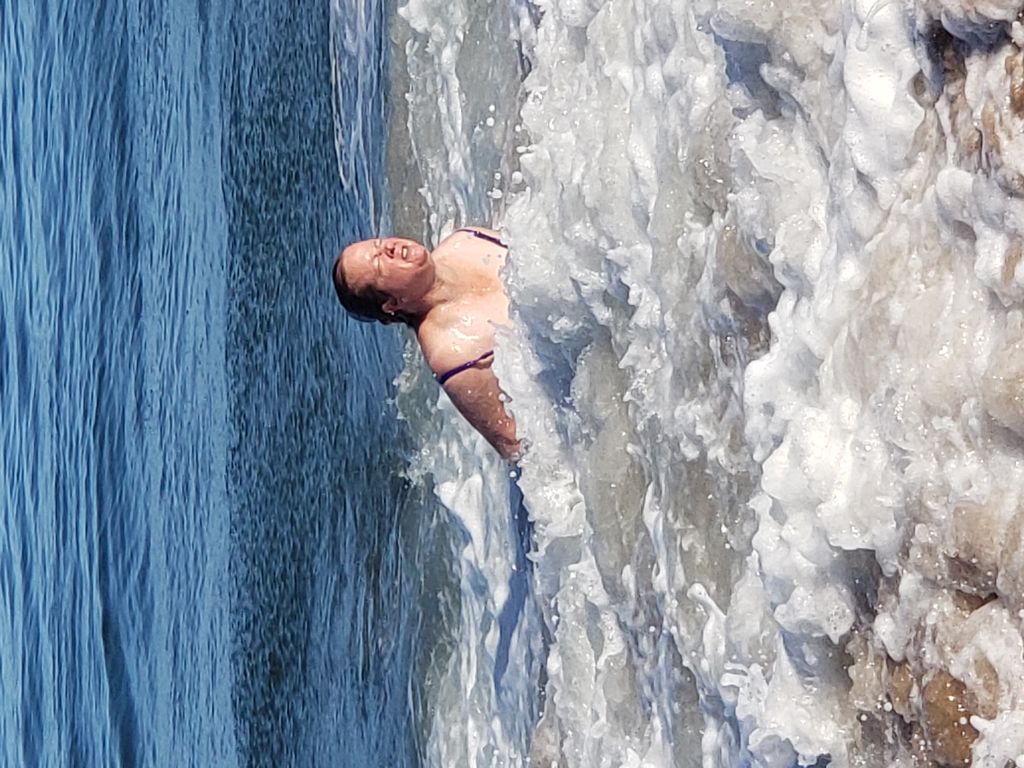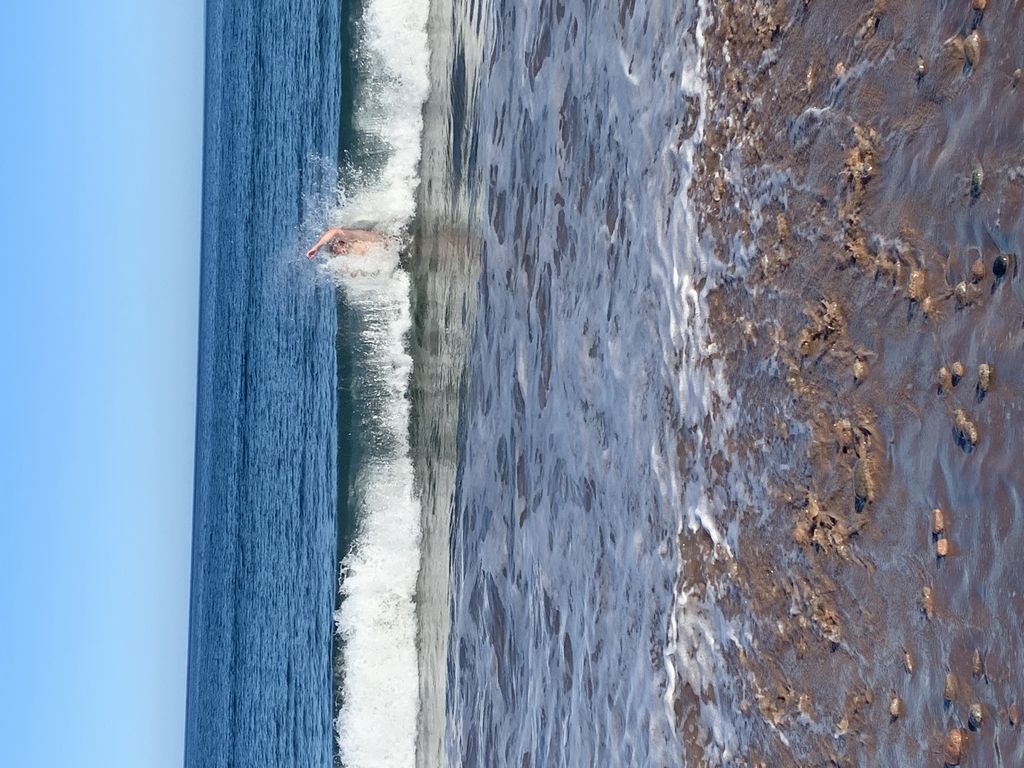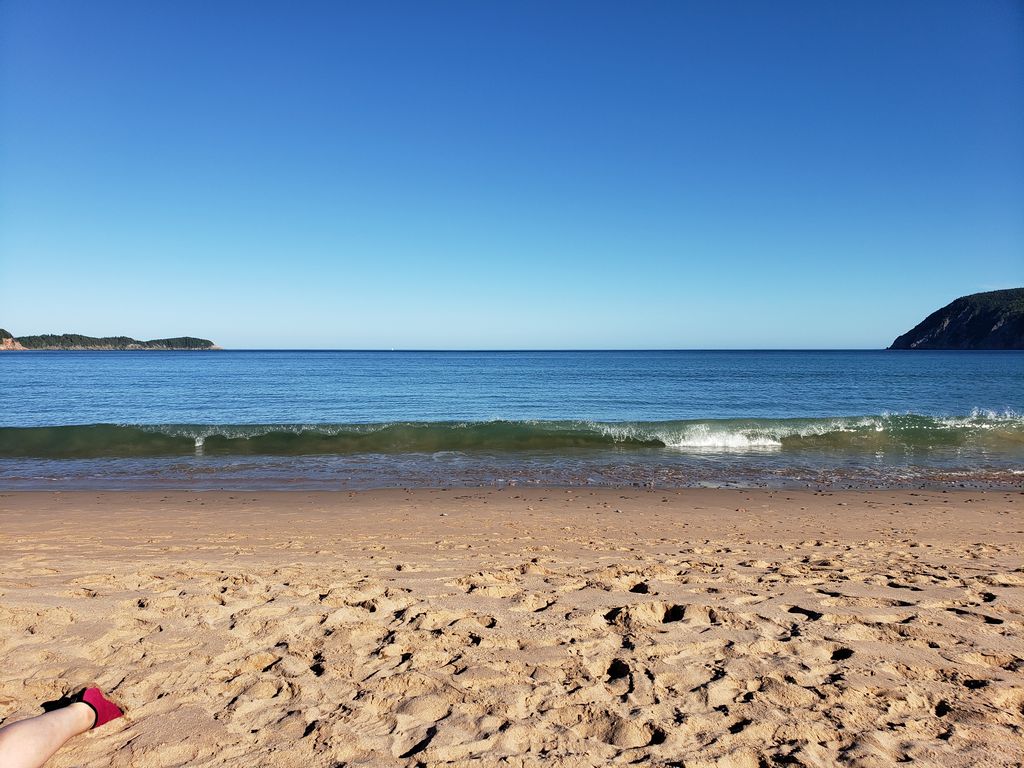 Drive back to Halifax and Fly Home (Fri Sep 24th)
After we finished packing up we hit the Bean Barn for Breakfast sandwiches then drove off headed to Halifax and our flight home. Along the way we stopped at Iron Art which was closed but still had some interesting pieces in the yard. We also stopped at Celtic Quilts / Cape Breton Treasures and Trinkets, the Farmer's Daughter country market for fudge, the Wagmatcook Culture & Heritage Centre. Perhaps the most amusing part was getting stuck behind a moose who was using both lanes for a while and moving nowhere near the speed limit. Gotta love the east coast wildlife.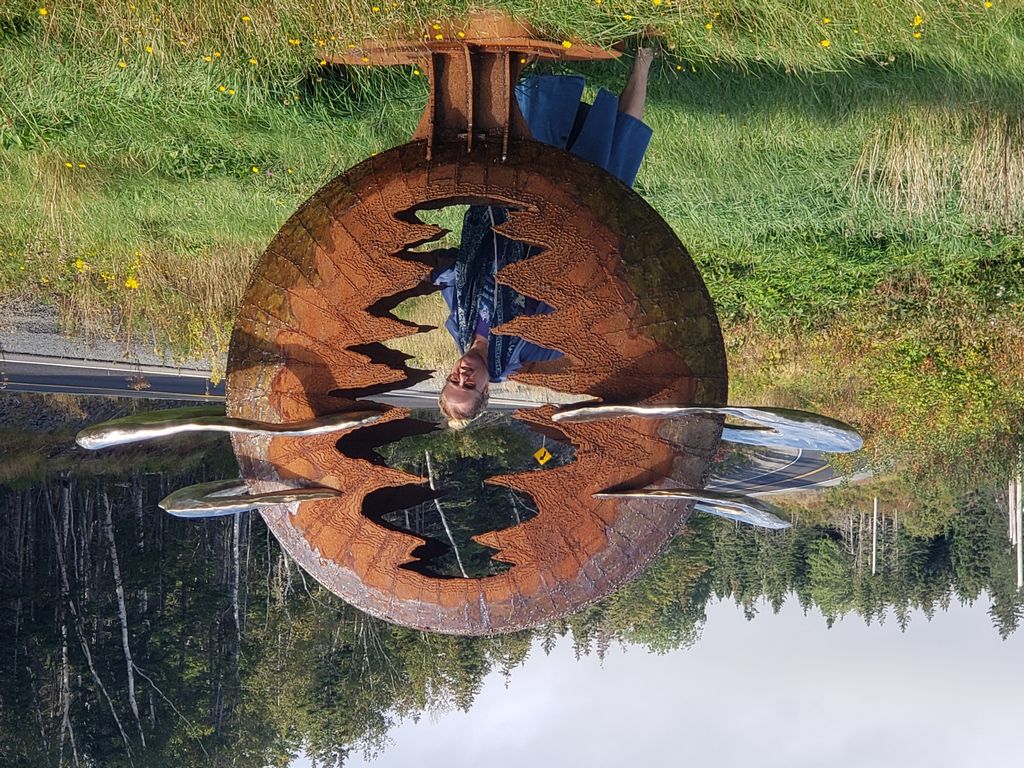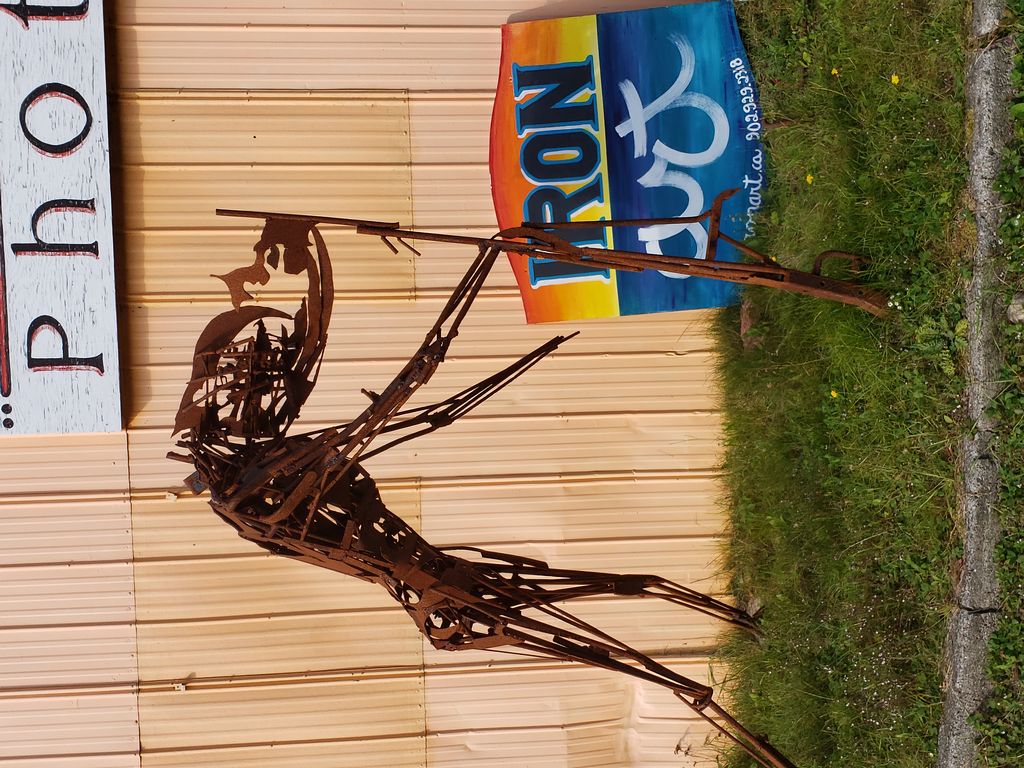 We got into Halifax early enough to relax on the boardwalk for a while and have dinner at the Waterfront Warehouse. Then return the car, taxi to the airport, a lot of waiting and a simple flight home.
Some Other Links we found handy